Thousands of people attended the funeral of Tipperary hurler Dillon Quirke in his home village of Clonoulty on Tuesday.
The 24-year-old died on Friday night after collapsing on the pitch at Semple Stadium, Thurles while playing for his club Clonoulty-Rossmore.
Dillon's inter-county and club team mates, as well as the opposition Kilruane MacDonaghs team from last Friday night's match, provided a guard of honour as the cortege made its way from the GAA Clubhouse through the village to St John the Baptists Church for requiem mass.
The coffin was draped in the colours of his club side as well as his county and brought into the church by his Clonoulty-Rossmore team-mates.
The eulogy was delivered by the chairman of Clonoulty-Rossmore GAA Club Andrew Fryday, who is also Dillon's uncle.
Comdt Deirdre Newell was among the mourners, representing President Michael D Higgins, as well as Comdt Claire Mortimer on behalf of Taoiseach Micheál Martin.
Figures from the GAA world also paid their respects, including GAA president Larry McCarthy, Munster Council CEO Kieran Leddy and officers of the board, along with Tipperary GAA chairman Joe Kennedy and fellow officers.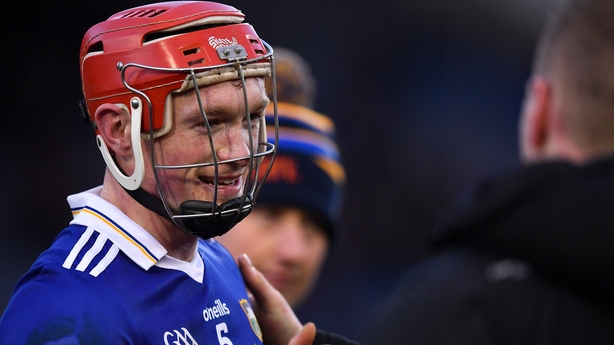 The church was filled to capacity from early morning as well as a large crowd mourning outside.
Symbols remembering Dillon's life were offered by friends and family during the mass, including his hurley, red helmet and Tipperary jersey to represent his love of hurling.
There were also concerts tickets, photographs and an apron from the family business
Father Thomas Ahern, in his sermon, said that last Friday it seemed like the parish was frozen in time
He said that people are really shocked and it was difficult to believe what had happened to Dillon.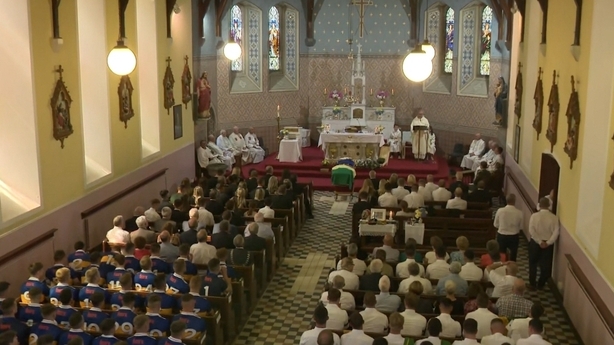 He added that in the last few days friends and team-mates had lost a valued friend but parents Dan and Hazel had lost a much-loved son, and Kellie and Shannon lost a much-loved sibling.
He said that they have shared loss and pain together and that their community will be a great comfort to each other.
Dillon's uncle Andrew Fryday, chairman of Clonoulty-Rossmore, spoke about the special talent the young man showed, and how he was at the top of his game during the match last Friday.
As tragedy struck, he said his thoughts turned from sport to his family and thanked all the medical responders and those who helped Dillon.
He added that he was a son that his parents could be so proud of, and for their club, he was their star and always showed that he would give them his all.
The funeral concluded as Dillon's sister Shannon read a poem written by his friend Seanie Nally, which included the following lines:
"No time for more hurling. No time for goodbye.
"You've gone to our Lord and only he knows why.
"Forever in our hearts. Your fame and your glory.
"Dillon Quirke is the name. Remember the story."

As Dillon Quirke was laid to rest today, Holycross Ballycahill player and close friend Seanie Nally wrote a touching tribute to Dillion through poem.

We'd like to share this as a memento to remember a wonderful young man.

Ar Dheis De go raibh a anam. 💚💛 pic.twitter.com/QmydQJohbK

— Tipperary GAA (@TipperaryGAA) August 9, 2022