All-Ireland finals are seldom won so easily.
Eleven months ago, Limerick were 13 points up at half-time against Cork. The margin was 16 by the finish.
By contrast, Treaty manager John Kiely expects that his team will have to fight tooth and and nail against Kilkenny if they are to secure a fourth title in five years on Sunday.
"I'm expecting a very tough, tight encounter," he said. "It's going to quite an intense affair, a high tackling rate in the game.
"More than anything it's about mentally building yourself up for the game, because you know it's going to be tough, a physical encounter, and you want to be at your best.
"Being able to keep your composure and retaining the ball is going to be absolutely important."
Kilkenny's surprisingly one-sided win over Clare means Brian Cody's men are expected to at least slow the green juggernaut's roll.
"They were superb in their semi-final performance, absolutely electric," admitted Kiely.
"We're under no illusions, this is going to be an absolutely titanic battle for us, an incredible challenge. But one we're really looking forward to and relishing.
"We're hoping that we'll be there or thereabouts with 10 or 15 minutes to go and push on from there.
"You don't know when you're going to get a chance again to have a day like this so you have to seize the moment when it comes. We're very determined to do that."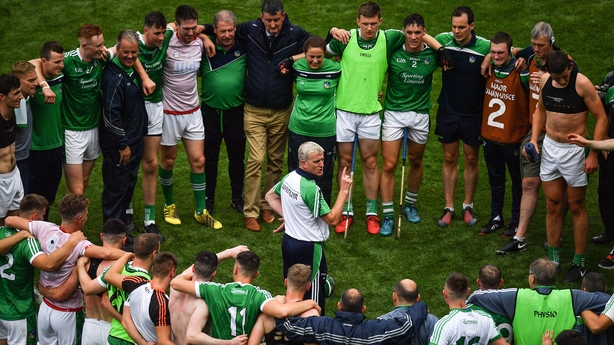 Limerick retained Liam MacCarthy for the first time last season. Is the thought of making more history with a three-in-a-row a motivator?
"It's something that we acknowledged at the start of the year," said Kiely. "It's there, just like last year was the back-to-back. In 2018 it was trying to win your first.
"There's always some narrative there, you just have to manage it. And [to] acknowledge it, is the way we manage it. We would have addressed that during the course of the year and start of the year.
"We've gotten used to taking little pieces like that, those narratives, and dealing with them successfully."
"We haven't produced that performance that we would be absolutely happy with this year so far, so we're really building towards that"
Limerick have been less dominant in 2022. Though still unbeaten, they drew with and needed extra-time to edge Clare, and made harder work of Galway than expected.
But Kiely is confident that they can hit peak form on the biggest day, with his bench helping to deliver a typically strong finish.
"Since we got over the semi-final we've been able to go back and work hard on a few of the areas that we might have been disappointed with on the day," he said.
"We haven't produced that performance that we would be absolutely happy with this year so far, so we're really building towards that. I'm very happy with the attitude.
"It's a very competitive side internally. The competition is there to drive fellas forward to keep their places within the 15 or 26. That's a hugely important factor, the ultimate factor really.
"There's rarely a game where we won't use all of our subs. We'd like to use more of our bench, we only have five spots to use on a given day.
"We have great trust and belief in our group and they know that. They're very happy to play that part, bring the energy and added drive that we need in the last quarter to see out the games."
Follow the All-Ireland Hurling Championship final on Sunday, Limerick v Kilkenny, from 2pm via our live blogs on rte.ie/sport or on the RTÉ News app. Watch live coverage on RTÉ One and RTÉ Player with live radio commentary on RTÉ Radio 1
Watch Up for the Match this Saturday from 9.45pm on RTÉ One and RTÉ Player