Having turned 50 last August, now officially a fixture on the Champions Tour, Padraig Harrington is back playing the Masters for the first time in seven years.
The three-time major winner qualified for the 2022 Masters by virtue of his surprise fourth-placed finish at the PGA Championship in Kiawah Island, that May weekend in South Carolina very much a golden one for the game's elder statesmen with Phil Mickelson becoming the oldest ever major winner at 50.
Harrington acknowledged the inspirational impact of witnessing Mickelson scoop a major in his sixth decade - but stressed that even if there was no precedent, he'd still be inclined to believe he could be the one to make history.
"In my world, I believe I can win," Harrington told RTÉ Sport this week.
"I'm trying to prepare for Thursday with the attitude that it's going to be a long week. And that I can get myself in position on Sunday where I have a chance of winning this tournament.
"Finishing fourth (at Kiawah Island) was good for me. There's probably something in the back of my head after seeing a 50-year-old win. But I'd like to buck the trend anyway. If a 50-year-old hadn't won, I'd like to be the one to do it. I'm quite contrarian like that, that I want to be the odd one and do it. I'm motivated. I like what I do, I'm clear. I'm here, it's serious. It's business."
Harrington arrives in Georgia in the wake of a strong showing on the Champions Tour - he finished tied-second in the Rapiscan Systems Classic in Mississippi on Sunday.
Always quick to stress the importance of the mental side of the game, Harrington says he has no trouble visualising himself collecting the green jacket on Sunday evening.
"Of course, I could imagine it. There's no doubt I can imagine it. In my world, that's what's going to happen. The last thing you'd want to do is to get yourself in a position to win the tournament and to be confronted with it and not be prepared with it.
"I have to prepare myself that with nine holes to go, I'm going to have an opportunity and I'm going to take it.
"It always is about getting your head in the right place. Some of that is not overdoing it physically so that you're not mentally tired going out there. It helped being in contention last week. That's the sort of feeling you want. I know it's well within me, I just have to go out and do my thing."
Harrington, who tees off early on Thursday alongside 2003 champion Mike Weir and amateur player Austin Greaser, played his Monday practice in an Irish quartet, with Rory McIlroy, Shane Lowry and Seamus Power. Does he still feel on a par with those guys?
"There's nobody who stands on the tee-box with Rory and feels they're the same, I can tell you that. But I'm happy with my game.
"You can never compare. That's one of those things in life. You think you're 'the man' with something somewhere along the line, there's always someone who does it bigger and better. You can't hang your ego on anything. You've got to manage your own game.
"If you watch Rory hit it off the tee, the rest of the field would go home. But that's not golf. There's a lot more to it. A good wedge shot makes up for any good drive, at times.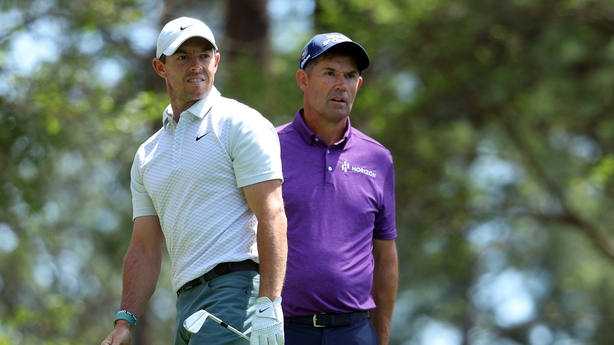 "I'm not struggling with the length of the golf course or anything like that. I feel fine and comfortable with the test that's been presented. It's pretty tough in terms of the firmness and speed of the greens. Get out of position and you can look very silly very quickly. It's tough that way but in that sense, generally that suits me more than others."
Amid the feast of Irish major success, kickstarted by Harrington himself, in the late 2000s and early 2010s, the US Masters was the one big prize not to fall into Irish clutches. Harrington had his first trip around Augusta for the Masters in 2000, giving the tournament a serious rattle on a few occasions, registering four top-10 finishes in total, in 2002, 2007, 2008 and 2012.
It was 2007 when he perhaps came closest, when travails at the par-5 15th cost him in the closing stretch and Zach Johnson took victory.
"I still think it's the ultimate test. There's a lot of big shots you're asked to hit out there. The difference between a good and a bad shot is an eagle and a double bogey a lot of times. It gives you opportunities.
"For me, on this golf course, you've got to drive it well. It sets up a lot of the approach shots. If you're out of position, then you're out of position around the greens and you're just not getting up and down. This is not a short game golf course. This is about hitting fairways and greens. Driving it well is very important and then, clearly, you've got to have a great week on the greens. You're not going to win here unless you have a great weekend on the greens.
"It's tough in practice because we tend to play the course at its absolute toughest. You pick the hardest pins and you practice to them, you put yourself in the most difficult spots. During the week, you're going to have to deal with stuff, some bad breaks, some good stuff. It's really making the most of it and keeping a level head all week."
Asked what it would mean to win a fourth major championship, almost 14 years after his last, Harrington is relaxed and philosophical.
"It'd be nice. That's really all it would be. I have three of them. So it would be nice. But it ain't going to change my life."