Olympic hopeful Leona Maguire says the possibility of representing Ireland at the Rio Olympics is worth the 5% Zika risk that medical experts have warned athletes about.
This week Shane Lowry became the latest high-profile male golfer to opt out of representing Ireland in Rio after citing his concerns over the Zika virus, a mosquito-borne virus which has been linked to defects in newborn babies and Guillain-Barre, a rare neurological syndrome that causes temporary paralysis in adults.
"I'd give my right arm to go to Rio to get the chance at a gold medal...The athletes that are going are 100% committed."
The Offaly native follows in the footsteps of Rory McIlroy and Graeme McDowell as well as Australian pair Marc Leishman and Adam Scott, South African trio Branden Grace, Louis Oosthuizen and Charl Schwartzel, Fiji's Vijay Singh and world number one Jason Day in giving the Games a wide berth.
The 21-year-old golfer is on the cusp of making the women's team before next week's cut-off following the US Open in California.
The Cavan native, who will have her twin sister Lisa as a caddy, is currently ranked 48th in the world, with the top 60 travelling to Rio.
Barring an unlikely sequence of results, she will take part in the first staging of golf at the Olympics since 1940 and told RTÉ Radio 1's The Ray D'Arcy Show that the minimal risk is worth the reward.
"We've been consulting a lot with medical experts and have been in touch with doctors on an on-going basis," she said.
"From everything they are saying, there is a 5% risk, from a 90% risk earlier on in the year.
"To represent your country at the Olympics, I think it's worth that 5% risk."
The sisters, who attend Duke University in Carolina, are the top-ranked college pair in the US and Leona says the Games would be the pinnacle of her career.
"It's disappointing for the people of Ireland that we have some of the best players in the world and they are not going," she told listeners.
"It's a complete honour and privilege to be going.
"I'd give my right arm to go to Rio to get the chance at a gold medal...The athletes that are going are 100% committed."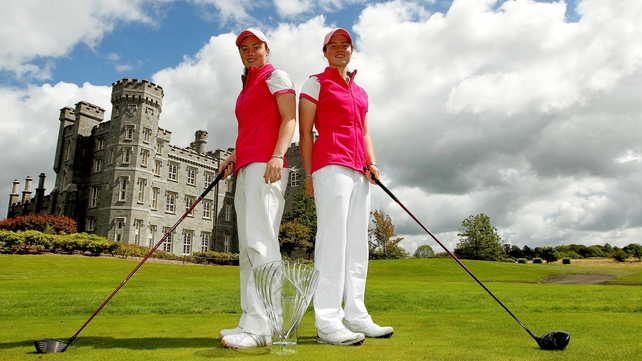 While many of the male players have pulled out, that is not the case among the female golfers, with only one golfer deciding against competing to date.
"The top 10 in the world have said they are most certainly going," Lisa added.
"We're holding up our end of the bargain."
The pair are keen followers of the Cavan footballers and will be keeping a close eye on events at Clones this weekend when Terry Hyland's side face Tyrone in the Ulster SFC semi-final replay.
When asked how much a gold medal in Rio would mean to her, Leona responded: "It would be nice, it would be like Cavan winning the All-Ireland!"