Rory McIlroy will not be competing at this summer's Rio Olympics due to the threat of the Zika virus.
McIlroy was due to represent Ireland when golf makes a return to the Games for the first time since 1904, but has now followed Vijay Singh, Marc Leishman, Adam Scott, Louis Oosthuizen and Charl Schwartzel in pulling out of the event, which begins on 5 August.
A statement released this morning read: "After much thought and deliberation, I have decided to withdraw my name from consideration for this summer's Olympic Games in Rio de Janiero.
"After speaking with those closest to me, I've come to realise that my health and my family's health comes before anything else. Even though the risk of infection from the Zika virus is considered low, it is a risk nonetheless and a risk I am unwilling to take.
"I trust the Irish people will understand my decision. The unwavering support I receive every time I compete in a golf tournament at home or abroad means the world to me.
"I will continue to endeavour to make my fans and fans of golf proud with my play on the course and my actions off it."
As things stand, world number 25 Shane Lowry will represent Ireland in Rio along with Graeme McDowell, who is currently ranked 73rd in the world.
In a statement, the Olympic Council of Ireland said: "The OCI is extremely disappointed not to be taking Rory with us to Rio. However, as we have always said, it is down to the individual and of course we respect his decision, which he has taken for personal reasons. 
"Rory was set to be one of the big stars of Rio 2016, but now there is an opportunity for another Irish golfer to take up the chance to become an Olympian and participate in golf's historic return to the Olympic Games after a 112-year absence.
"The OCI and our medical team have taken our lead from the IOC on the Zika situation, as we do in all matters. They have provided us with every assurance and we have total confidence that the Games will be safe for all athletes.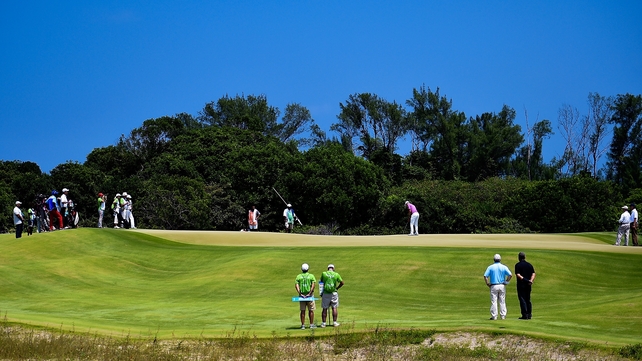 "We are now following the IOC's recommendations, as well as the recommendations of the Rio 2016 organisers, the World Health Organisation and national health authorities, to ensure that Team Ireland's athletes are kept fully updated with the latest and best advice and that they are equipped to take all necessary precautions.
"The OCI regularly updates the private Team Ireland app guidelines and we have held a number of sport seminars and workshops for team leaders, coaches and medical support staff. The OCI is leaving no stone unturned in ensuring the welfare of Team Ireland's athletes at Rio 2016."
The WHO declared the Zika epidemic to be a global emergency in February but latest reports from the organisation regard the risks of international spread as a result of the Olympics as "very low".
The situation concerning mosquito-borne diseases continues to be monitored but Dr David Heymann, chairman of the WHO's emergency committee on Zika, said: "The committee concluded that there is a very low risk of further international spread of Zika virus as a result of the Olympics and Paralympics, which is already low."
Pregnant women have been advised not to travel to Rio but the WHO predicts Zika risk at the time of the Games in August will drop, as it will be winter and there should be fewer mosquitoes.
Dr Heymann added: "It was clear to the committee that there are significant personal risks, as there are for anyone travelling anywhere, but the risks are no different for people going to the Olympics or Paralympics than they are for people going to other areas where there are outbreaks of Zika." 
The International Golf Federation, golf's Olympic governing body, has expressed its disappointment over McIlroy's withdrawal.
A statement read: "The IGF is disappointed with Rory's decision but recognises that some players will have to weigh personally a unique set of circumstances as they contemplate their participation in golf's historic return to the Olympic Games in Rio de Janeiro, with the Zika virus foremost among them.
"It is unfortunate that the Zika virus has led to Rory's decision to withdraw from the Olympic Games, knowing how much he was looking forward to taking part.
"As we have stated before, the Olympics is the world's greatest celebration of sport and we remain excited about golf's return after a 112-year absence. It will truly be a special occasion for our sport and we are confident that the 60 men and 60 women who will represent their respective countries will find it an experience they will cherish forever."