In sport there are defeats which can be explained away, and others that stick in the craw. This one was the latter for Shane Lowry as Dustin Johnson claimed a dramatic US Open in Pennsylvania.
The Offaly native lost a four-shot lead entering the final round to lose by three to the American, who picked up his first major win after some near misses of his own.
The bare bone statistics reflect that Lowry shot a 76 to slip back into a tie for second place on one-under par, while the American hero of the last day recorded a 69 to win on four-under.
Only four players finished under-par at the US Open as Oakmont reclaimed some of its reputation for difficulty, which saw Lowry's mistakes heavily punished.
Three of them came on the front nine as he made three bogeys and no birdies to the turn, by which stage he had lost his lead.
Then came the US PGA Tour's version of the 'Theatre of the Bizarre'.
On the fifth green, Johnson had seen his ball move fractionally as he lined up a par putt, but called in the referee walking with his group and was initially cleared of any wrongdoing before holing out for par.
Officials informed Johnson on the 12th hole that he had a question to answer regarding an inadvertent rules infraction relating to the earlier incident.
It meant for the last seven holes Johnson faced the likely sanction of a one-shot penalty, which was eventually assessed on his score and he had that hanging over him all the way to the finish.
Remarkably, he took it in his stride.
"I don't even know what I was thinking," the 31-year-old admitted afterwards after picking up a winner's cheque for $1.8m
"I wasn't even worried about it at that point. I was just trying to concentrate on the shot I was trying to hit.
"I just told myself, 'I'll worry about that when I'm done'".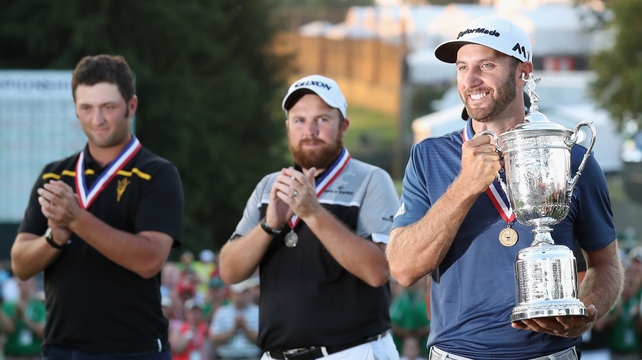 For Lowry, it was simply a great chance lost of winning a major and he didn't varnish how he felt afterwards.
"It was there for the taking, I didn't take it. I'm sure I'll learn a lot from today. I don't know what it is yet," the dejected Clara man told reporters.
"I wasn't hitting great shots, I wasn't hitting bad shots on these greens, just tricky two-putts giving myself a lot of work to do. It caught up with me on 14, a really bad three-putt there and I had a three-putt on 15 as well
"The more I think about it the more upset I get. I just have to get on with it."
There are of course many positives to take from events in Pennsylvania.
Lowry's consolation is a move up to 25 in the world rankings, a bundle of Ryder Cup points and a cheque for nearly $745,000.