Shane Lowry admitted he was "bitterly disappointed" to miss out on a first major title after letting a four-shot lead slip in the final round of the US Open.
Lowry became the first player since Payne Stewart in 1998 to fail to turn such an advantage into victory after struggling to a closing 76 on an incident-packed final day at Oakmont.
The Offaly man finished two shots behind eventual winner Dustin Johnson, level with Scott Piercy and former champion Jim Furyk.
"It's not easy to get yourself in the position I got myself in today. It was there for the taking and I didn't take it," Lowry said. "I'm bitterly disappointed.
"But you can only learn from your mistakes. I always say it's only a mistake if you don't learn from it.
"I'm sure I learned a lot from today and I don't know what it is yet, but when I'm in that position again, and I know I will be, I'll handle it probably a little bit better."
Lowry dropped four shots in the first 10 holes to fall two behind Johnson, but was effectively level when he birdied the 12th as Johnson would eventually be penalised a shot for causing his ball to move when addressing a par putt back on the fifth.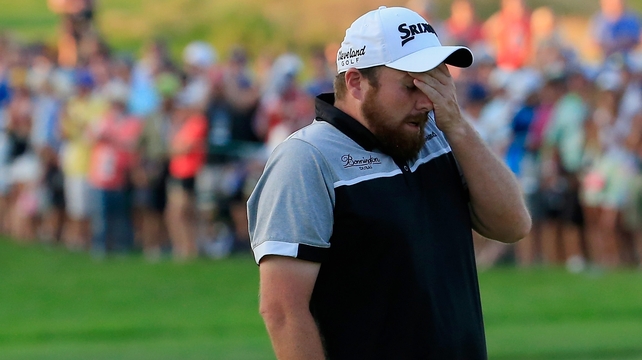 However, the 29-year-old then three-putted the 14th, 15th and 16th to end his chances of becoming the sixth Irish major winner and third to win the US Open.
"I just kept on hitting okay shots," he added. "It wasn't even great shots, it wasn't even bad shots. Kept hitting it to 25, 30, 35 feet. On these greens, it's tricky. Kept leaving myself a lot of work to do.
"It caught up with me on 14 and on 15 and 16 as well. To do that at that time in this tournament.... the more I think about it, the more upset I get."
Lowry refused to blame being told of Johnson's possible penalty for his struggles, adding: "We were told walking on 12. It didn't affect the way I played. If anything, I credit Dustin for playing the way he played on the way in, having that hanging over him, because I probably would have wanted to know straight away if it was me."
Johnson shrugged off the farcical scenes which threatened to ruin the US Open as he celebrated a first major title following several near misses.
"I couldn't be more excited, more happy and more proud of myself, especially with the things that happened last year at the US Open on the 18th hole," said Johnson, who three-putted the 72nd hole at Chambers Bay to finish a shot behind Jordan Spieth.
"To come back this year and to get it done, it's definitely bitter-sweet. It was a lot of fun. I still don't think I caused the ball to move and I don't even understand the rule. I got a penalty but it didn't matter at the end of the day."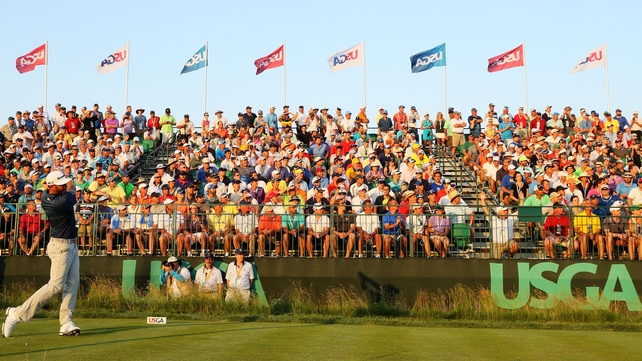 Johnson had recorded four top-10 finishes in five majors since missing the 2014 US PGA due to taking a six-month leave of absence from the game to deal with "personal challenges," prompting allegations in the United States of a positive test for cocaine - claims which have dogged him for several years but which he has always strenuously denied.
But Sunday's situation also brought back memories of his nightmare finish to the 2010 US PGA, when a two-shot penalty for grounding his club in a bunker on the 72nd hole cost him a place in the play-off.
Asked how he had coped with being told of the possible penalty, Johnson added: "I knew I was swinging well and I just kept thinking it's just me and the course. I'm playing against the course. I can't control what anyone else does.
"So I just tried to hit golf shots, tried to hit it on the correct side of the hole and two-putt. I hit two great shots on 18. It (his approach) might be one of the best shots I ever hit. So that was very nice, to have a short putt like that to get it in the house.
"It feels good. Feels really good. Feels well deserved. I've had a lot of opportunities that I didn't quite get it done.
"There's a little voice in the back of your head, is it ever going to happen? Well yes, it did happen. So this one's definitely really sweet."
Jeff Hall, the USGA's managing director of rules and competition, defended the decision to inform Johnson of the situation, adding: "I think every situation is unique and you've got to review the facts and do the best you can. It's a tough situation, we did the best that we could and we feel pretty comfortable with the process that we had in place.
"The ball moved. When we evaluated the video and discussed it with Dustin, we were comfortable that his actions near the ball were what caused the golf ball to move, and as a result he was penalised one stroke."