Meath this weekend will have the opportunity to claim the last trophy that currently sits in the cabinet at Parnell Park.
Last September the Royals landed a first senior All-Ireland title, denying their city neighbours the five-in-a-row in the process, before taking the Dubs' Lidl League crown with a victory over Donegal last month.
Dublin were the last county to win what was ostensibly the Leinster championship back in 2019, although in reality that was a one-off game rather than a true knock-out competition.
The provincial championship wasn't played during the last two Covid years, but it's back now and Meath midfielder Orlagh Lally says they want to get their hands on the trophy.
"It means a lot," says the Clann na nGael clubwoman at the launch of the TG4 All-Ireland football championships.
"We've done the league and we've won the All-Ireland. This is another thing to challenge ourselves on and we want to be able to rise up the challenge.
"You don't want to look too far ahead and you just want to take each game as it comes. We'll look forward to this Saturday and hopefully getting a Leinster title to our name.
"There's always a bit of a buzz when you hear Meath and Dublin are playing. It's great to be playing the top teams, like them, and we're looking forward to the challenge ahead."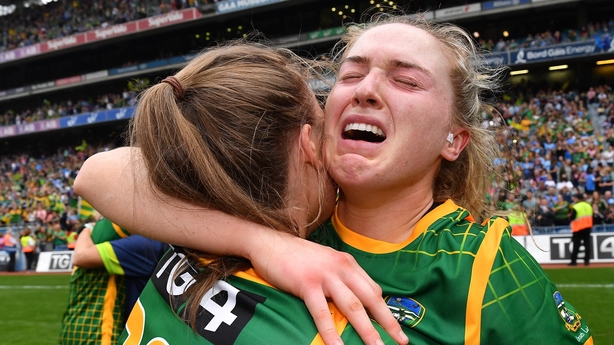 While the Royals had targets to aim for last summer and in the spring, and still have a final one with the Leinster final on Saturday, they will then move into a more defensive mindset.
From going after the trophies of other counties, they will move into a 'what we have, we hold' mentality.
How different was the challenge of knowing they were the team with the target on their backs?
"The publicity after the All-Ireland final was extremely busy," Lally acknowledges.
"Bringing the cup around to primary schools was huge. We were busy in that sense; we didn't get to think much about pre-season. Then it was upon us and girls were still hungry and wanted to go out and improve, and that's a huge thing that stands to us as a team. That's why we've done so well.
"One thing that helped us to push on this year was remembering where we came from. We were at the bottom of the table. We had to dig ourselves out of a really bad time in Meath for Ladies Football.
"Any time we start to find it tough we remember where we came from, and I think that journey has helped us to get to where we are today."
---
Why Meath's victory over Dublin might be the greatest shock ever
---
Speaking ahead of the final on Saturday, Dublin manager Mick Bohan said he would like to see more consistency when it comes to refereeing calls on the tackle.
Bohan went on to call for more physicality in the women's game, and it's a point that Lally agrees on.
"Yeah, and I think it's going that way. There's a lot more focus on S&C.
"Women are getting stronger. It's hard to always have it perfect with referees. Every referee will differ. It's just about trying to get on the same play and have the same views.
"The standard and level [of play] is constantly increasing, and the physicality is as well. The S&C has been upped to so I can definitely see it heading in that direction. Gradually I think a bit more physicality will come into the game."
Meath will learn their All-Ireland grouping after the Leinster final, with the All-Ireland championship set to commence on the weekend of 11 June.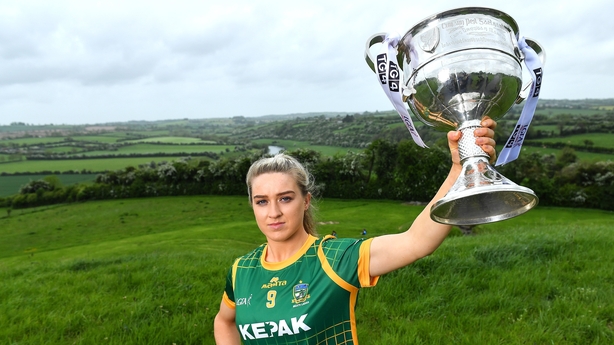 Off the field, or Irish fields at least, one of the big talking points so far this year has been the near doubling of salaries in the AFLW in Australia, with the lowest paid players now set to receive over €26,000 per season.
The elite players in the game can earn upwards of €50,000 with the figure expected to increase over the coming seasons.
In previous years the season down under started in Irish winter, which allowed LGFA players to play inter-county here, before getting involved in Aussie rules.
But with pre-season in Australia now starting in June, big decisions are going to have to be made by some of this country's biggest stars.
For Lally though it's a case of making hay while the sun shines with Meath.
"It's definitely something that is there," she admits of the temptation to try her hand in Australia.
"It's an opportunity and timing is the big thing. If you're able to go, and you felt like it was right to go you could.
"Meath are doing well at the minute and that's not going to last forever so you want to be able to take that opportunity while you have it."
For now, the best talent from the Royal County will be looking to cash in at Croke Park.
We need your consent to load this rte-player contentWe use rte-player to manage extra content that can set cookies on your device and collect data about your activity. Please review their details and accept them to load the content.Manage Preferences
Listen to the RTÉ GAA Podcast at Apple Podcasts, Soundcloud, Spotify, or wherever you get your podcasts.