Meath woke up this morning as All-Ireland champions after their impressive victory over Dublin yesterday at Croke Park.
Very few people were predicting it beforehand but a display of fantastic athleticism and defensive solidity means that the Brendan Martin Cup has spent its first night by the banks of the Boyne.
But where does this result rank in the pantheon of shocks in inter-county Gaelic games? There are a few contenders.
1980 Leinster hurling final - Offaly 3-17 Kilkenny 5-10
An attendance of just over 9,000 turned up at Croke Park on 13 July 1980 to watch Kilkenny take on Offaly in the Leinster hurling final.
That number, a reflection most thought as to the likely outcome of the decider, with the majority expecting the Cats, the then All-Ireland holders, to march on to another provincial success.
The Faithful, however, were on their own march. They campaigned successfully for an 'open draw' in Leinster and drafted in a Kilkenny man - Diarmuid Healy - to oversee their rise. It was felt at the time that if Offaly got a helping hand to improve their skill and instill a greater belief, they could achieve much.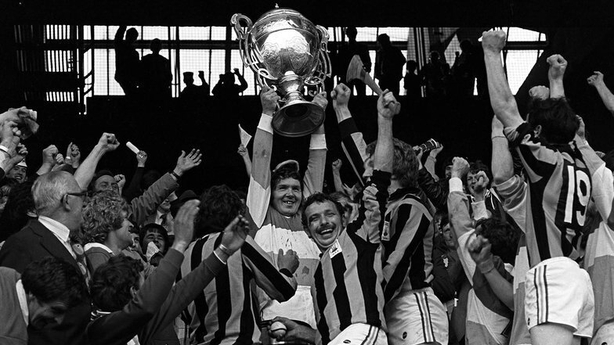 That July day some 41 years ago was the beginning of a golden period for Offaly hurling. In a thrilling encounter they had one point to spare over Kilkenny - 3-17 to 5-10 - but in truth the margin of victory flattered them.
Micheál Ó Muircheartaigh chose Offaly's Leinster hurling final victory of 1980 as the greatest GAA shock that he has witnessed.
In 1981, things would even better for the county when All-Ireland glory was achieved - the first of four titles for the midlanders.
1982 All-Ireland football final - Offaly 1-15 Kerry 0-17
This is a game that finally saw the great Kerry team of the era beaten after a later sucker punch of a goal by Séamus Darby.
With echoes of the Dublin women's team yesterday, Kerry were going for five in a row. The difference in September of 1982 was that no men's team had ever achieved the feat. Indeed it took until 2019 for it to finally happen.
But it was perhaps the nature of the victory that made it quite so iconic as the Faithful County were in their greatest era ever. That day they won a third All-Ireland title in 12 seasons, having also reached the final the year before.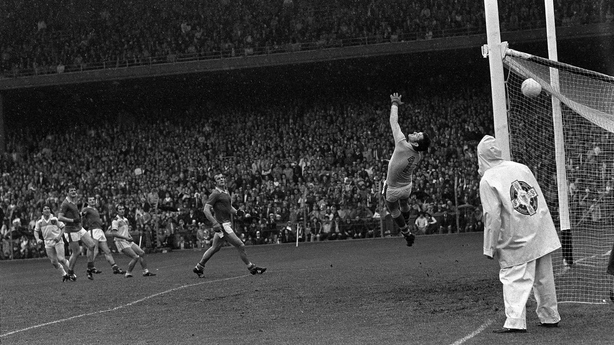 In a time long before backdoors, Super 8s, or "Champions League-style" group stages, Offaly first had to negotiate a Leinster Championship without a safety net.
Dublin had been the team of the late 70s in the province, claiming six consecutive titles. But the Eugene McGee-managed midlanders were also building in that period and they eventually beat the Dubs to claim Leinster honours in 1980.
They repeated the trick the following year but Kerry put paid to their hopes of claiming the ultimate prize with five-point and seven-point victories respectively.
They were certainly outsiders heading in the '82 showpiece but they were able to live with Kerry on a wet day at GAA HQ. Darby's goal is up there with Mikey Sheehy in 1978 or Kevin McManamon in 2011 for well-remembered majors that changed the course of finals.
Offaly haven't been back to the final since and it would take Kerry until 1984 to win back their title.
1989 All-Ireland hurling semi-final - Antrim 4-15 Offaly 1-15
This is perhaps the greatest hurling shock of all time as Antrim reached their first final in 46 years, and just their second final ever. Indeed, it was only the second time a team from Ulster would make it as far as the final.
But there were warning signs there for Offaly heading into the game. While the league is the league, and all that, the Saffrons had relegated the Faithful to Division 2 earlier that year.
Antrim came into the 1989 semi having given good accounts of themselves against Cork, Kilkenny and Tipperary in that order in the previous three All-Ireland semi-finals.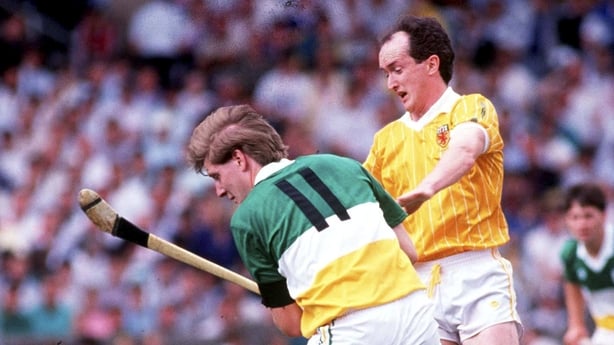 Offaly came to Croke Park that August after winning the second of three Leinster titles on the spin. Some names scream off the page when looking at their team - Pilkington, Regan, Duigan and Dooley - many of whom would go on to win two All-Irelands in the 90s.
But Antrim took the game to them and the goal exploits of Aidan McCarry and Olcan McFetridge set them up for a result that was unthinkable beforehand.
The Leinster county showed great sportsmanship as they formed a guard of honour for the victors as they left the field.
"It's the greatest day in Antrim's history," declared manager Jim Nelson afterwards, and so it would prove. They lost the final to Tipperary by 18 points.
As mentioned earlier, many of those Offaly players would go on to have a hugely successful decade winning three Leinster titles and two Liam MacCarthy Cups.
1992 Munster SFC final - Clare 2-10 Kerry 0-12
The 1990s were a coming of age decade for Gaelic games in Clare. Later in the 1990s the county's hurlers would bury the ghost of Biddy Early as they won a first Munster SHC title in 63 years, before breaking a run of 81 years to win the All-Ireland.
But before all that it was the county's footballers who reminded everyone who they were, claiming their second, and to date last, provincial crown.
Munster football by the early 90s was what it is today - the reserve of two counties, Cork and (mainly) Kerry. Between 1935, when Tipperary won the title, and that July afternoon at the Gaelic Grounds, the pair had won all the titles.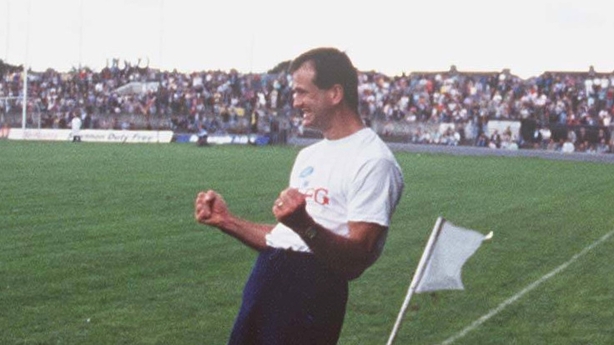 At 28 years of age John Maughan had been appointed to Clare. There was little in their 1990 and 1991 defeats to Kerry in Munster that suggested they were going to pose much of a threat to the Kingdom in 1992.
They had beaten Tipperary in the semis to reach a first final since the 1940s. Progress, sure, but they were outsiders against a Kerry team who were aiming to defend their Munster crown.
Thirteen years after Clare shipped 9-21 against Kerry, the Banner were the kings of the southern province.
Colm Clancy's second-half goal pushed the Banner into a lead and it was a relatively comfortable finish in the circumstances as RTÉ commentator Marty Morrissey quipped that there "wouldn't be a cow milked in Clare tonight."
Clare went on to lose the All-Ireland semi-final to Dublin, while Kerry were Munster champions again by 1996, and All-Ireland winners the following year. Since then, their domination of the province has resumed, and they've collected six further sets of Celtic Crosses.
John Maughan took Mayo to back to back All-Ireland finals in '96 and '97 and he's currently spearheading the Offaly revival.
2021 All-Ireland football final - Meath 1-11 Dublin 0-12
Why might yesterday's final be bigger than them all?
Well, Leinster football has fallen in the last decade to such an extent that Dublin manager Mick Bohan said in 2019 that there might be an opportunity to advance the All-Ireland championships by packing in the province.
The Dubs were regularly annihilating sides and you had to go back to 2011 for the last time a side from the province had reached the semi-finals, never mind the final, when Laois lost to Cork.
A decade later Meath's run was particularly impressive given that they were competing in the intermediate grade last year, winning their first title there after consecutive final defeats in the previous two years.
That competition has produced the following year's senior All-Ireland winner only once before. Back in 2001 Laois became the first side to achieve the feat beating Mayo by a point, a year after they had overcome Cork in the intermediate decider.
But the recent record on inters winners puts what Meath did into perspective - 2019 winners Tipperary failed to win a game at senior in 2020, 2018 winners Tyrone were beaten in the following year's senior quarter-final by Cork by 26 points, while Tipp were also the 2017 inter champions and once again they failed to win a game at senior level in 2018.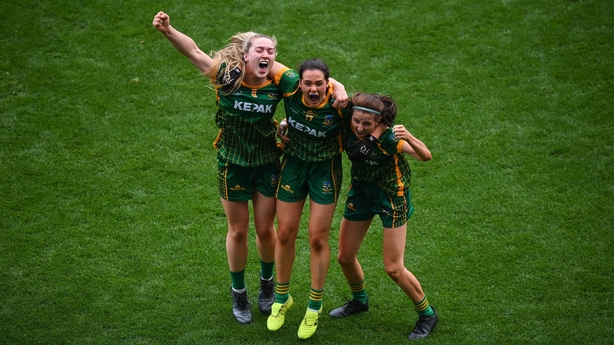 So Meath's run, whatever happened at Croke Park yesterday, was already remarkable.
Add that to that the fact that it was their first ever senior final, and they were taking on a side going for the five in a row, and the result is outstanding. That they beat Cork, the only other county to win a senior final since 2004, removed any doubt about who the best team in Ireland was this year.
Dublin manager Mick Bohan admitted afterwards that he hadn't foreseen the intensity that Meath would bring but pointed out that their victory would be good for the game and drive the game on to new levels.
"If you commit yourself to a cause, and you get organised, and you're willing to do the little bit extra, the competition is there for anyone," he told reporters afterwards.
Have Meath finally broken the duopoly of Dublin and Cork? Only time will tell, but for now they have caused arguably the greatest upset of all time.