We better look back, before we look forward. I hope for the Cork hurlers' sakes they have really battened down the hatches over the last five days. They have not been spared, to say the least. And mainly, by their own.
A bit like Man United during the week against Liverpool, it's not the fact that they were beaten, it's how they were beaten. Before the game on Sunday, I said if nothing else they have to bring a borderline hatred.
They have to stand up as individuals first, and then as a group and say enough is enough. Tactics, puckouts, through the lines blab blah blah. Forget about all the fancy words for a second. If we do nothing else today we have to be carried off the field, hit them like they have never been hit before, and show these Limerick boys that we have had enough of their beatings. Let's stand up as men here today, and if we lose we lose, but by god let them know going home that we won't lie down anymore.
If anything it was the opposite. Nobody knows what is really going on behind the scenes, whether the management are geniuses, or clueless, whether the players are happy or sad, or whether they agree with what they are asked or not, but to me that is all irrelevant. First up, no matter what, is that manic-like aggression.
It's just not there.
That is what is upsetting the Cork public the most. They may not agree with how they are playing the game, but that is irrelevant for now. It doesn't matter what way you play it, if you don't work as if you are going to drop, nothing works.
It's still debatable whether Limerick were even back close to their best. Nickie Quaid being able to start a short puckout, then it being worked through every line up to the full-forward line, and put over the bar, without a single finger being laid on a Limerick player, bears no relation to what they will meet going forward, starting with Saturday night.
Jackie Tyrrell summed it up quite well in relation to Gearóid Hegarty having the freedom of the Páirc. Some of the scores Limerick got were unrealistic for championship hurling, and this Saturday night I think the whole country will have a fair idea of where both Limerick and Waterford are at.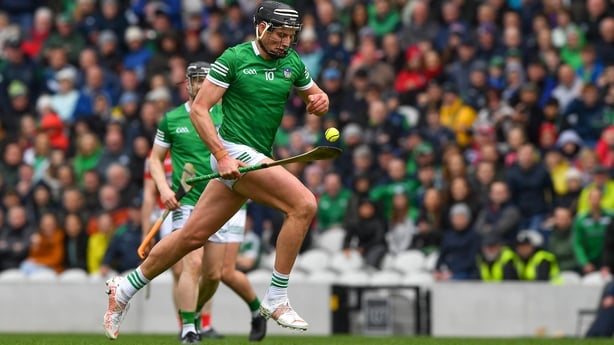 In saying that, both teams may again meet in a Munster final, and again in the All-Ireland series, and that will be in the back of both managers' minds. Of course, I still think that both will be going for it hell for leather.
I suspect Kyle Hayes will miss the game, as will Seamus Flanagan possibly, and obviously Peter Casey is still six weeks away, so Limerick may leave themselves open to further improvement down the road.
Waterford look to have a clean bill of health, and Liam Cahill will be coming to Limerick with one agenda only, getting one over Limerick, which they haven't done in the last three years.
I thought Waterford would win quite comprehensively last weekend against Tipperary. That was far from the case. I thought Tipp looked very sharp and worked very hard. It would have been easy for them to give in when Waterford had their purple patch just after half-time, but they fought to the bitter end.
While internally they will be disappointed to lose the game, it should give them big confidence ahead of this weekend's clash against Clare.
For Tipp to have any chance of getting out of Munster, they need to ensure they pick up two points at home. They play a Clare side who will be coming in cold, and should make that count early in the game. But I do think that Clare enjoy playing in Thurles, and they won't fear Tipp one bit.
They had them on the rack in last year's game in the Gaelic Grounds before that crazy penalty decision, and you can argue that Clare have another year under their belt with Brian Lohan, while Tipp are rebuilding somewhat in Colm Bonnar's first year. I think this is a huge game for both counties, both knowing that a win is much needed.
I was disappointed with the Wexford and Galway game. Sometimes, when a game is close and exciting, people can get carried away saying it is a good game. It was an exciting game to watch for a finish, but I thought it was rather poor.
Wexford Park can be hard anyway, with a strong breeze and teams being very defensive. Either way, even though it will feel like a loss for Galway, for both teams it could turn out to be a very important point. The big game in Leinster this weekend is obviously Wexford welcoming the Dubs to the sunny South-East.
Whichever team loses this game will be under big pressure to get out of Leinster, especially Dublin as they still have to play both Kilkenny and Galway.
Both teams were flying early in the league but towards the end of that lost some momentum, and their first championship games were a little disappointing.
Listen to the RTÉ GAA Podcast at Apple Podcasts, Soundcloud, Spotify, or wherever you get your podcasts.
We need your consent to load this rte-player contentWe use rte-player to manage extra content that can set cookies on your device and collect data about your activity. Please review their details and accept them to load the content.Manage Preferences