This weekend, we can look forward to a waterfall of league action cascading down into venues around the country.
But when it comes to one recent aspect of the game, the taps have stopped flowing and few will shed a tear given how it could redirect the raging current of a match mid-stream.
As confirmed by the GAA's Central Competitions Control Committee, the expected move to do away with water breaks in Gaelic games has come to pass.
It had been brought into being in the wake of Covid regulations in the summer of 2020, with one break between the 15th and 20th minute of each half to take on fluid by the sideline.
But in the eyes of many, they were seen as akin to timeouts for tactical tweaks and issuing instructions to players more than pure hydration. Especially given the maor foirne role was essentially made redundant after last year's Congress, limiting on-pitch access to medical teams only and cutting off one line of communication between the sideline and on-field personnel.
The maor uisce 'water carrier' role has been restored but it's strictly governed, with a requirement to stay in a designated area and no permission to enter the field of play except in hurling to bring over a replacement hurley.
And while the liquid won't be flowing in the way it has done for the last 18 months from this weekend on, there could well be a conundrum for managers and players when it comes to delivering the flow of instructions from the sideline particularly in the white heat of a packed stadium where voices can get drowned easily in the din.
Former All-Ireland winning Tipperary hurling manager Liam Sheedy and two-time Donegal All-Star Ryan McHugh shared their thoughts with RTÉ Sport about how the absence of the maor foirne as a messenger could impact things in light of the dissolution of water breaks as the one-stop shop in each half.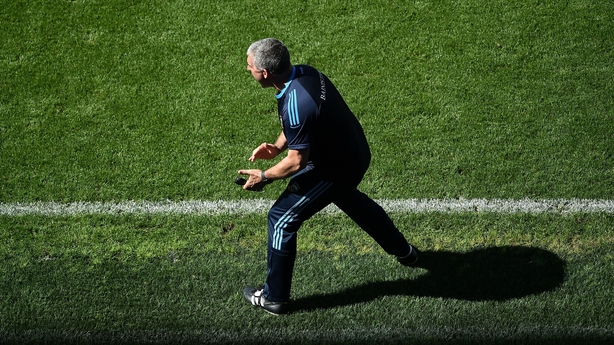 From Sheedy's point of view, "you could only get one or two messages in" to players during the average water break in any event and he, like many, is satisfied to see them go.
"It's minimal impact, they were probably more of a distraction in terms of a team could be in a flow and all of a sudden that's interrupted," he said.
"We saw teams lose the initiative after a water break and some that gained. I just don't think it suits the games that we have to have a break in the middle of it. I don't think anyone will miss them."
But has the maor foirne been missed as a relayer of instructions? And what of the maor uisce from a player's perspective?
"I do think it is important to get water on," says McHugh.
"So maybe if there were boys allowed to even throw water on - I think at the minute players might have to run over to the side to get water which isn't the end of the world - but when you're in the middle of a massive championship battle, it is something that you want to get something on very quick, get a wee sip and get off again.
"In terms of the maor foirne... I did think it was probably getting out of hand there for a while around '14, '15, '16, them years.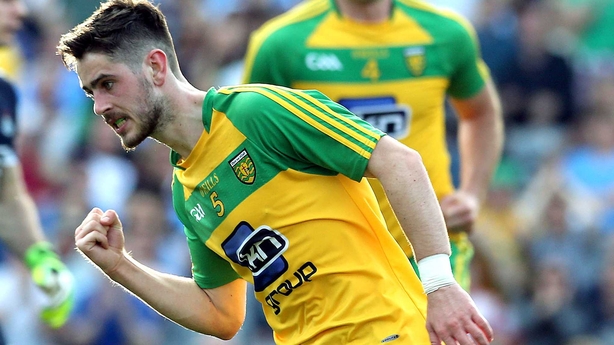 "Even when you were studying teams, you could see that the Maor Foirne might have been running on to nearly shut down an opposition kick-out so the keeper couldn't kick it into that area.
"Stuff like that was probably getting a wee bit out of hand and to be fair it was probably just managers and backroom teams being cute. In terms of that, it's probably could that (the role) is gone.
"But I don't think a lot of people understand how hard it is sometimes it can be to get information onto a pitch, especially when you've got 20,000, never mind 80,000 in Croke Park. If you've got 20-30,000 supporters talking, never mind shouting, it is really hard to hear your manager sometimes or your backroom team, whoever it is getting information onto you.
"I think it is important to get information onto a pitch if changes need to be made. But it's not the end of the world having no Maor Foirnes."
While Sheedy admits it was "nice" to be able to use the maor foirne to transmit messages like getting players to swap flanks or shift position, he echoes McHugh's point about it getting out of hand some years ago.
Probably the most infamous example was two years ago when Dublin selector Greg Kennedy temporarily morphed into a 16th man and intercepted a TJ Reid pass towards a Kilkenny team-mate while he'd been on during a break in play and issuing instructions.
We need your consent to load this comcast-player contentWe use comcast-player to manage extra content that can set cookies on your device and collect data about your activity. Please review their details and accept them to load the content.Manage Preferences
One suggestion made by the former chair of Croke Park's referees' development committee Willie Barrett is that each team receives two passes per half for a member of a management team to enter the field with clearance from the sideline official.
"Or even when a player is down and being medically attended, does it make it okay for the two maor foirnes to (go on) because the game is stopped anyway," adds Sheedy in reaction to that idea.
"What they're trying to avoid is an onslaught of extra bodies onto the pitch. That's not adding to the spectacle but I'm not so sure we need to go to where they can't enter the pitch.
"If there was a compromise there, I think certainly management would like to be able to, if they had that ability."
But with a not-so-porous dam in place between management and players furthest away from the sideline mid-game, the vitality of pre-match prep and the half-time team talk becomes much more crucial according to Sheedy as well as the necessity for players to learn how to think on their feet and improve communicatation without "the crutch of a maor foirne delivering messages".
"You get 15 minutes as a backs unit and a forwards unit, you can get clear in terms of where do we feel we're doing well, what's not going so well and what are we going to work on to make it work better in the second half," he says.
"You'll be very specific around the two or three areas you want to go after or the one or two areas that are working really well. You can cover a lot in 15 minutes really, it's a long time and for people that use it well, it does help performance no question."
Follow the weekend Allianz League action with our live blogs and reports on RTE.ie/sport and the RTÉ News app, watch Dublin v Armagh on RTÉ2 and the RTÉ Player or listen to exclusive national radio commentary on Saturday and Sunday Sport.