Former chair of Croke Park's referees' development committee Willie Barrett says the GAA may have to consider a defined role for management teams to issue tactics and instructions to players in the future.
Barrett suggests considering the possibility of allowing each management team two 'passes' during each half when they can enter the field to communicate with players – but only after receiving clearance from the sideline official on duty.
With the water breaks set to be scrapped this week, and no return imminent for the maor foirne role, coaching and management set-ups will be without a clear and definite window to make tweaks or tactical changes this season.
Former top match official Barrett says, however, that the GAA should study the upcoming Allianz Leagues closely to gauge the situation as the competition unfolds.
"I think that this year management teams may just have to get on without having that platform to make tweaks or changes," he told RTÉ Sport.
"But perhaps the national leagues will show up something – an area or opportunity that could be explored further. I do believe the leagues will be very competitive and management teams will want all tools available to them and communication is important, I accept that.
"On a personal level, I am glad the water breaks are going. They served a purpose and it's time now to continue the games.
"Managers took advantage of the breaks, and they were entitled to that, but the flow of the game is important too and, from that point of view, I am pleased with water breaks going."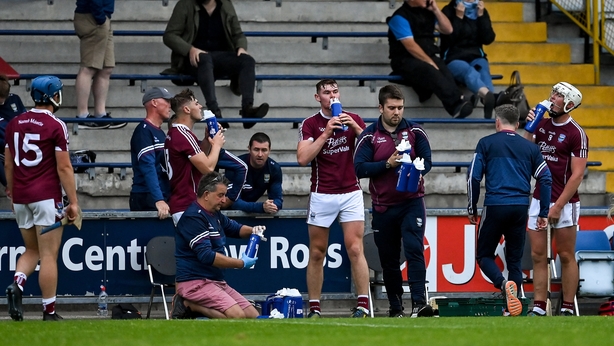 Barrett did state, though, that communication with management teams and players might not be easy – especially with large crowds due in stadiums as the season develops.
"I accept that it will be difficult for them to communicate, it's not an easy one," he said.
"We have to figure out as we go forward exactly what is required and when. Maybe it's something akin to the maor foirne role, only with a more defined specification.
"Let's not forget that the maor foirne role had gone way over the top. Guys were on the field, staying there and taking up positions on pitches that were blocking spaces for opposition, and it was most unfortunate. It became non-acceptable.
"Now, the GAA may have to look at it all again as we go forward and there could be an opportunity prior to the championship starting, or after it concludes.
"But if they revisit it, I think that it must be with a very defined role. Tactics and communication of such are a major part of our games and they may have to consider that a designated member of the management set-up gets four passes, two in each half, and approaches the sideline official for permission to enter the pitch on those two occasions in each half.
"It may have to be that specific because we just can't go back to a scenario where we had a maor foirne in the field at every break in play.
"It might be looking at doing it twice in course of first half and second, purely for the purposes of getting a message in – and with the responsibility handed to a defined person in the management set-up.
There had been a number of high-profile incidents with maor foirnes in recent seasons, with one - Dublin selector Greg Kennedy - even catching a free from an opposition player whilst others regularly blocked space for opposing goalkeepers to send their restarts into.
There was a sense that some maor foirnes were almost loitering around preventing possession from being sent into certain spaces which resulted in a number of suspensions being issued.