The GAA's central council will meet on Saturday to consider the two proposals for potential Gaelic football reform with the green proposal set for significant backing.
Two templates have been drawn up for consideration ahead of next month's annual congress.
From 2023 onwards, the red proposal could see a round robin provincial championship in February and March, followed by a league-based championship from April.
Meanwhile, the green proposal would see the retention of the current Allianz League and provincial championships from 2021 - followed by round-robin groups in the Sam Maguire and Tailteann Cups.
Reform was attempted at last year's Special Congress with Proposal B - a league-based championship with the switching of the former provincial championships to the spring - gaining 50.6% support from delegates in a vote where 60% was required to achieve change.
The mood in the room, however, suggested that change was inevitable, and it looks increasingly likely that reform will soon come in the form of the green proposal which will be introduced in 2023 if it is voted through next month.
This format has gone down well with various stakeholders including provincial councils and the Gaelic Players Association (GPA).
It will guarantee every county a minimum of four championship games – a minimum of one in their provincial series with three more in the group stages of either the Tailteann Cup or Sam Maguire.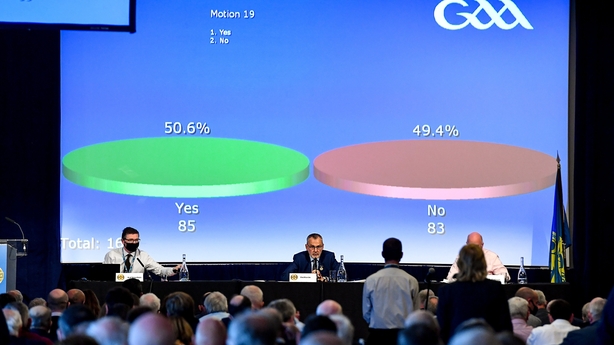 New Ulster GAA Chairman Ciaran McLaughlin said at the recent provincial convention that structural change was needed in the football championship but not to the detriment of the provincial competitions and indicated that he would support the 'Green Proposal'.
Connacht GAA president John Murphy is also advocating for the 'green option'.
"It should be noted and understood that revenue from the Connacht Championships has contributed greatly to units within the province in the form of club grants, scholarships, and coaching.
"It has also been hugely important in funding our Centre of Excellence which now stands as a model for all Irish Sporting Organisations, and through outstanding financial management is debt free," Murphy told the Connacht convention."
New Munster GAA chairman Ger Ryan called for comprehensive debate on the matter but also supports the green model.
"The two proposals reflect the desire of special congress and the wider association for change and provide a clear choice for counties. I would encourage all counties to give close consideration to both proposals and to bring their views to the Ard Chomhairle meeting," he said.
"My personal preference is for the green proposal, which I believe provides change for the better while preserving what is good in our current structures. I look forward to a new structure being adopted and it would be a great to see consensus emerge around one proposal."