Mayo manager James Horan says he and his management team are already plotting for the 2022 season and has dismissed speculation of a split in his backroom.
It's been over five weeks since Mayo lost to Tyrone in the All-Ireland final and the fallout has been extreme in Mayo, after a backlash on social media in particular.
Having beaten Dublin in the All-Ireland semi-final, hopes were high in Mayo that they could finally land Sam Maguire but instead they produced a lacklustre display in the decider against Tyrone.
This led to a bruising fallout in the county.
But speaking on the Tommy Marren Show on Midwest Radio this morning, Horan totally rejected any suggestion of a disagreement with his selectors Ciaran McDonald and James Burke.
Speaking of the speculation, Horan said: "I didn't realise this was happening. I find it incredible with the amount of untruths published. It is phenomenal.
"We have been working the last few weeks to plot and plan for next season so some of the stories generated are actually incredible. Maybe some people will take a breath and reflect on what has been written or said.
"I have talked four or five times a day since the All- Ireland final day with Ciaran McDonald. I saw a clip sent around where there were a couple of hundred people behind one of the selectors. It was noisy, so I asked him to repeat what he said, and people took stuff from that too. It's bonkers.
"There is absolutely nothing in any of it; it is a complete untruth and that's where it is. I can't control that. Music-wise, Ciaran and I might not always agree about stuff but that's really the size of it."
When asked by Marren about the perception of a rift because McDonald sat in the stands on All-Ireland final day, Horan replied: "Ciaran sits behind me because he is not allowed to stand beside me on the line because of multiple GAA rules and conditions. There is no selector that stands beside any manager.
"There are five of us involved in picking the team and if all five of us were in the one position we would all have the same view, so we have people in different positions. Ciaran has been sitting there all year, but people see it on All-Ireland final day, and it becomes a thing."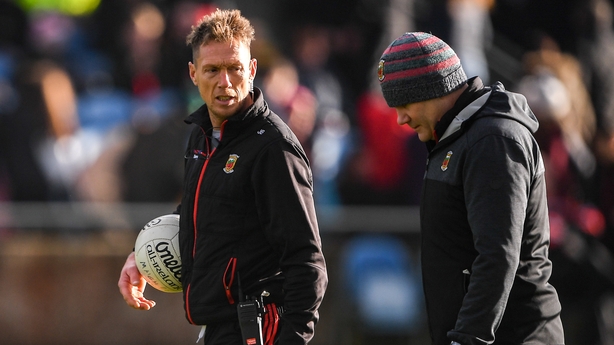 The Mayo manager admitted it was disappointing to lose the final in the manner they did.
"As a team and group, we had big plans and we didn't play to the top of our ability on the day.
"But we always try our best. No-one is more disappointed than the team, players and our families. We are absolutely determined to figure it out, take ownership and come out in 2022 a stronger team."
Horan said he kept his counsel until now after a review had taken place with the county board.
"There was nothing to say because there was so much going on, but we had a full review with the board and it was a very constructive meeting. Ciaran went with me and we spoke of how we could go stronger in 2022."
Horan says he was aware of the abuse his group received on social media. The Mayo manager is a Twitter user but never posts on the platform, instead using it to follow local club games.
He said that it was never nice for players or their families or partners to be singled out and added that it was an unfortunate aspect of being in public life.
"The personal nature of it is just not right but at the end of the day it's someone somewhere sitting down behind a computer saying something. That's how I try to shelf it.
"I know there are blatant untruths out there, so far from any realm from the truth that it is crazy and the gut reaction is that you would love to meet these people and say it to them but if you stop to throw a stone at every dog that barks, you will never move on."
Horan pointed out that the team trained 80 times in the season and tried their absolute best.
"Stuff goes wrong, and everyone is an expert but do people not believe we want to win and be at our best? We didn't play our best and are there learnings and ownership I have to take on board? One hundred per cent."
When asked about players receiving sponsorship deals and appearing in the media before a big game, Horan replied that a lot of players in multiple counties received endorsements, deals and car deals and that they had a lot of players in that boat this year.
"We try to monitor it," he says. "We try to ensure that players get the balance in all aspects of their lives right."
When specifically asked about Aidan O'Shea and his profile, Horan was stout in his defence of the Mayo captain.
"It's amazing what Aidan and these lads do in their own community.
"I haven't seen it highlighted the work Aidan does when asked to go to schools and other areas.
"The timing of the article (one appeared before the All-Ireland final) etc wasn't good but when there is a defeat everyone blames various stuff.
"We try to work with players. Every part of their life needs to be balanced. We work full time with players to get balance and we get it mostly right."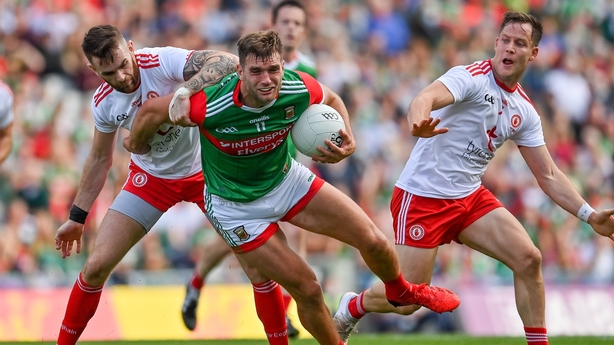 When asked of his relationship with the county board, Horan stressed that there were always challenges but that they all had the best interests of the team at heart.
"The county board has a huge brief and I have a specific brief," he says.
"I try to develop young players, improve them as players and people and try to be as successful as we can.
"The county board takes an overall picture. Last year, for example, we had no pitch for three and a half weeks before the final because the county board needed to re-seed the pitch so we worked with them.
"With regard to supporters, some of the criticism on social media gets highlighted and retweeted but the support we get from most people is phenomenal. People writing, ringing, sending letters to the house. There are a huge amount of solid people out there."
Horan added that he and his backroom team will hold a weekend of trials in mid-November and are determined to bounce back stronger than ever next season.
He concluded by saying that, ahead of Special Congress this weekend, he was happy enough to either stay with the status quo or play under a league-championship format.
He emphasised that while the league-championship model looked solid it did have flaws and said it was important not to rush into a scenario where tweaks would be needed to Option B.
"Guys who are battering away in Division 1 won't get a crack at a final whereas the winners of Divisions 3 and 4 will even though they are playing to a much different standard.
"I'm not sure that's right. If things are left as is I am ok with that and if there is a slight tweak I am ok with that too but they should not rush into it."