Less than a month after almost forfeiting their place in the competition, Tyrone have won an unlikely All-Ireland title, prolonging Mayo's extraordinary agony in finals.
A critical four-minute spell early in the second half set them on their way, Ryan O'Donoghue slipping a penalty wide moments before Cathal McShane ghosted in behind the Mayo cover to deftly palm a goal and open up a four-point lead.
With 12 minutes remaining, when Mayo appeared to be gaining a stranglehold in the middle third, Tyrone broke in behind, Conor McKenna raced through a yawning gap in the defence, casually tossing a no-look pass to the onrushing Darren McCurry who slapped the ball to the net. The gap was now five.
Mayo rallied, launching galloping run after galloping run but Tyrone's oppressive smother defence and their own poor shooting undermined them.
The victory was first and foremost a tribute to the Ulster champions' brilliant defending, both individually and collectively. Even when not executing a turnover, they slowed Mayo attacks, forcing them down dead ends, always getting a hand in and staying the right side of a foul. As in the semi-final, they countered beautifully and were the far more composed and economical team in front of goal.
For Mayo, who unlike in most finals entered as the slightest of its favourites, this latest defeat - lost on an identical scoreline to 2020 - must rank as one of the most sickening yet. Remarkably, they have now lost one third of all All-Ireland football finals played since 1989.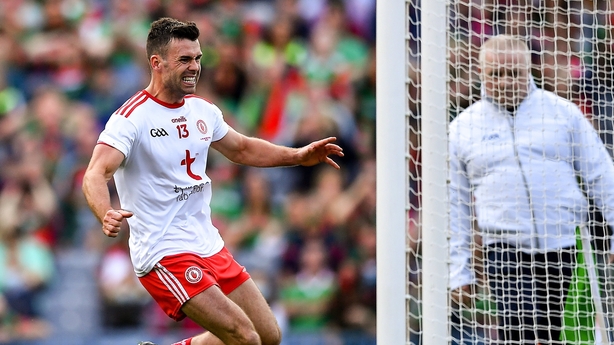 An All-Ireland title that looked a remote prospect after Tyrone shipped six goals in Killarney, appeared even less likely after Covid-19 ran riot in their camp before and after the Ulster final, forcing a delay to the All-Ireland series.
But their resilience and unrivalled game intelligence shone through in the final two matches and they have a fourth All-Ireland crown, achieved in the first year of Feargal Logan and Brian Dooher's reign.
This time, things started reasonably enough for Mayo. They had a rather unhappy habit of conceding goals more or less immediately in All-Ireland finals but they began like caged tigers let loose here.
Aidan O'Shea, whose performance in the semi-final attracted such derision, won the throw-in, poked a pass into Tommy Conroy, who bulldozed through his man and curled over a score. Minutes later, O'Donoghue clipped over a free and the Mayo crowd were rocking.
It was apparent the Connacht champions had won the ticket scramble, the spillover from the pubs around Drumcondra a sea of Elvery's and retro Genfitt jerseys.
But the Tyrone crowd wasn't long making itself heard. As in the semi-final, they started a bit gingerly, took stock and acclimatised to the contest. Morgan, a rock of assurance all day, got them off the mark with a long range free.
As usual, their marksmen/corner backs were on target. Padraig Hampsey raided up the Hogan Stand, swerving over a beautiful score off the right. Darren McCurry, who only came alive late in the semi-final, got into the swing early here, notching two and Tyrone led 0-04 to 0-03 at the water-break.
Mayo kept the game tit for tat, Paddy Durcan and Stephen Coen both landing sweet points.
Early on, there was another of those hinge, 'what if' moments for the westerners. Mayo missed a woeful sitter on 14 minutes. Ryan O'Donoghue appeared to be in the process of getting bottled up, spun away from the tackle and lofted a pass in for Bryan Walsh who'd stolen in behind. Morgan sped out quickly to smother the shot but it rebounded to Conor Loftus who only had to pass it to the net. However, he snatched at the chance and it was blocked off the line by the retreating Niall Sludden.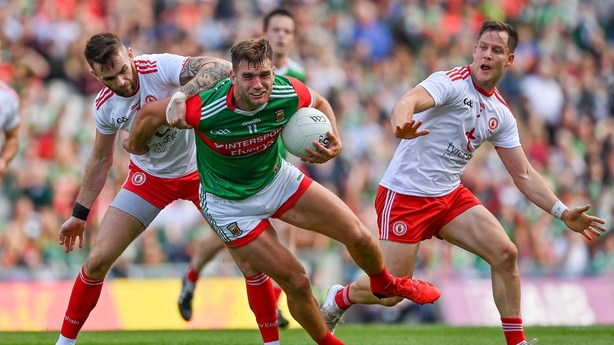 O'Shea was experiencing more All-Ireland final woes. He stuck a shot wide on the near post and then when found with a cleverly angled pass when Morgan was loitering far from goal, he was ponderous with his attempt and Ronan McNamee was able to execute an exemplary block.
Robbie Hennelly, too, wasn't the assured player of the semi-final, shanking one kick-out into the path of the livewire McGeary. A couple of patient pop passes later and Sludden found the space to split the posts.
With Mayo displaying some early signs of ragged panic, Tyrone almost had a goal on the half hour, a simple long ball breaking for McCurry. His shot, from the ground, was weak and Hennelly diverted it away for a 45 with his legs. Morgan was able to trot forward and swing over the point to extend the lead to three.
Sludden, in particular, was popping up everywhere, rescuing Tyrone at one end and getting on the end of moves at the other, notching two from play in the first half.
Early in the second half, Mayo fell prey to another of those jarring, heart-sinking moments that have befallen them with almost spooky regularity in All-Ireland finals down the years.
O'Donoghue dropped a free short, Diarmuid O'Connor charged in, made himself a nuisance, as the ball dribbled close to the goal-line, Frank Burns was unable to resist picking it clean off the ground.
O'Donoghue stepped up for the pen, threw in a Jorginho jink, and side-footed wide off the post. The frenzied Mayo cheering died abruptly, replaced by foreboding.
Moments later, the effect of the penalty miss was magnified. Conor Meyler, sauntering up the right flank, lobbed a ball into the full-forward line, Cathal McShane, just introduced, peeled away from Mullen and with Hennelly racing out, deftly nudged the ball past the advancing keeper with the outside of his palm.
It was Tyrone's only score of a cagey third quarter but it was a seismic one.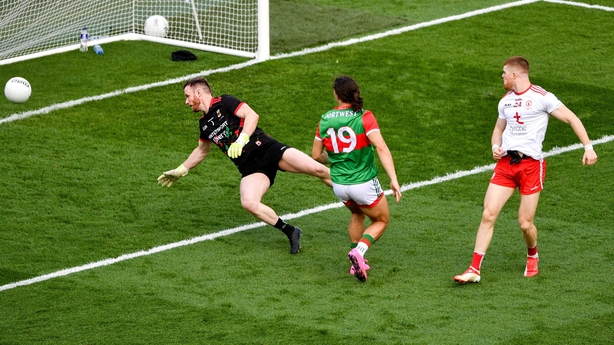 Mayo kept on trying to rev the engines and get their running game motoring but Tyrone closed off the avenues. When they did break through, an age-old foe, poor finishing, let them down.
Tommy Conroy, lively all game, rounded Hampsey but drilled his shot wide of the near post. Walsh was given more than a sniff of goal but he pulled his shot disastrously wide of the near post and was hooked soon after.
Still, they began to dominate around the middle and when Kevin McLoughlin clipped over a point after another half-goal chance was shut off, the margin was only two with 13 minutes remaining.
Then came the killer blow, beginning with Kilpatrick fielding magnificently and ending with Man of the Match McCurry palming the ball home, taking the time to triumphantly salute the Tyrone hardcore clustered on the Hill.
Tyrone have a second goal, with a lightning attack from one end to the other finished off by Darren McCurry in another body blow for Mayo #RTEGAA #MAYOvTYRONE

📺 Watch Live - https://t.co/IdpkJmuz4B

📱 Live updates - https://t.co/8TNdjy2oh7 pic.twitter.com/gISq8I9AXf

— The Sunday Game (@TheSundayGame) September 11, 2021
Mayo rallied briefly, the irrepressible Lee Keegan, never a letdown, bulleting over a magnificent point. O'Donoghue clipped a free and the deficit was only three.
But composure was still a stranger to a Connacht champions.
Peter Harte took a timely and decisive mark in front of goals and extended the lead to four, sub Darragh Canavan raiding up the left wing to fist a point and quell any hint of a comeback.
By now, Mayo had embraced desperation and their attacks grew more ragged, balls sailing wide, others dropping into Morgan's clutches. On the line and in the stands, realisation dawned on the sullen Mayo support that yet another final was slipping away.
After the Dublin defeats, they could console themselves with the notion that they'd collided with a historically great team. But this felt like a major opportunity spurned on the big day. The latest loss may test their legendary powers of resilience to the max.
As the game entered injury-time, Mayo were reduced to 14 men when Matthew Ruane was sent off following an altercation which left Kilpatrick's jersey ripped.
Tyrone had the game on a string by now. They easily snuffed out Mayo's frantic attempts to work a goal and picked off points on the counter. Injury time was a victory lap.
For Logan and Dooher, the latter prominent in all four of Tyrone's victories, the former carrying the heartbreak of '95, it was a sweet success, achieved in their first year in charge.
Tyrone: Niall Morgan (0-03, 2f, 1 '45); Michael McKernan, Ronan McNamee, Padraig Hampsey (0-01); Frank Burns, Peter Harte (0-01, 1m), Kieran McGeary (0-01); Brian Kennedy, Conn Kilpatrick; Conor Meyler, Michael O'Neill, Niall Sludden (0-02); Darren McCurry (1-04, 2f), Mattie Donnelly (0-01), Conor McKenna.
Subs used: Cathal McShane (1-00) for Donnelly (42), Darragh Canavan (0-01) for O'Neill (53) Ben McDonnell for Kennedy (56) Paul Donaghy for McKenna (65) Tiernan McCann for Kilpatrick (72)
Mayo: Rob Hennelly (0-01); Padraig O'Hora, Lee Keegan (0-01), Michael Plunkett; Paddy Durcan (0-01), Stephen Coen (0-01), Oisín Mullen; Matthew Ruane, Conor Loftus; Diarmuid O'Connor, Aidan O'Shea, Bryan Walsh; Kevin McLoughlin (0-01), Tommy Conroy (0-02), Ryan O'Donoghue (0-08, 7f).
Subs used: Enda Hession for Plunkett (35), Jordan Flynn for O'Hora (52) Darren Coen for Walsh (57) Aidan Orme for Loftus (65) James Carr for McLoughlin (73)