James Horan's Mayo revolution almost ended before it began in the party atmosphere of Ruislip.
Mayo had just needed a Kevin McLoughlin equaliser to spare them the ignominy of a loss to London and even then they'd made heavy weather of extra-time, only winning by three in the end.
With the obligatory Ruislip song and dance set in full swing - the annual Connacht championship game in London doubles as an emigrant shindig - Horan sat dazed and shook, contemplating his close shave.
"We were sitting in a marquee where there had been a band pre-booked for the party," recalled commentator Mike Finnerty.
"And they were banging out all the hits in the background. All these country classics and crowd favourites. And James was just sitting there with his back to them, shaking his head.
"He was grey with shock. He was actually struggling for words. I remember he had his head in his hands, just kinda saying 'what in the name of God happened out there?'"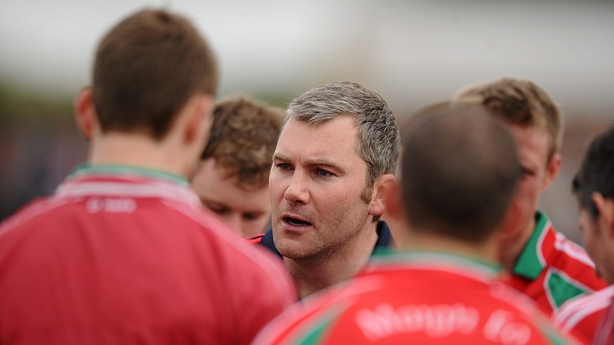 Happily for Mayo, this early summer throat clear wasn't indicative of what was to follow.
Horan had assumed the job after the hideous flop that was the 2010 championship season, when his illustrious predecessor John O'Mahony had, as Mayo blogger Spailpín Fánach put it, "like Humbert, met his Waterloo in Longford."
O'Mahony's long yearned-for second stint in charge had turned out an abject disappointment. They'd spent the intervening 16 years watching him win All-Ireland titles with Galway and cursing their decision to discard him in '91. In the end, his four years back in the hot-seat yielded a single Connacht title and Mayo never got past the All-Ireland quarter-final.
The 2010 championship represented the low-point. Mayo had retreated very far from the bright lights.
Tommy Lyons was initially installed as a dead cert for the job, an army of punters losing money as a result. John Maughan, who'd already done two stints, said he was interested but then after a brief chat with the county committee decided he wasn't.
But that same year, Horan, a two-time All-Star forward with Mayo in 1996 and 1999, had managed his club Ballintubber to a first ever county championship in his first season in charge. That winter, the vacant county job was his.
In his first briefing before the local press, he set forth a memorably punchy credo that would guide his time in charge.
"Going back to when he took over in the winter of 2010," Andy Moran recalled this week, "his quote was 'we needed to take the bull***t out of Mayo football.'
"And I think you couldn't write it any better than that. He's taken the bull***t out of Mayo football."
Horan quickly set about making the Mayo camp a cold house, a hostile environment for bull***t.
To get more specific, he prioritised two main areas - conditioning and mentality.
Mayo, previously stereotyped as a traditionalist, borderline Corinthian environment, got ahead of the curve in the S&C department.
"The first thing he tried to do was completely change the culture of the players - and the habits that we had," Keith Higgins tells RTÉ Sport.
"There was always a bit of S&C going on and we had strength and conditioning coaches before. But he made it non-negotiable.
"He brought in Ed Coughlan and he started from scratch. It was all core stuff. I remember the first couple of sessions. Lads just weren't really used to it.
"But from then on, that was just part of our set-up and you had to get on with it. He was just getting the set-up to be as professional as he could, getting the right people in."
We need your consent to load this YouTube contentWe use YouTube to manage extra content that can set cookies on your device and collect data about your activity. Please review their details and accept them to load the content.Manage Preferences
Perhaps more significantly, he wanted to grapple with a longstanding bugbear of his - what Higgins tentatively describes as the "west of Ireland thing".
"He looked to change the mentality of the players as well. We were coming from a really, really poor year in 2010, being beaten by Sligo and then being beaten by Longford.
"And I think he probably just always felt there was... not an attitude... but a thing with the players - maybe it was a west of Ireland thing - where we lacked that bit of confidence that the other big counties had.
"He really wanted to change that, enforcing the idea that we had belief in ourselves that we were good enough to do it.
"I think there was a big emphasis on building the confidence in the group and maybe Mayo as a county."
Though he had only one year under his belt in management - albeit a very successful one - Horan carried an instant respect in the dressing room due to his playing career and his naturally authoritative manner.
"He's a very straight-shooter. Authoritarian is probably (too) strong," says Moran of his management style.
"Could you describe a leadership style as commanding? Commanding and demanding are the two words I would use. He demands a lot of high standards and he commands the respect of the dressing room.
"Even when he came into us in 2010, he might have been the only forward in Mayo with two All-Stars at the time. Ye boys (the media) had a good habit at the time of writing Mayo off as having no forwards.
"So, he commanded respect straight away. He won the county title with Ballintubber, which was a big achievement at the time in 2010. So he had that respect and then he just demanded really, really high standards."
After the violent wobble in London, Mayo gradually settled into the 2011 campaign. The competition in Connacht wasn't too hot at the time.
Galway were in one of their semi-regular slumbers and Mayo, after a sluggish start, dispatched them in a drab game in Castlebar.
Horan's playing career had coincided with historic heyday of the Mayo-Galway rivalry (96-02), during which the teams went tit-for-tat, Mayo edging the head-to-head but Galway ultimately landing the grandest prize (twice). Now, as manager, he would establish a winning record against Galway which survives to the current day - six wins from six. Indeed, during the interval between his two stints, Mayo actually had a losing record against the Tribesmen (1-3).
In the Connacht final against Roscommon in Hyde Park, another scrappy, rain-sodden encounter, 19-year-old forward Cillian O'Connor scored a glut of late frees as Mayo overhauled a third-quarter deficit to win a low-scoring game by two.
Still, the consensus at national - and even local - level was that Mayo hadn't been pulling up trees and it was perceived as a fairly humdrum, bog-standard Connacht title victory. Great things were not expected for the All-Ireland series.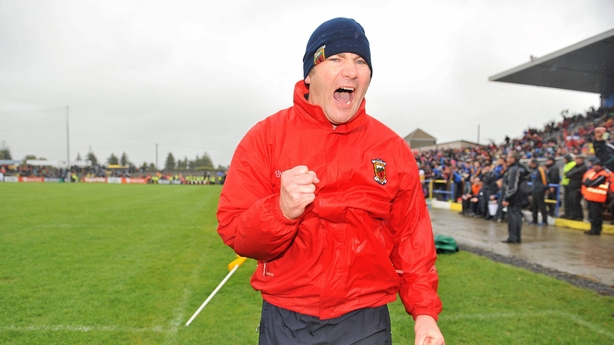 "We probably hadn't the best league in 2011 and got very lucky against London the first day out. But from then on, we put in, I wouldn't say good performances, but very dogged performances," recalls Higgins of that formative, first campaign under Horan.
The RTÉ punditry team scoffed at their chances ahead of their quarter-final against then All-Ireland champions Cork. Two years earlier, Mayo had nabbed a Connacht title in dramatic circumstances in Salthill, only to then shrink into themselves in a depressing second half fadeout against Meath - and hardly a world-beating Meath team either - in the All-Ireland quarter-final. It was blithely assumed that the same flaws were writ large in the team.
But now it was time to showcase the new, resolute Mayo that Horan had been carefully building - a cussed, hard-running outfit who played with bullish abandon. They submerged Cork under wave upon wave of attacks, restricting the champions to just one point in the second half.
It was their first big statement win of the Horan regime. Their numerous critics, who in advance had relied on dismissive stereotypes about Mayo brittleness, were forced into a retreat.
The game started a notable trend. In each of Horan's first three seasons in charge, Mayo would eliminate the All-Ireland champions.
The approach that sunk Cork in 2011 is still in evidence today and has marked Horan teams all along.
"He is very much about playing a high press, a high running game, a high tempo," says Higgins.
"He wouldn't be one for bringing back a sweeper, two sweepers, three sweepers. It's very much a case of pressing high.
"We've seen that again last year and this year. They've been very aggressive on opposition kick-outs and trying to press high.
"I suppose he's probably identified the type of player at his disposal. If you look at 2011-12-13, he had the likes of Lee Keegan, Colm Boyle, Donie Vaughan in the half-back line and you played to their strengths and get them guys attacking.
"It's very similar now with the likes of Oisín Mullin, Eoghan McLoughlin, even Enda Hession. Guys who are very athletic and would run all day and carry the ball all day."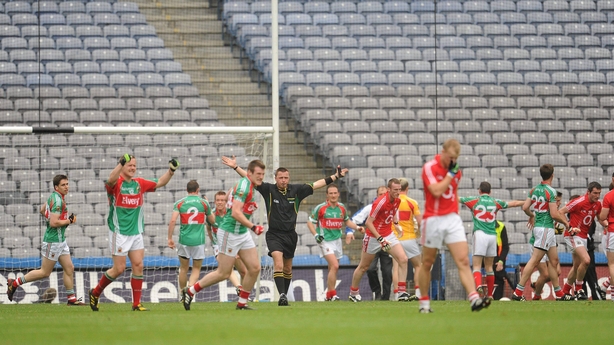 Kerry were a bridge too far in the semi-final but taking stock of the year, it was clear a new era of Mayo football had begun. Though we weren't to know it yet, they had firmly established themselves among an elite core of counties who were about to break away from the rest of the game.
In the noughties, they'd been good for the odd uplifting run to an (inevitably disappointing) All-Ireland final, in between down years. But since 2011, Mayo have been more or less a permanent fixture at the business end of the championship, reaching at least the last-four every year, save for the 'Newbridge or Nowhere' season of 2018.
"I think probably one of his first interviews after he got the job, that was one of his main aims, was to just build consistency in Mayo," points out Higgins. "You can't argue it wasn't a job well done there."
He was phlegmatic and matter-of-fact in his post-match interviews, giving an impression of great solidity, even if it didn't always make for TV gold.
He is a staunch devotee of the phrase 'Lookit'. Indeed, more than anyone, he may well have pioneered its now ubiquitous usage as the all-purpose go-to phrase of the GAA manager trying to battle his way through a post-match interview without saying anything too interesting. (Websters GAA dictionary, since you asked, defines the phrase 'Lookit' as meaning "What I'm about to say is pretty obvious, but what else d'you expect me to say here?")
He rarely got too ruffled. A controversy flared up in 2012, shortly before the Connacht final against Sligo, when Mayo's then all-time top scorer Conor Mortimer, frustrated at a lack of opportunities and game-time, walked off the panel. His family, which included a couple of ex-Mayo players, Trevor and Kenneth, published a letter lambasting Horan for his treatment of the player.
The Mayo manager appeared bemused at the controversy and shrugged it off magisterially. The team clambered over Sligo in the provincial decider and kept rolling along.
Over the next three seasons, Mayo would make a herculean push for that historic All-Ireland. Their fans had never felt more alive. It was one of the most thrilling, drama-choked and ultimately heartbreaking periods in the history of Mayo football.
In '12, they beat the Dubs, who still hadn't arrived at their imperial phase, in the semi-final, surviving a late collapse. Jim McGuinness's Donegal were too far advanced tactically for them in the decider.
The following year, with Coughlan's S&C work bearing fruit, Donie Buckley perfecting their tackling skills and Kieran Shannon tending to their mentality, they appeared to be hitting their absolute peak. In the first couple of years, they'd ground out their Connacht titles. Now, they were trampling their neighbours underfoot. They ran roughshod over all comers en route to another All-Ireland semi-final.
Galway fans still shudder at the Salthill massacre in May 2013 while champions Donegal, admittedly clapped out after their exertions in 2011 and 12, were mercilessly slaughtered in the quarters, the latter performance convincing many inside and outside Mayo that glory surely was at hand. One Mayo emigrant in New York captured the mood, when talking to the Irish Times - "That was something else. We'd nearly need to finish the job after that."
It wasn't to be. After the losses in 2012, '13 and '14, Horan did catch some flak for his tactics and in-game decision-making but as Higgins points out, their gung-ho had got them that far.
"Even the 2013 final (against Dublin), it was very much an all-out attack type of game. You look back on it now and you'd say some of the stuff was very naive. But that was the way the game was played at the time.
"There wasn't as many sweepers and blanket defences and tactics as there is now. But it was what was working for us and I suppose we thought it was going to work all the way through."
Horan stepped away on an emotional night in Limerick in 2014, hours after Mayo had frittered away a highly winnable semi-final replay against a snarling Kerry team.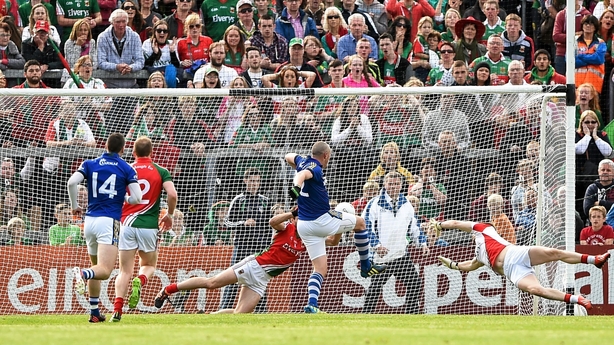 The timing of the announcement felt abrupt to outsiders but the players, says Higgins, were braced for it.
"He'd have kept his distance," says Higgins. "When he left in 2014 until he came back in 2019, I might have met him a couple of times or got a couple of texts off him. There'd never have been what you'd call a real great friendship around it.
"But at the same time, you knew if you'd ever need anything, you could very easily pick up the phone and give him a call."
Mayo banked the improvements from Horan's first stint and maintained their drive for an All-Ireland.
The Holmes/Connolly regime was discontinued after one year in very contentious circumstances. Stephen Rochford took over and tried to temper Mayo's gung-ho instincts slightly. The results were mixed - Mayo suddenly started losing to Galway again and still appeared at their best in attacking mode - but arguably he took them closer to the title than they'd ever been before, in 2016 and 17.
Outside the tent, Horan dabbled in punditry, bantered away on the GAA Hour and bided his time. He got involved with Westport at club level and, in a somewhat leftfield move, the Turloughmore hurlers in Galway.
Higgins is of the view his return to the Mayo post was always inevitable - just a matter of when.
"He knew the bit of talent that was in the county, keeping a close eye on the club scene. He probably felt he had a bit of unfinished business with Mayo after 2014.
"I'd say he always planned on coming back, maybe not that soon as he did.
"But he's a smart guy, he knew there was talent coming through and the time was probably right for him (before 2019)."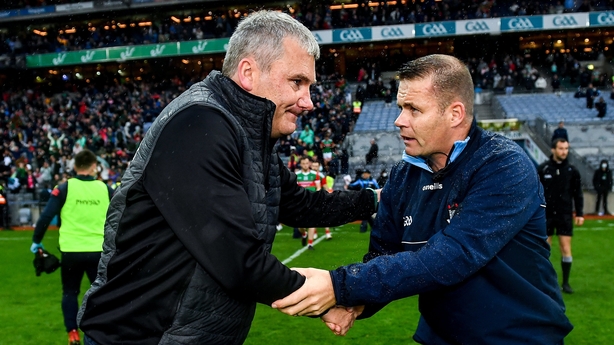 The national conversation wasn't touting Mayo's promise at this point. After the crushing and definitive 2019 semi-final loss to Dublin, there was a sense that Mayo's years in the limelight were about to end. Their team was aging and it was speculated that Horan, who'd helped spark their rise, would now preside over their decline.
Instead, the Mayo manager has again effected a seamless transition between one generation and the next, repeating the trick he pulled at the turn of the last decade.
Seamus O'Shea, one of a glut of long-time Mayo players who called it a day at the beginning of the year, hails Horan as "ruthless in a good way. If guys are going well or if guys are showing form, he's going to give them an opportunity. The last day with Enda Hession, someone who a lot of people weren't familiar with, and he was thrown in there and had a great game.
"You saw a couple of years ago when he brought James Carr on in a National League final, fellas didn't know who he was and he kicked two great points. He's not afraid to make calls like that and throw fellas in when he thinks they're ready. That gives huge confidence to fellas around the place."
Having done more than anyone to establish the county as permanent residents of the game's elite, Horan stands as the most influential Mayo GAA figure of the 21st century. Now, he just needs the All-Ireland win to set the seal on it.
To paraphrase the Mayo emigrant from eight years ago - the win over Dublin was something else, they'd nearly have to finish the job now?
Listen to the RTÉ GAA Podcast at Apple Podcasts, Soundcloud, Spotify, or wherever you get your podcasts.
Follow Saturday's All-Ireland senior football final with our live blog on RTÉ.ie/sport and the RTÉ News app.
Watch Mayo v Tyrone live on RTÉ2 or RTÉ Player from 3.30pm.
Watch highlights of all the weekend's hurling and camogie action on The Saturday Game at 10pm on RTÉ2.
Listen to live and exclusive national radio commentary on RTÉ Radio 1's Saturday Sport.