Dublin manager Mick Bohan admitted that he hadn't expected Meath to bring such intensity as the Royals de-throned their neighbours at Croke Park to claim a first senior title.
In the build-up Bohan had spoken of his desire to see his players put in their "greatest performance on the day that matters most" but they had no answer to a determined Meath side in a two-point defeat.
It marked the first loss of the Clontarf man's five year reign as their 26 game unbeaten championship run was torn apart by a hungrier Royals outfit who were appearing in their first final at the grade.
Speaking in the bowels of the Hogan Stand after the game an emotional Bohan hinted at the defeat as something of an end of era type result.
"I have to take my hat off to Meath, I thought they were outstanding," he began.
"I don't know if I saw that coming - maybe we didn't. I couldn't get over their intensity. It's the first team we've seen it up front.
"They certainly weren't over-awed by the occasion and that's a testament to them and the work that's been done with them. It seemed to be a ferocious battle.
"We've no qualms.
"From my end I've been terribly lucky to have been involved with our group and the quality of people that we deal with and that doesn't change, regardless of whether we win or lose.
"This sport is so much more than a game and we're obviously hugely proud to represent the city in this capacity. Certainly over the last period of time, since I've been in charge, I think they've done a phenomenal job representing our city.
"I can say this with hand on heart that whatever we, as a management team, have given them in support they've given us way more."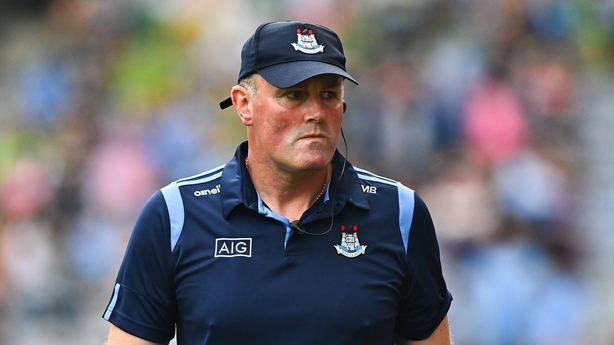 This Dublin squad arrived into the final oozing with experience.
Lyndsey Davey was starting an eleventh All-Ireland final since 2004, and alongside Sinéad Goldrick and Carla Rowe, it was her eight consecutive final appearance. The Brendan Martin Cup had never visited the capital when the Skerries Harps clubwoman made her Dublin debut 17 years ago.
Captain Sinéad Aherne took 2015 out, but this afternoon's game was her ninth start in the sport's showpiece game, having come off the bench back in 2004.
Nine of the starting fifteen have at least four All-Ireland winners medals, but the team ultimately found themselves depending, to some extent, on this year's sensation Hannah Tyrrell.
And the Na Fianna woman didn't disappoint, kicking seven points of the Blues' total of 12. But the spread of scorers wasn't there as Meath deployed what Bohan called a "double centre-back" to great effect.
"Today was the end of a road for probably half a dozen of that group," Bohan said with his voice breaking.
"You would have written the script differently from our end. But I hand the thing back over to Meath. You're supposed to go out into that arena and empty yourself on the pitch.
"That's why we value it so highly. I hope the people that came today got the spectacle that they deserve and I certainly think it was a marvellous front for ladies football.
"They're a phenomenal group of people. I've benefitted, my family has benefitted, my two youngest girls look up to them as heroines."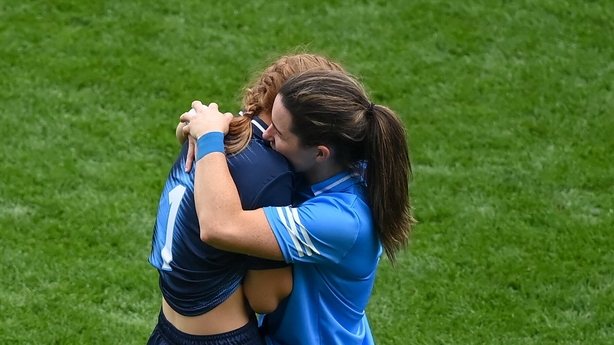 On Tyrrell's afternoon he added, "At the end of the day it's a team performance.
"Defensively we were very good. We didn't execute up front the way we normally do. You have to hand it to them, the structure they have in defence is quite difficult to break down.
"They were so well organised. I don't know what the stats on turnovers were at the end but they were high at half-time. We were making errors that we normally don't.
"Those offloads, we just weren't getting them to the hands. In saying that we had three great goal chances in the first-half. There was probably an offload needed on two of them that would have put it into the back of the net.
"One was a phenomenal save from the goalkeeper."
---
Murray delighted to see Meath players back themselves as they claim All-Ireland title
---
But Bohan acknowledged that the better team had won, and pointed out that Meath's style of play is a positive thing as it helps to progress the women's game.
"They played a double centre-back and they filtered their players back aggressively, in terms of the ferocity with which they got back.
"I couldn't get over their conditioning. I thought we were in really good shape but it got to a stage in the contest where they were matching us hell for leather in every single contest on the field, so fair play to them.
"I'm not knocking it; it's great. The game evolves and people come up with different systems. That's the challenge in sport. Equally, to prepare for those challenges you need to play against them.
"When you've dealt with it then you can equip yourself better. We thought we were well equipped coming into the game but obviously I got some things wrong.
"I think it's a fabulous message in sport. They have got a group of people together who went after the thing with such energy and passion and they deserved that victory today.
"That's the message that should go out to kids - if you commit yourself to a cause, and you get organised, and you're willing to do the little bit extra, the competition is there for anyone."