Meath manager Eamonn Murray said he never doubted that his team would win the All-Ireland after their two point victory over Dublin at Croke Park.
The Girls in Blue were chasing a fifth Brendan Martin Cup on the bounce, but the Royals were never behind during an absorbing contest on Jones' Road.
Right from the off Meath were on top when Vikki Wall ran at the Metropolitans defence and was taken down. Stacey Grimes converted the free and the side appearing in a first ever senior final never looked back.
The gap was five points at half-time, and although Dublin did rally in the second half they never got closer than two points as they lost a first championship game under Mick Bohan.
And while most were predicting a victory and then some for the Dubs, Meath hadn't read the script and emerged worthy winners.
"We never questioned for one minute that they'd win, and I mean that," Murray said afterwards.
"We knew this year that we'd win every game and we didn't worry about All-Irelands - we didn't think about them. Even the league final against Kerry we approached in the same way as today's game.
"They showed no sign of panic at any time.
"We beat them at their own game and that's no harm. These girls have come on a long way with their physical strength, and we needed all that strength today to beat them.
"They're a class outfit, an unbelievable team. To be the best you have to beat the best and we certainly did that today.
"We were by far the better team today."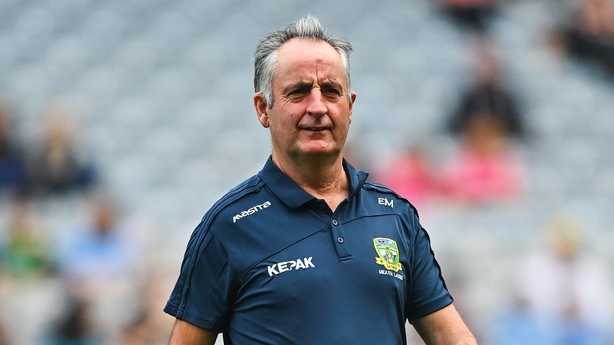 The goal was a critical score as it gave Meath a cushion throughout the afternoon. It came in the seventh minute as a result of good pressure on the Dublin kick-out.
The Royals had already forced one turnover from Ciara Trant, but after missing a free-kick Emma Duggan stole another kick-out from the Blues net minder and tried her luck from 40 yards out.
Whether she was going for the point or the goal might be debated but it mattes little as the effort dipped perfectly under the crossbar and beyond the reach of the desperately retreating Trant.
"It was very important," Murray said of his side's bright start.
"We kept telling the girls to make sure they stayed in the game. We cut it down into gaps of 15 minutes and then we treated each of those as a full match, and they did exactly that."
It's a truly incredible story. In 2018 and 2019 Meath lost back-to-back intermediate All-Ireland finals, before finally getting over the line at that grade last December.
Champions at that level have often struggled to make an impact when stepping up to senior, but Murray's women took that form into the Lidl League, gaining promotion after a victory over Kerry at Croke Park in June.
Defeat against Cork in the group stages of the All-Ireland championship - despite a good showing - suggested that they might be about to follow the path trodden by others before them.
But they put down a marker in the quarter-finals, beating a fancied Armagh side comfortably in the end. Then in the semi-final they looked dead and buried before two late, late goals forced extra-time against Cork.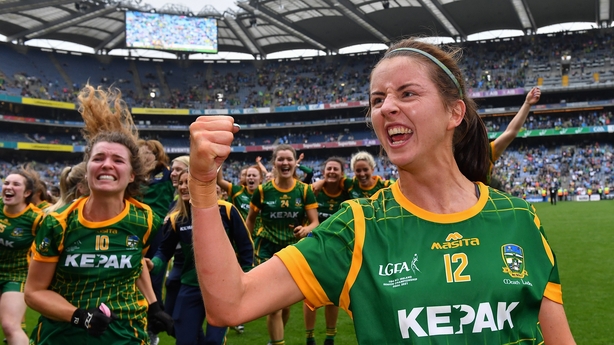 The eventual victory over the Rebels seemed to give their players great belief as they took the game to Dublin this afternoon, and led from the front.
For Murray, it was a victory built on years of hard work.
"We've been working on that for a few years and it's really coming together now," he said.
"It's very hard to score against us and I thought our break did very well today and we moved the ball very well. We never showed any sign of panic and there was (goalkeeper) Monica McGuirk's save.
"Of course we had a bit of luck - any team who wins gets luck - and we had the bizarre goal. We've had the luck all year, but it's not all luck when you beat all these top teams.
"They're a very special bunch of players we're dealing with here and I wouldn't expect anything different off them. They've come a long way.
"We'd plenty of tough days too and this is as high as it goes. Where do we go from here? I don't know."
Niamh O'Sullivan was one of the stars of the show for Meath, kicking three points from play. "She ran herself into the ground," was her manager's view of her performance.
For the Dunshaughlin Royal Gaels woman it was the hardest game of her career.
"Definitely. We knew coming up to senior the pace would always be a lot quicker. It was always going to be a physical battle against Dublin.
"We came into the game playing our own game. We focused on ourselves. We worried about our own performance and I think we put in the performance we knew we could and we're delighted.
"I still think I'm in a dream. It's just absolutely fantastic.
"Meath football was in a low place a few years ago We suffered two defeats in a row in the intermediate and to come back just shows you the character of this team."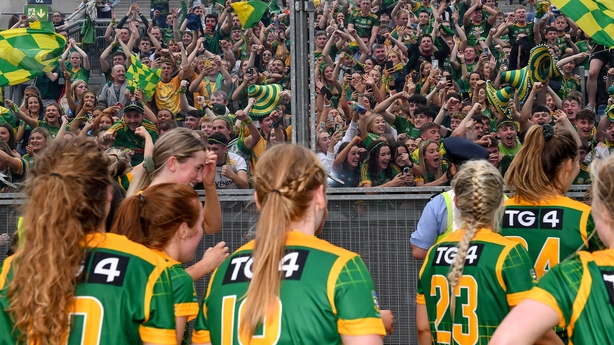 O'Sullivan was full of praise for the Meath support in the ground, saying that they got the team over the line in the end.
"The crowd was amazing and they really got behind us in crucial times of the game," she added.
"Dublin nearly got in on goal a few times and we won the ball and the absolute roar just lifted us. Then Dublin got within two points but the crowd really got behind us.
"It's nice to see the green and gold filling Croke Park again - it's just incredible."