On the brink of an historic haul of five All-Ireland Ladies Football titles in a row, Dublin manager Mick Bohan has set his team another target.
As if getting over the line wouldn't quite satisfy a need, the boss wants to do it in style.
It's not that he's taking the threat of Meath lightly, it's that he feels that his charges have not produced their best on the biggest occasions.
He admits that Limerick's "total hurling" performance in the All-Ireland final made him jealous, seeing an almost perfect game play out on the grandest stage.
"I was envious," says Bohan.
"I looked at that first half and thought, 'oh my God', that's every coach's dream, every manager's dream to see your players perform at the highest level.
"What was incredible about it was they looked like they were on a training field, their trickery and their skill levels, it was just phenomenal to watch, so enjoyable.
"And not because Limerick [did it] but it's been a quest of ours for a long time to go out and give our greatest performance on the day that matters most.
"Post 2017, where that wasn't the motivation, that's been the quest. While we've achieved it in parts I don't think we've given the hour that we are capable of or that we strive for."
Most managers will go out of their way to cram as many cliches as possible into an answer but Bohan's honesty is refreshing.
If the women emulate the men's 2019 achievement of five in a row by falling over the line with a one-point win on Sunday the boss, who was previously part of the men's backroom team gives the impression that it would take the gloss off a phenomenal achievement.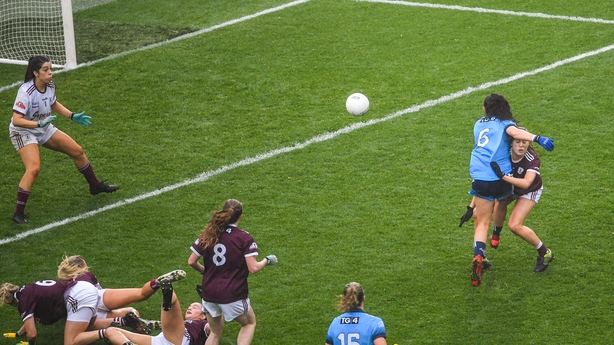 "I thought the '17 final was exciting and '18 was a very good final between ourselves and Cork," he recalls of the previous deciders.
"In 2019 [a 2-03 to 0-04 win over Galway in poor weather conditions] it was a really big disappointment for the group, amazing to say.
"The atmosphere in the dressing room afterwards was muted, much and all as they were delighted to have won three in a row.
"There's probably that bit more pressure on girls as they know they only have one or two showcases in the year to demonstrate what they're capable of doing.
"I still look back to our lads in that All-Ireland final in the rain against Kerry in 2015 and it wasn't hugely dissimilar but ultimately they have had many other days to show their capabilities but the girls didn't.
"I think they feel an onus that this is their opportunity to show what they're capable of doing. It does become a factor to see if we can play this game at the highest possible level."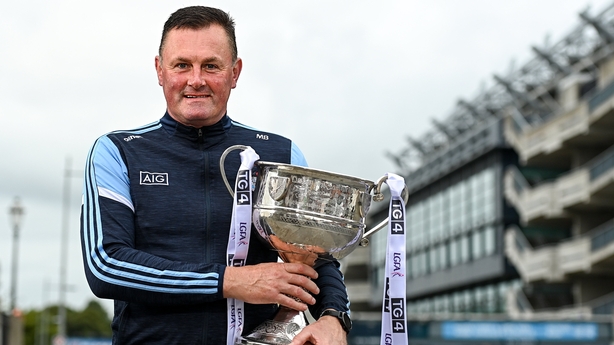 Speaking to reporters at a virtual round-table discussion, Bohan is engaging, articulate and enthusiastic.
The chat is scheduled to last half an hour but the final whistle doesn't go until seven extra minutes have been played out. Even at that the last words come from Bohan himself who offers to field even more queries if required.
While he's not shy about setting out the goal of winning this title with panache, Meath, Intermediate champions last season and surprise semi-final winners against Cork, would be wrong to think they've been forgotten about.
"We hand-pass the ball 2:1," he says.
"For every time we kick the ball we hand-pass it twice. If you look at Meath at the moment, they are 6:1.
"[They have] a very different structure to a lot of teams, the way they play.
"Even Donegal who would have quite a defensive system, this is very different to anything I've seen in the women's game before.
"It's a very organised defensive structure and then they probably attack with a little bit of mayhem which obviously causes its own difficulties.
"Their attack is kind of a freestyle one, but their defence is really well organised and is obviously going to take a bit of work to break down."
The homework has been done and Bohan is adamant that the 1/10 favourites won't get distracted.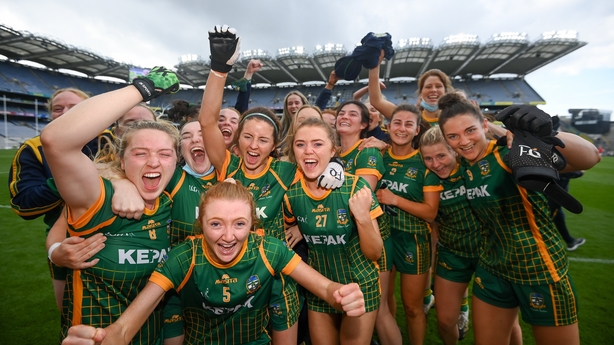 "I was just told there by the Meath captain that with seven minutes to go they were 1000/1 to beat Cork," he said.
"So the bookies' odds at times don't mean a whole heap.
"Complacency, I can honestly tell you that isn't an issue in our group. Somebody said to me during the week that they find a reason to worry, that's just the nature of the characters that we're dealing with.
"Not only are they good footballers and good people, they're an intelligent group so they know that Meath obviously are a huge threat and that's the way we'll deal with it."
When Dublin's men's team lost their six-year unbeaten championship run to Mayo recently there was a suggestion that boredom crept in.
The Clontarf clubman doesn't fully subscribe to that theory but concedes that squads constantly need freshening and with the addition to the panel this year of free-scoring Hannah Tyrrell, the former Ireland rugby international, as well as the experiences of three players returning from AFLW action, he's got the infusion he requires.
"You certainly have to reinvent the wheel each year," says Bohan, who took over in 2017.
"You have to do something different. Because no matter who you are, it can't become stale.
"If it becomes stale then boredom with anything, I'm not quite sure, I'd obviously have my own opinion on the lads but you only really know when you're inside a camp.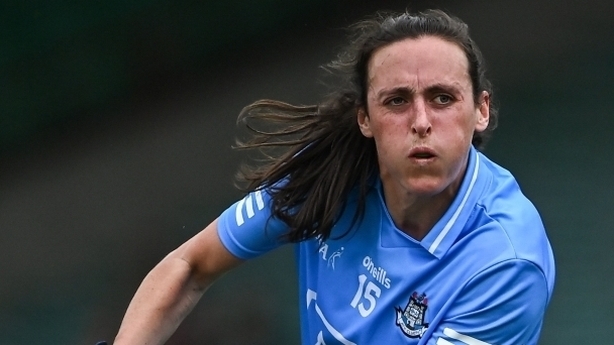 "When you bring in somebody who's been involved in a professional/semi-professional basis [like Tyrrell, above] and the learnings they bring from another game, their approach, their lifestyle...I'm not saying there's huge voids, but they bring that little bit extra.
"And our group have been massively receptive to learning anyway.
So then to get somebody who's played at that level, and it is a different level, it's a higher level of training. It's a higher commitment, probably one of the reasons she finished up was because the commitment was huge.
"So to bring that into the camp to share those experiences which she's been really, really good at and the group have enjoyed listening to her, that obviously brings people on a notch."
---
Meath boss Eamonn Murray hoping underdogs can bite against Dublin
---
Bohan also reiterated his calls for the Ladies Gaelic Football Association to amend the rulebook to allow for some leeway when it comes to tackling and contact.
"The whole definition of the contact in the women's game doesn't make sense," he says passionately.
"So, 'no deliberate contact' is the wording. I think this is really important from a coaching aspect. I've been involved in coaching for 35 years and I'm well-equipped to see what has changed in the men's game and the women's game over that period of time.
"Ultimately what we have now is better athletes. They're better developed, they're more conditioned, and the tackle still states that you can only tackle the ball when it's taken out of the body for a hop or a solo. That is just not feasible to do.
"Just watch it in action. So, essentially if you bear down on the 13-metre line towards goal, I cannot touch that football until you go to play it.
"Now, how in the name of the Lord is that a rule that makes sense?
"Ultimately as well, and this has happened so many times in the game I've seen over the last couple of years, two players go for the ball with no intentional contact but because there's contact and one is stronger than the other, they're deemed to have fouled. That's not the rules.
"So, essentially what I've asked for is for the association to look at the rules and make them fit for purpose considering the athletes have now changed."
Follow the All-Ireland Ladies Football final between Dublin and Meath (4.15pm, Sunday) via our live blog on rte.ie/sport or listen live on RTÉ Radio 1's Sunday Sport. Highlights on The Sunday Game, RTÉ2 and RTÉ Player from 9.30pm.