It has been a long and bitter era for Cork hurling fans but, regardless of the result this weekend, the signs are it is drawing to a close.
They have already tied their longest ever famine at Liam MacCarthy level and should Sunday go to form, then they will exceed it.
But the good times are in the post. Their young lads are on TG4 every other night, usually winning.
The roaring 20s may have not panned out like that thus far, economically, but the Cork hurlers appear primed to roar in the coming years.
Roy Keane wrote in one of his autobiographies that a "superiority complex was the mark of a sound Corkman" and the supporters certainly strain hard to live up to this ideal, even in lean times. (There is evidence that the barren years prompt them to lean into the caricature even more.)
As we've recounted before, when Cork last beat Limerick in the championship, a rather surprise victory in Round 2 of the 2019 Munster round robin, a patron in the LIT Gaelic Grounds that day told of one Cork fan - we have naturally assumed that he was wearing a sombrero - who greeted every one of his team's scores by triumphantly shouting the word 'TRADITION!' at extremely high volume.
Needless to say, this habit wasn't long grating on the ears of the home support and our hero was advised to expletive off on a few occasions, not that this unsettled him in the slightest.
We can probably assume that the cry was born of defiance, given the hosts' status as All-Ireland champions at the time. Not dissimilar to the Cork-Clare game in the late 90s, when, after four successive losses in the fixture, one Cork player spent the parade hollering "27-3!" (the teams' respective All-Ireland tallies at the time) in the direction of the Clare team opposite.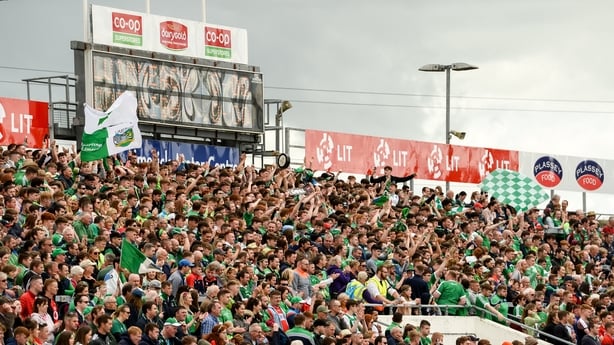 Given the apparent level of expectancy in the county, a 16-year famine must feel the equivalent of a 40-year one elsewhere. In 'The Game' documentary, Sean Óg Ó hAilpín, perhaps hamming it up somewhat, described the reaction in Cork as one of outraged bemusement when they don't win the All-Ireland ("it's not 'hard luck', it's 'what happened ye?'").
To outsiders, it probably felt like presumptuous talk. As Shane Dowling wrote in his RTÉ column this week: "For as long as I can remember, the Rebels have not been dominant."
All was going well for Cork in the mid-noughties. They had come through a couple of unhappy seasons and won their initial skirmish with the county board over backward preparation practices and ragged training facilities.
Under the management of Donal O'Grady and later John Allen, they swiftly went from being one of the most hidebound and complacent hurling environments into one of the most forward-thinking and progressive.
Folk hero Brian Corcoran had come out of retirement for one of the most successful of Indian summers.
They left Kilkenny eating dust for a wee while. Tommy Walsh later recounted how he was still wolfing down breakfast rolls on the building site and was initially bemused by Cork's pre-occupation with hydration and sleeping patterns and so forth - what will these crazy scientists come up with next?
They'd overwhelmed Kilkenny in the second half of the 2004 All-Ireland final and the celebrations were rocking in the aftermath. As usual with Cork supporters, they took the attitude that they were reclaiming what was rightfully theirs and - a trait they share with Welsh rugby fans - that any previous losses they had suffered against the team they had just beaten hadn't really counted anyway. As Christy Ring said: "Kilkenny have never beaten Cork - when we're ready."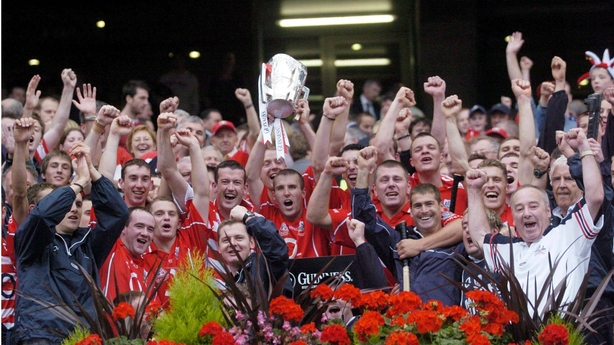 By 2006, they were going for three in a row. Again, it was Kilkenny standing in their way. However big it was at the time, it has come to be perceived as one of the pivotal of all All-Irelands in retrospect.
"If things go right for us, we could win a lot more than three," said Donal Óg Cusack on Laochra Gael, remembering Cork's attitude at the time.
"We wanted that three in a row. If we had defeated Kilkenny that day, Brian Cody's position would have been under pressure. You would have liked to think that we would have continued to evolve and gone from strength to strength."
Cody's team, whose own three-in-a-row tilt was halted by Cork in 2004, were desperate not to allow the Rebels to achieve this particular feat and were especially rabid and terrier-like that day. They were already famed for physicality and this was dialled up to the max in the 2006 final.
In a suffocating encounter, they won on a scoreline that today reads more like a half-time tally, 1-16 to 1-13.
Kilkenny players of the day, who obviously have many victories to reminisce about, generally instance that as possibly their most significant All-Ireland win of all.
Some Cork fans were a bit miffed at Kilkenny's perceived rough-housing and 'handsiness' that day. And high-profile Cork hurling pundits subsequently became ideologues in the constant debate about rule enforcement, offering a rare counterpoint to the "let-it-flow" brigade (In fairness, you've never heard an ex-Kilkenny player bemoaning the 'use of the spare hand').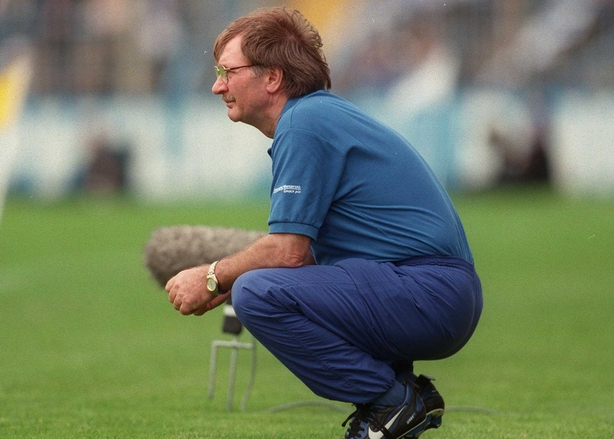 For Cork, the 2006 loss might have been the end of an era anyway. John Allen departed after two years in charge and the county board installed Gerald McCarthy (pictured), 1966 All-Ireland winner, a former Cork coach from the 80s, and ex-Waterford manager, to boot.
Having grown accustomed to the new school, the Cork players chafed under the old school. At odds with McCarthy from the start, they lost their sense of direction and retreated back into the pack.
They lost three championship matches in 2007 before being asked to leave the competition (it's true, such was the format that year).
2008 began on the same trajectory but their old stagers did rustle up a couple of uplifting victories to make the last-four. Galway's still ruinous mental frailty and the fact that they decided to leave the scoring load entirely in the hands of a teenage wunderkind allowed Cork claim an emotional qualifier victory in Thurles. They were subsequently beaten out the gate in the semi-final by a Kilkenny team now scaling unprecedented heights.
A couple of prominent members of the Cork 'leadership group' approached McCarthy and said they wanted him to step aside. He said he had no intention of doing so, unleashing a winter of rebellion, the most protracted and intense of the internal conflicts yet.
While McCarthy finally bowed to the inevitable in early 2009, results didn't improve under his more agreeable successor, Denis Walsh, as the Cork noughties generation began drifting away. Between 2009 and 2011, a shock Páirc Uí Chaoimh demolition of eventual All-Ireland champions Tipperary was their only notable win.
In dark times, they turned to their ultimate hero, their 70s idol Jimmy Barry-Murphy, to sprinkle some stardust and lift them out of the doldrums.
In 2013, he took them to the brink of what would, in retrospect, have been one of their most improbable All-Irelands. Had Brian Gavin decided that time was up before Patrick Kelly's final puckout, then Cork would have stolen that one and possibly triggered the mother and father of all Davy explosions afterwards - he was wound up to the max by Gavin as it was.
Until now, that was Cork's most recent appearance at hurling's showpiece but the entire summer was a strange outlier. Trying to make sense of the form lines in the 2013 All-Ireland Championship campaign is a bewildering task, given the season seemed to bear no relation to those round about it.
It came sandwiched in between two Kilkenny back-to-back successes and yet the Cats were nowhere, Cork administering the final blow in the quarters. Tipp and Galway, perennial contenders, both flopped on the canvas, and Clare, who didn't reach the last-four in any other year from 2007-17, swanned to the All-Ireland.
The following year, JBM led Cork to their first Munster title in eight years, the last won at the old 1970s-built Páirc Uí Chaoimh. All seemed well in Cork hurling world, momentarily, but the promise of that time fizzled out as Tipperary dispatched them in conclusive fashion in the semi-final, a brutal reminder of the true pecking order at the time.
The second-half pasting knocked Cork back a couple of years.
Their stock bottomed out in the middle of the last decade. In 2015, they were smashed by Galway in an All-Ireland quarter-final (a match now usually remembered as 'the Johnny Glynn game'), in which the westerners were able to rack up 22 wides and still win by 12 points, all the more traumatic given it was presided over by Barry-Murphy.
The season after, they didn't even do that well, being beaten by Wexford in the qualifiers. These were the bad times.
It was an era of Donal Óg Cusack-dominated inquests on the Sunday Game, of graphics laying out underage failure, of griping about their, ahem, long-in-the-tooth county board, of navel gazing about the concept of 'Corkness', of lewd Benchwarmers heatmaps in the aftermath of heavy defeats.
It was an era of hand-wringing over whether Cork refs were too 'whistle-happy' and whether their club championship was a bit too 'health and safety', compared to say, for instance, the Kilkenny championship (always Kilkenny).
We need your consent to load this YouTube contentWe use YouTube to manage extra content that can set cookies on your device and collect data about your activity. Please review their details and accept them to load the content.Manage Preferences
But already at this stage, the tanker was beginning to be turned around at underage level. The schools were dominating, their U14s were dominating the A and B tournaments, even one-time rugby nurseries were producing players. Before long, the silverware started to arrive in the older age grades and now, it feels like a torrent.
Mark Coleman emerged at senior level in 2017 and Cork powered to successive Munster title victories, the first one, in particular, a bolt from the blue. After a late Limerick push and a vital/viral intervention from Nickie Quaid, they were denied an All-Ireland final appearance and regressed for a couple of years.
After their loss to Waterford in last winter's behind-closed-doors championship, there was a frenzy of criticism and much bemoaning their forwards' supposed allergy to hard work.
That's all a distant memory now. The seniors are only part of the story in Cork's summer of success 2021. The U20s, as expected, picked up their second All-Ireland at the same grade in the same year (future quiz question that), their minors are in position to prevent a Galway five-in-a-row on Saturday evening.
The prevailing anxiety among the romantics over the next couple of years is whether the Cork wave will arrive in time for Pat Horgan to get his All-Ireland.
Limerick, now in their pomp, might well be seething at all the buzz about looming Cork dominance. There's plenty that can go awry in the transition between U20 and senior but the rest of the hurling community is beginning to brace itself for a burst of Cork success.
We'll obviously only find out after the game whether Cork were actually ready for this one but the signs are they'll be ready before long.
A county with their tradition, resources and yearning were always going to get it together at some point.
The dark days of the mid-teens appear to be well behind them.
Follow Sunday's All-Ireland hurling final with our live blog on RTÉ.ie/sport and the RTÉ News app.
Watch Limerick v Cork live on RTÉ2 or RTÉ Player from 2pm.
Watch highlights of all the weekend's hurling and camogie action on The Sunday Game at 9.30pm on RTÉ2.
Listen to live and exclusive national radio commentary on RTÉ Radio 1's Sunday Sport.