For Lee Keegan and James Horan, two veterans of Mayo's last championship victory over Dublin nine years ago, it was a night to savour.
Horan never takes too long to settle back into laconic mode and he didn't betray too many signs of euphoria in his post-match press conference.
The Mayo boss wasn't even whistling for full-time at the end of the extra-time, the sight of Conor Lane stretching his arms out was "a nice surprise - I thought there was three minutes of injury-time so I couldn't believe when he put his arms up."
Horan insisted there was "nothing too mind-boggling" about Mayo's half-time tweaks, which saw them ultimately wipe out a six-point half deficit which appeared prohibitive at the break.
"Not much," Horan told RTÉ Sport, when asked what was altered at half-time.
"Just got back to our structure a little bit. They were getting their kick-outs away very easily. We were a bit out of sync with that, so we just went through a few things there.
"And we just talked about lifting our energy a little bit and doing what we're strong at.
"The group of lads that are in there, there's a lot of trust there and there's a lot of belief there that they can get it going.
"So it's a huge amount of work done, so we're fairly confident that we can get motoring."
Digging into the details a little bit, Horan pinpointed Mayo's more aggressive pressing in defence, as central to their second half lift-off.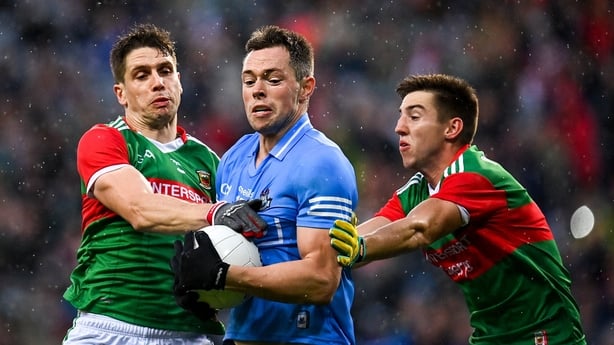 Instead, of one player pressing the man in possession, Mayo would send a mini-platoon out to suffocate the ball-carrier, preventing the little offloads and pop passes.
"In the first half, you know what they (Dublin) are going to do and the way they are going to play.
"We were going out in ones trying to press the guy with the ball and he was just popping it off.
"You need to go out in twos or three and cover the out balls or whatever, so we just tried to put a bit more pressure, not be as deep.
"There was a lot more contact, a lot more physicality in the second half."
It was in the third quarter arm-wrestle that the Mayo defence got to grips with their task, having spent the first half chasing shadows as Dublin shifted the ball this way and that.
Mayo halved their six-point deficit between the beginning of the second period and the final water-break - but perhaps more crucially, they succeeded in holding the six-in-a-row champions scoreless.
"I think we won some very important turnovers. Dublin were attacking and we won turnovers and I think you could see some of the body language sort of changing a little bit.
"It gave us a great lift and they (Dublin) got a bit more tentative maybe.
"They (the turnovers) were two or three on two or three attacks they had in a row that I think made a big impact on the game."
In other housekeeping matters, Horan expressed his annoyance - obvious during the game - with the handling of the "dangerous" challenge on Eoghan McLaughlin, confirming that the wing-back was in "discomfort" and was being taken to hospital.
He also played down the decision to substitute captain Aidan O'Shea before the 50th minute: "We took him off in the Galway game as well. Aidan had an injury coming in, so he worked hard, but we just needed to make a substitute at that time. Whoever came on can do that, and that's just the way it is. It's the same as making a sub for anyone."
Turning to the final - whenever that is to be - Horan issued a flat "no" when asked if Cillian O'Connor might be back in time were the game pushed out by a week. Oisín Mullin's injury, confirmed as a quad issue, makes it harder to assess, though the manager didn't rule it out.
And had he any thoughts on the Tyrone situation? Given that Mayo, as the waiting finalists, are somewhat tied up in it now.
"Eh... no" (crowd laughs).
Fleshing out his feelings (possibly for the first time) on the matter, Horan admitted "it's probably not ideal prep. A game every two weeks is great.
"Two or three weeks. We just adapt. Conor Finn, our S&C guy will set up the sessions, to optimise it and we'll just get on with it, whatever it is."
In the bowels of Croke Park, before sauntering from the dressing room to the team-bus, Lee Keegan was happy to pause for a brief media scrum, backing up his manager's assertion that there was no complex science behind the second half revival.
"Nothing, we just didn't panic as much as the first half. We were kind of dawdling with the ball too much at times. We just started progressing with the ball.
"Little things like that. We just kind of ground them down in the end. Conceding four points in 45 minutes against Dublin is no mean feat. We'll take that as a defensive group."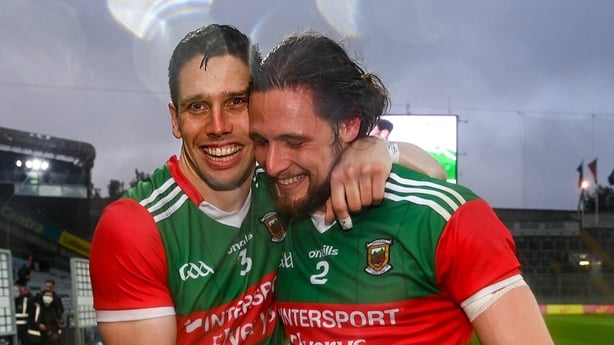 Since the 2012 semi-final, Keegan has suffered an abundance of pain against Dublin, losing six championship matches, four finals and two semis.
At the final whistle, the Westport man would only concede to feeling "Tired. Just tired. Happy. When the whistle went, I just wanted to get home! Get home to family."
Keegan was especially happy with their management of the endgame, an area which has often let them down in the past.
"I don't think I looked at any of it to be honest. I was looking for someone to carry me off. That's something we've learned, grinding out a game.
"We're three points up, Dublin had half a goal chance and we just switched on again, we really knuckled down and that was the last chance they had. Fair play to the lads, they're comfortable on the ball, a lot more comfortable than I am."
And back to that half-time turnaround, were they daunted by the size of the challenge at the break?
"As James always says, never panic, there's always time, there's always time."