Tyrone have said they want to play their All-Ireland SFC semi-final against Kerry and have urged Croke Park to give them more time for players to recover from Covid-19.
County board chairman Michael Kerr said in a statement this afternoon that the Red Hands would not fulfil this weekend's fixture against the Munster champions.
He said the decision was not taken lightly and was only made after consideration of expert medical advice.
Tyrone joint manager Feargal Logan later told RTÉ News that they do not want to forfeit the game, but can't play this weekend as more than 50 per cent of the panel have positive test results.
"We battled through the last game, the Ulster final, but we simply can't battle through another game at this stage," he said.
"There are varying degrees with the panel. Some have been confined to bed and obviously confined to house, but some players have managed it rightly, some players have suffered serious symptoms, and ultimately in terms of returning to play and safe return that's the critical moment, and as of this weekend coming we just can't simply put a team out to play on an All-Ireland semi-final."
The Ulster champions had requested a two-week postponement due to the number of Covid cases within the squad, but GAA chiefs granted just a six-day deferment.
Logan said his team is eager to play the game and appealed to Croke Park to make it possible.
"We're not walking away from anything and we're not forfeiting anything in truth," he said.
"Too much endeavour and all county players will know that they invest their life in this thing, and listen, we don't mean any disrespect to anyone.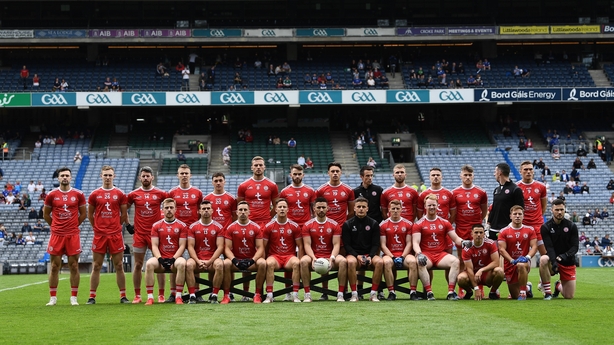 "We feel obviously for Kerry, we feel for the association that we're all members of, but we have strong expert medical evidence to say that it's unsafe to field this weekend coming, that picture of brightens as the next weekend comes and the weekends after that.
"So on safe return to play protocols we just simply can't do it, but another week would afford us an opportunity to lessen the impact and to be in a position to be competitive, and for the integrity of the competition and all concerned if the GAA could see fit to assist us in some way, then we'd be deeply, deeply obliged."
Asked about speculation that the outbreak within the Tyrone camp was as a result of players celebrating their Ulster final victory, he insisted that was not the case.
"The bottom line is I can sincerely tell everyone that we followed every protocol we could within the association during lockdown and otherwise. And the difficulty is, no one, no one ever knows, but it's a community-based issue, this community that you're with us in now is at the top in terms of all the figures around here and even beyond I believe.
"So listen, we're dealing with a community-based issue, and we're trying to deal with it as safely as possible, and in the best interest of everyone, and ultimately players safety and welfare is paramount."