Waterford bet and the hay saved.
Well, most of the hay anyway. Some runaway bales may have delayed the arrival of the Limerick fans among the 24,000 spectators at Croke Park yesterday but neither fugitive fodder nor a soft Irish summer day could dampen manager John Kiely's enthusiasm at the sight of so many supporters in the stands.
"It's great," he said, after Saturday's All-Ireland hurling semi-final, which featured the biggest crowd at an event in Ireland since the start of the Covid-19 pandemic.
"It's great to see people coming up from the train station, from Heuston today before the game. The city was alive with people from both sides, from Waterford and Limerick, all excited.
"Families out. Grandparents, parents and kids going to games again. Heads sticking out of cars. Fellas swigging an auld can of cider, whatever it might be.
"It's a bit of normality back again. It's another step forward for us getting our lives back together again. It's just lovely to see people happy, enjoying themselves and enjoying the sport, and having a day out.
"Being able to get the train, booking a train ticket, not having to worry about it being 25% or 50% or whatever it might be.
"That we can just go to matches and enjoy them. So we're making great progress. It's super to see so many here, and please God we'll have more the next day."
They should do, with the Government recently announcing that up to 40,000 fans would be allowed attend the final on 22 August, when Limerick will take on the winner of today's second semi between Kilkenny and Cork.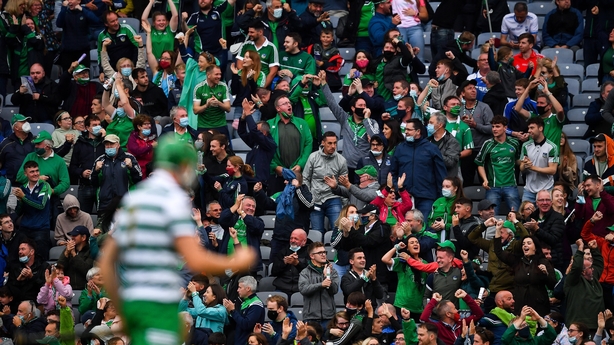 The Treaty will make history if they win, by becoming just the sixth county - after Cork, Tipperary, Kilkenny, Wexford and Galway - to retain the Liam MacCarthy Cup.
Just don't say the words 'back to back' or start humming Amy Winehouse around Kiely.
"It's clearly a talking point, and will be a talking point for the next two weeks," he said.
"I'm sure there'll be plenty of podcasts and papers that will have that phrase in there, but from our perspective, we're a team that are preparing for a game. That aspect doesn't come into it at all, in terms of our mindset.

"Of course it's there. We acknowledge the fact that it's there.
"But does it impact on anything else that we do? Not at all. Does it mean that we'll prepare the next two weeks any different to what we did last year? No it won't. But listen, it's a great achievement.
"I think the biggest achievement that this group have done this year is that they have managed to incrementally improve from game-to-game.
"And that for me is the most important thing. For the next two weeks, it's about finding those improvements again, to bring them to the table in two weeks' time."
"The risk is still there. So, hopefully we'll come through the next ten days"
In some ways Limerick are their own biggest challengers right now.
When asked about his concerns over Covid disrupting preparations, as appears to have happened to the Tyrone footballers, Kiely revealed that all his players have now had a vaccine and that they are limiting their social contacts.
"It is a big challenge," he said.
"Team sport is about being close. So how do you keep them apart and still achieve what you want to achieve?
"So it is hard. We are now in the fortunate position where we have everybody vaccinated in our group, which is a huge plus.
"Our medical team are doing a fantastic job at training every night.
"To be fair to the players and the backroom team, we are limiting our movements quite significantly, individually in our own lives away from training. And when we're at training we tog out in the Mackey Stand.
"We've limited use of showers. We travel to training on our own. We're doing a lot of the things we can to try and mitigate the risk, but the risk is still there. So, hopefully we'll come through the next 10 days."
The countdown is on. History awaits.
---
Read next: All you need to know: Kilkenny v Cork - All-Ireland SHC semi-final
---