It's July and almost half of the teams who were on the starting line, 14, are gone from the All-Ireland race but it hasn't quite felt like championship season yet.
The sparse crowds at most games have diluted the atmosphere we might have expected for knock-out football but there's no doubt that the match-ups to date have not captured the neutral's imagination. It is also disappointing that pre-match expectations haven't been remotely challenged as yet.
Last weekend's Connacht semi-final in Hyde Park was the first hope for a high-quality contest but the game never caught fire and although Galway laboured, they kept Roscommon at arm's length.
With five 2021 Division One teams in action over the weekend – making seven now in total as well as Mayo - we might have expected to have a reasonable form line on most of the All-Ireland contenders at this stage. In reality, no-one has really been stretched and the football championship is ambling along.
Dublin under pressure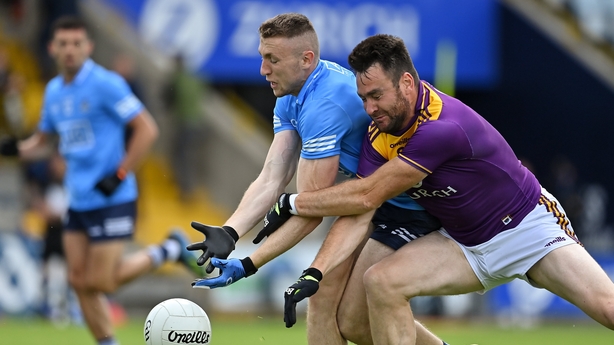 Wexford manager Shane Roche and his coaching team deserve great credit for the game plan they pieced together at a week's notice to face the All-Ireland champions. They made Dublin do everything in the attacking half under pressure through work-rate and weight of numbers. Wexford also showed no small amount of confidence and ambition in possession.
It may be an old template but when underpinned by hunger and controlled aggression, Wexford's approach can frustrate most opponents. The underdogs played for long periods with a cover player in front of the Dublin inside line as well as an additional tackler in the half-back line. Consequently, the cavalry was always arriving and Dublin got few clean shooting opportunities.
In particular, those extra bodies ensured that Con O'Callaghan and Ciaran Kilkenny were contained, asking more questions of the supporting cast. Although the champions will be grateful for the test, Dessie Farrell will be mulling over a number of concerns that are not the norm in any Dublin camp in recent years.
Cormac Costello failed his audition to wrestle free-taking duties from Dean Rock going forward. Farrell's preference to play Kilkenny closer to goal won't be viable when opponents play with numbers behind the ball as Wexford did – the Castleknock man is crucial in his customary playmaking role in those scenarios.
Although tested only sparingly by Wexford's Division 4 attack, the absence of Eoin Murchan and John Small was felt and the Dublin defence has lost a little of its aura.
From an organisational perspective, it is more than puzzling that Dessie Farrell is still unaware of the playing intentions of his captain Stephen Cluxton. The legendary keeper has certainly earned leeway but with four possible knockout games left in the season we are at a farcical stage and one that effects other players.
Monaghan building
Camouflaged amongst the drama of the opening skirmishes in this year's hurling championship, Monaghan quietly posted a performance that should have made anyone in Ulster with notions to sit up.
Monaghan couldn't have hoped for much more progress in developing their team than they have achieved over their five competitive outings in 2021. Before the Allianz Football League began, there was a school of thought that they had run out of ideas and – for a core group – energy. From the outside, they looked like obvious relegation fodder and after a fairly timid loss to Armagh on the opening day, an immediate drop to Division 2 looked inevitable.
Built on a consistent defence and midfield, Banty and his coaches have injected considerable pace and movement into the final third. A raft of younger attackers have been knocking on the door for a couple of years but the Farney men have now successfully integrated them fully into their game plan.
Stephen O'Hanlon's freakish acceleration is now utilised to get Monaghan out of the middle third more cleanly and in Mícheál Bannigan they have found another powerful runner that carries a real scoring threat. In the opening half against Fermanagh, Bannigan consistently counter attacked off the ball at pace to find space and opportunities behind retreating defenders.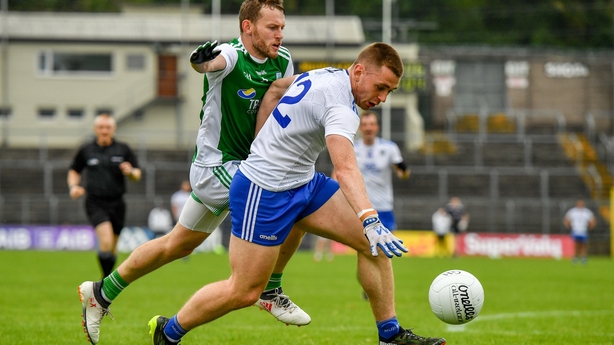 The establishment
Established front men Conor McManus, Jack McCarron and Conor McCarthy still lead the line well. With McCarthy operating more as a creator than finisher for long periods, newcomer Aaron Mulligan now offers something different. Mulligan's movement is razor sharp and he is constantly looking for scoring opportunities.
On Saturday Mulligan hunted out three shooting opportunities and returned three points. Added to Bannigan's two points from deep and those are five points tagged onto the expected McManus and McCarron haul that Monaghan haven't been finding consistently in recent years.
Another feature of Monaghan's play that forms a central part of what they do in attack is the ability of their back six to get forward into creative attacking positions. Against Fermanagh, if plan A of getting fast ball into McManus and McCarron wasn't available, it was invariably a runner from deep that found the overlapping space to unlock shooting opportunities within the Erne men's defensive structure.
Those runners contributed four points from play directly but found the finishers to execute where at all possible. The score that did most of the damage to Fermanagh's spirit in the game was created back to front by defenders.
Dessie Ward started the move with a switch of play to Karl O'Connell driving up the right flank. A dummy run across his path from full-back Conor Boyle dragged two Fermanagh defenders out of position and opened up a gateway to feed Conor McCarthy on the edge of the D. Driving off the shoulder and through on goal was Kieran Duffy and suddenly Fermanagh's layers of bodies disappeared.
With Donie Buckley's influence beginning to show on their play, Monaghan obviously want to get ball early to their potent finishers close to goal. If opponents play without cover – like Donegal did in the league – then plan A can reap a considerable return. However, if they are facing into extra defenders to cut off that direct route, Monaghan are now better equipped than ever to engineer scoring opportunities in tight spaces.
Vulnerability
As now always seems to be the case with the teams around the top, the question marks for Monaghan are circulating around concession rate.
Despite the experience of their defence – with the exception of Dessie Ward reinvented as a centre-back – Monaghan conceded quite heavily in their league campaign. Nineteen, 23 and 19 points against Armagh, Donegal and Galway (normal time) respectively. The defensive highlight came against Tyrone, where they conceded only 14 points in what was a game the flow of which was impacted by black cards.
Monaghan under Malachy O'Rourke struggled to put together the scoring options that this team now carries but it was built on a granite foundation of defenders you always felt relished being a nuisance to opponents first and foremost.
As ever, the perfect balance at both ends is difficult to find but Monaghan are getting closer with every game this season and if their younger guns continue to impose themselves, Banty has the luxury of considerable experience off the bench.