Monaghan booked their place in the Ulster SFC semi-finals with a ten-point win over Fermanagh in Clones. An 18th-minute goal by Jack McCarron sent Monaghan well on their way in a game where they never trailed, but the winners will have concerns over injuries to Darren Hughes and Conor McManus.
The home side had 12 players on the scoresheet as they stayed well clear of a Fermanagh side who relied on Seán Quigley for half of their total.
It took five minutes for the opening score, which saw SFC debutant Aaron Mulligan break the deadlock for Monaghan, before Seán Quigley got Fermanagh off the mark.
Monaghan responded with three unanswered points via a Conor McManus brace and one from Jack McCarron and although Jonny Cassidy ended ten scoreless minutes for Fermanagh, the hosts hit the net late in the opening quarter, with McCarron palming home after Seán McNally had parried a powerful Kieran Duffy effort.
Quigley and Darragh McGurn kept Fermanagh in touch, but McCarron, Dessie Ward and Mícheál Bannigan added points for Monaghan.
Quigley finished the first half with four points (three from frees), while Josh Largo-Ellis added one, but Ryan Wylie, Mulligan, Bannigan and Conor McCarthy had Monaghan ahead by double-scores (1-11 to 0-7) at half-time.
Quigley attempted an audacious lob from long range in added time, with Rory Beggan off his line, but the Monaghan keeper made it back in time to make a comfortable save.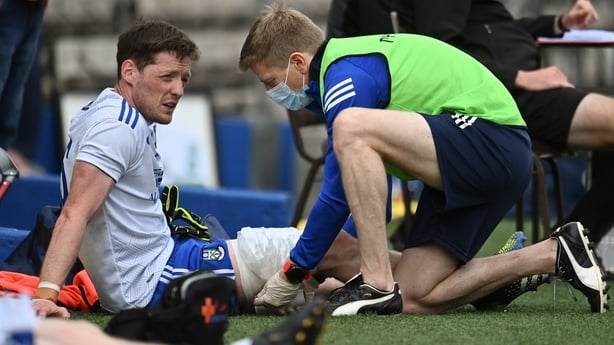 Monaghan stretched their lead after the restart through Mulligan and sub Niall Kearns, although Quigley, Ultan Kelm and sub Aidan Breen responded for Fermanagh.
McManus added to his tally for Monaghan, who also saw Colin Walshe come off the bench to kick a brace of points, while Fermanagh had a goal chance for Largo-Ellis blocked by Ryan McAnespie, with penalty appeals falling on deaf ears.
However, late in the contest, the Monaghan star attacker injured his leg in an accidental collision and had to be helped off the pitch. It remains to be seen whether he'll feature again in the 2021 championship.
Killian Lavelle and Conor Boyle added their names to the list of Monaghan scorers inside the last ten minutes, with Quigley and Seán Cassidy replying for Fermanagh, before Beggan converted a '45 deep inside added time to round off the scoring.
Monaghan: Rory Beggan (0-01, 1 '45); Kieran Duffy, Conor Boyle (0-01), Ryan Wylie (0-01); Mícheál Bannigan (0-02), Dessie Ward (0-01), Karl O'Connell (0-01); Darren Hughes, Killian Lavelle (0-01); Stephen O'Hanlon, Conor McCarthy (0-01, 1m), Ryan McAnespie; Aaron Mulligan (0-03), Jack McCarron (1-02, 2f), Conor McManus (0-04, 2f, 1m).
Subs: Niall Kearns (0-01) for Hughes (inj., 31); Colin Walshe (0-02, 1m) for McCarron (51); Shane Carey for O'Hanlon (54); Kieran Hughes for McCarthy (61); Fintan Kelly for O'Connell (66); Karl McMenamin for Lavelle (inj., 75).
Fermanagh: Seán McNally; Jonny Cassidy (0-01), Kane Connor, Kevin McDonnell; Josh Largo-Ellis (0-01), Cian McManus, Luke Flanagan; Stephen McGullion, Darragh McGurn (0-01); Declan McCusker, Ultan Kelm (0-01), James McMahon; Ciarán Corrigan, Eoin Donnelly, Seán Quigley (0-07, 5f, 1 '45).
Subs: Aidan Breen (0-02) for McDonnell (32); Richard O'Callaghan for McGurn (41); Seán Cassidy (0-1) for McManus (57); Tiarnan Bogue for McGullion, Mark McCauley for McMahon (both 64).
Referee: Barry Cassidy (Derry).