Shane Lowry has revealed that a conversation with JP McManus in the wake of Limerick's All-Ireland SHC final victory last December inspired him to help his native county Offaly.
The Faithful County received a major boost on Thursday when it was confirmed that the 2019 Open Championship winner has pledged his financial support as a partner with the county board for the next five years.
In September 2018 McManus donated €100,000 to every Gaelic games county board in Ireland to be divided equally among their local clubs. The businessman, who has been a main sponsor of Limerick GAA for years, is heavily involved in sport, including horse racing and golf.
Asked when he decided to contact Offaly chairman Michael Duignan about getting involved, Lowry said: "It was the evening of the hurling final and obviously Limerick won again.
"I'm friendly with Gerry McManus, the younger brother of JP, who is involved in everything down there in Limerick.
"Now, I want to stress that what I'm able to give Offaly is a lot less than JP and his family gives there.
"I sent JP a text saying that I was sure he was very proud with Limerick's win and congratulating him for all he had done for Limerick.
"In 10 or 20 years if I could see an Offaly man walk up the steps of Croke Park I would probably die a happy man."
"I did say I would only love to do something for Offaly some day. JP texted back saying that the underage system was where I could help, that's what it was all about. That's where they looked at putting structures in place in Limerick.
"I talked to my dad that Sunday evening. Dad is always passionate about Offaly GAA and we both spoke about us getting involved.
"I text Michael then, I'm sure dad did the same, and we got the ball rolling.
"I met Michael over Christmas and we went out to the Faithful Fields [Offaly's Centre of Excellence].
"It is one of the best training facilities in the country and to have that there and not have the structures in place is kind of sad. So, I said I'd come on board and I have now and I will help as much as I can. It's a long road ahead for Offaly GAA but I hope it's the start of great things.
"In 10 or 20 years if I could see an Offaly man walk up the steps of Croke Park I would probably die a happy man."
Lowry has risen to the top of his chosen sport but he's never hidden his deep love of Gaelic games. He's steeped in GAA tradition.
Lowry's father Brendan and uncles Seán and Mick won All-Ireland medals with the county in 1982 as part of the Offaly side stopped Kerry from completing the five-in-a-row.
The star golfer said he simply felt compelled to help a county that's gone through some very lean years.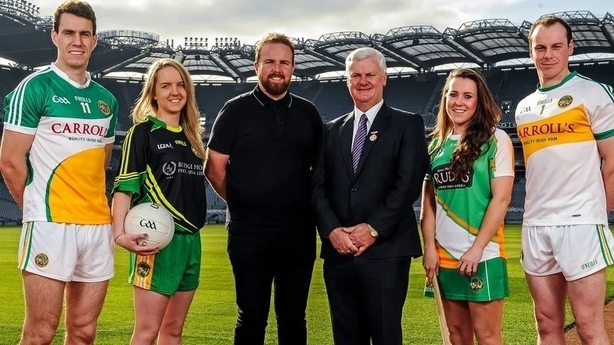 "It would probably be easy for me to bury my head in the sand and watch it go by while I was in Florida, living my life and going about my business.
"But any time I get the chance to go to O'Connor Park and watch Offaly play, I do and I am the first to give out if they lose and I am sitting in the stand.
"I kind of seen the opportunity. Things haven't been great for a few years, but I was trying to focus on my own career and give that all the time and effort it needed.
"I feel now after the Open I kind of hold a different status in world golf and sport, I think, and I feel at my level now I can go and meet certain people.
"I'm an Offaly person who has travelled and I'm sure many other Offaly people out there might want to get involved.
"That's personally where I see me getting involved - its not all about money. I see the job Michael Duignan and his team has done since coming in and when I see the love Michael has for Offaly GAA and all the passion everyone on the team has, it's brilliant.
What defines success? For me personally, it's a numbers game. The more we get back playing the more we produce
"There is a long road ahead but with a bit of funding and the right structures we can get working along the way."
Expanding on how he hopes his investment will benefit Offaly GAA, Lowry added: "I would love to be able to go back each year and be able to see all that we are doing. What defines success? It means different things to different counties and different people.
"Creating numbers - that's a big thing for us. Get back into schools, get more kids playing GAA. For me personally, it's a numbers game. The more we get back playing the more we produce.
"Right now, it's not about winning trophies. We have two minor teams in Leinster finals - for me that's progress.
"If we put the right plan in place, it can work but right now it can't be defined by results.
"When I look at myself, if I fully believe what I'm doing is the right thing I'm happy. And as long as I believe that, then we are going in the right direction.
"Michael and his team will put a plan in place for this and as long as they are happy that's where progress will come from."