New GAA president Larry McCarthy says he doesn't have a preference for what format the All-Ireland football championship will assume, but insists he is definitely in favour of a new system. 
At a weekend media briefing it was put to the Corkman and former New York GAA chairman that it seemed like he was coming down on the side of favouring the league/championship option proposed by the Fixture Review Task Force. 
"I certainly favour change, whatever that might be," McCarthy said.
"I wouldn't necessarily have a preference for that particular format of the championship, and I guess at this stage it would be wrong to make my preferences known. 
"There's going to be a vigorous discussion on it hopefully over the course of the summer by the time we get to Special Congress." 
McCarthy says that getting back on the field is the biggest challenge facing the association and that everything else will stem from there. 
This includes capital projects like the redevelopment of Casement Park.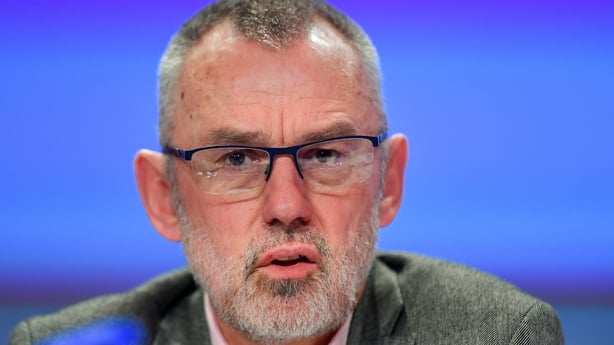 "Everything emanates from getting back on the field and you saw the accounts, the cupboard is bare," the president stated. 
"And once we're back in then we can have some funding to be able to distribute. I think our commitment was for £15m for the project (Casement) and we'll stand by that and then let's see where the costs of it are going, let's see where the project is going. 
"Where is it on the wish-list? Well, getting back on the field is my wish-list.
"There are other capital projects as well that we've committed to so we'll fund those as well. I don't have any priority in terms of one coming before the other." 
---
Hurling to trial sin bin as part of cynicism crackdown
---
The Bishopstown native also aired some thoughts on maintaining and strengthening the amateur ethos of the association. 
He had been critical of the Gaelic Players Association in the past, but said he had no concerns about working with them going forward. 
"I think we're the last great amateur sport organisation standing in the world," McCarthy said. 
"There's not too many more and certainly not too many who've managed to run top-class sport and grassroots sport at the same time. No, I don't have any concerns about that the GPA might be inclined that way or against the amateur ethos at all. 
"It's just more of a philosophical statement that I'd like to see the amateur ethos retained." 
---
---
The new president was also a member of the 'Towards 2034' committee that produced a revolutionary document outlining possible and radical ways forward for the GAA. 
That report never saw the light of day and McCarthy was asked if he would look at it again now that he was in the highest office. 
"Logically I will," he said. 
"I haven't looked at it since it was created but I'll dust it off and see what is in it, but I won't comment on the content of it because I haven't read it in a while.
"I would have to go back and read it. It would be inappropriate of me to make a comment, not having read it. When did we complete it, was it two years ago, three years ago? I haven't read it so it would be unfair for me to comment on it directly."
We need your consent to load this comcast-player contentWe use comcast-player to manage extra content that can set cookies on your device and collect data about your activity. Please review their details and accept them to load the content.Manage Preferences
Meanwhile, director-general Tom Ryan expanded on his view that competitions like the Tailteann Cup could be in danger of being left aside in 2021. 
"I suppose that logic dictates that something's going to have to give," Ryan said. 
"Specifically, I don't know what that it is. 
"From my own perspective at the moment everything seems to be challenged.
"To be honest, I don't know what we'll be able to play and what we won't be able to play.
"An awful lot will depend on what latitude we're permitted by the Government and the time that we're left with.
"On the theme of last year, we'll do everything we can to get as much as we can played but we haven't gone into specifics.
"We've all manner of contingency plans but three or four of them have already been torn up and thrown out since the start of the year. I genuinely don't know." 
In response to a query on one of the more peculiar proposals that Congress passed, Ryan explained that the main reason for the motion to bar players from joint-lifting trophies at cup handover time was an underlying 'sentiment to tidy up things around the periphery of match day presentation.' 
"It was probably around the same theme as incursions into the field and there have been overtures in recent years about Maor Foirne, not in response to anything specific but just a desire to tidy up presentation around matches," the DG elaborated.