It is difficult to recall or imagine two games generating as much emotion as the Munster and Ulster Finals did on Sunday.
Given the social and historical context of the health pandemic and eerie alignment of fixtures, the games taking place at all were an achievement. Neither the Tipperary nor Cavan players were fielding just to mark the dates however.
Tipperary reserved their best version of themselves in 2020 for when they needed it most but if you step back and assess both Munster finalists logically, very little light should have been expected between the teams.
Cavan's kicking over of the Ulster presentation table was much less likely and all the more thrilling for it.
Premier Pedigree
Setting the 2020 league campaign aside – when the newly crowned seaimpíní na Mumhan struggled to get their best soldiers on the field – it is not difficult to make a case for favouring the Premier footballers in any match-up with Cork. If you factor in the loss of Sean Powter and organically 5–10% of intensity from their Kerry game, Tipperary always stood a brilliant chance.
We are only four years past an All-Ireland semi-final appearance from Tipp, with many of their leading players now better than they were in 2016. When the euphoria of this mythical victory settles, these players should relish the opportunity of a second assault on Mayo for a place in the All-Ireland final.
Although Tipperary's success in Munster captures the imaginations of both the dreamers and historians alike, the coaching and raw performance highlight of the day came from Mickey Graham's Cavan.
Rage fuelled by emotion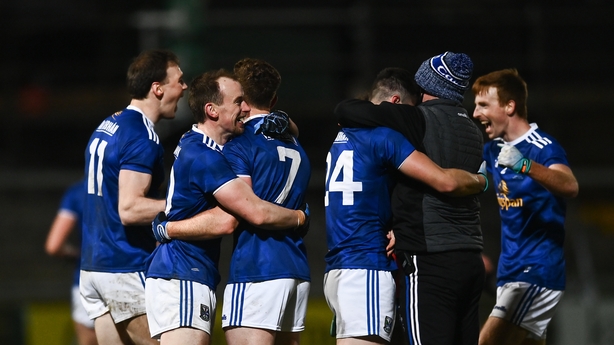 There was no shortage of emotion fuelling the Cavan rage on Sunday either, but their performance owed much more to preparation, strategy and skill than any reliance on just crude willpower.
There are so many layers of intrigue in the manner of Cavan's exposure of Donegal in what was a relentless game of football. We had very little of the customary containment patterns that now creep into games controlled by the leaders.
Instead, with so much at stake, whoever trailed at any time pressed for a foothold and scrapped for the possession to achieve it. The game never lulled as a consequence and a sense of impending drama lingered in the air throughout.
Belief
There were three key facets to how Cavan went about their business that were essential to giving themselves a chance down the home straight. In any game, the longer the underdog stays in the fight, the more the creep of frustration and nervousness fills up the favourites' thinking.
Being alive in the game with 10 minutes to go must have informed much of Graham's thinking in preparation. When you factor in the impact of their finishing strength in every Ulster Championship game this year, then selling the belief to the players that they could win if they were in touch was not a huge task.
Belief in key moments is one of the most difficult qualities to create in team sport but when it is there, it can translate effectively into energy and purpose.
Controlled savagery
What set this Cavan performance apart from anything seen so far this year – and for some time – was their absolute commitment to the physical contest. Their total disregard for anyone's safety – least of all their own – as they hunted contact and loose ball was a throw-back to previous generations.
It is almost taken for granted at the very top level that hunger for the ball and bravery in chasing it will be total, but set against a backdrop of the Breffni men's controlled savagery, Donegal lost the close exchanges at a rate far beyond chance.
And yet their performance was not one typical of an underdog making life difficult for the favourite - it was much more complete than that. The defensive ring of steel constructed with disciplined aggression was simply the foundation on which they built their plan to go after Donegal with.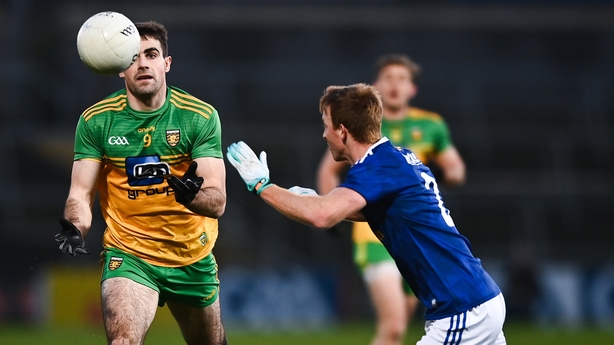 Blunting Donegal's attack
First and foremost, Graham ensured the house was protected at all times. They are no different in that regard from any team competitive nationally at the moment. Cavan defended with the highest intensity just beyond what would be Donegal's scoring range and ensured they always had one covering body behind as protection.
Critical to holding Donegal to 12 points was minimising the impact of Shaun Patton's long kick-outs as an attacking weapon. Only the Donegal men rival Dublin in exposing teams who push up aggressively on their kick-outs, Michael Langan's goal in Ballybofey being the perfect illustration.
In the relatively narrow Athletic Grounds, Cavan worked hard to block off any middle third movement for Patton to hit and in particular took away his options in his favourite right half-forward target area. Donegal were held to only two points off long kick-outs – a major step in blunting their attacking weaponry.
Over the course of the full game not only did Michael Murphy not win a single one of his own kick-outs, neither was he allowed to compete aerially for any. That was largely down to the diligence of the herculean Killian Brady.
If the best players are measured any day by contributions in both attack and defence, then it is difficult to separate Killian and Ciaran Brady as the most influential components of this magnificent team performance.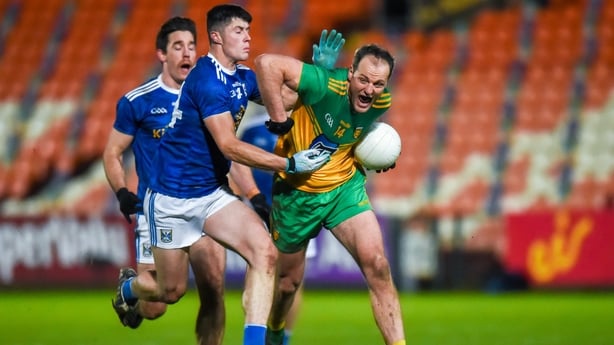 Pragmatism
The hallmark of Cavan's attacking play was pragmatism. Building from defence they very obviously wanted to kick early when possible. If they had been able to leave Conor Smith or Martin Reilly out of the defensive shape then the long, low relieving balls were utilised.
If that wasn't on, the Breffni men were able to build carefully and add pace when required. The hard running of wing-backs Ciarán Brady and Gerard Smith was critical to all of that creativity.
With a natural forward in Eoin McHugh picking up chief architect Martin Reilly, Cavan kept the Killygarry man high up the pitch and constantly looked to get him on the ball.
In the absence of Stephen McMenamin and Paddy McGrath, Declan Bonner was seriously short of man-marking options and the space Reilly found throughout was an important basecamp for Cavan.
Long live the kickers
Mixing and matching in the final third kept Donegal off balance but Cavan will have endeared themselves to the traditionalists with their confidence in kicking long into the full-forward line.
It didn't matter who was available as a target inside or if Donegal had cover in place, when the square was within range for the right kicker the ball went in.
Although that attacking ploy sounds agricultural, it is a far more difficult strategy to execute accurately than most running options. Rather than kicking for the danger area generally, Cavan waited to be within range of Shaun Patton's small parallelogram and kicked well over the cover area any sweeper occupied for maximum panic.
Players directing breaks for themselves or team-mates and the timing of support runs under the drop area – see Conor Madden's goal – illustrates that a lot of work has gone into this ploy's effectiveness on the training field.
Cavan's long kicking both from defence and onto the square was nuanced, accurate and exceptional by any standards
However, the most impressive part of this approach was the quality delivery of that ball from a number of players. Long, flat deliveries are the most difficult for defenders to judge and give forwards the opportunity to attack, and the most difficult to execute from an attacking perspective.
Most coaches give up on the use of long ball onto the square as a weapon, not because they don't have the effective targets, but because the delivery isn't consistently good enough.
Cavan's long kicking both from defence and onto the square was nuanced, accurate and exceptional by any standards.
New hope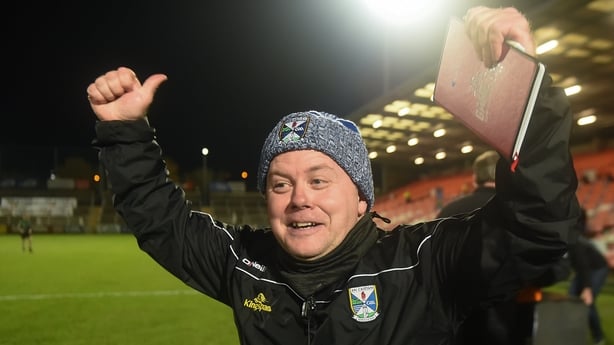 At a time when the modern game has slipped into a rut of conservatism based on the effectiveness of possession, Mickey Graham's Cavan have been a breath of fresh air.
Kicking long when it is possible is a credit to their confidence not only in their own skillset, but also in their ability to get it back. They understand possession may be lost but as far away from danger as possible and with the force of their collective tackling between their opponent and goal.
After a historic and memorable weekend that has renewed a lot of people's love of football, Cavan have also revived hope that long kicking and direct football can still prevail in the new world.