Cavan manager Mickey Graham isn't sure that it's wise for the GAA season to continue, but insists his team are ready to play if they're called upon.
He saw his side lose to Kildare in Newbridge on Sunday, a result that leaves them in the bizarre position of potential promotion with a victory over Roscommon next weekend, but at the risk of relegation with a defeat.
His opposite number at St Conleth's Park Jack O'Connor said after the game that players would be devastated if the season was come to a premature end.
But, speaking to RTÉ Sport, Graham said that the government might have a big decision to make over the next few days.
"Whatever they decide the GAA will respect," he said. "I think the players and management will respect (that decision).
"Just the times we're in it's very difficult. While football is great, and everybody looks forward to watching it, you have to put people's health first - that comes before anything.
"People are still moving around, still working. These lads are amateur players and they still have to go to work on a Monday morning.
"They can only control how they go about doing things and social distancing, but they can't control who they're in contact with as regards who they play and people they've been in contact with.
"So it's going to be an interesting few days, but if this is the last game we play then so be it."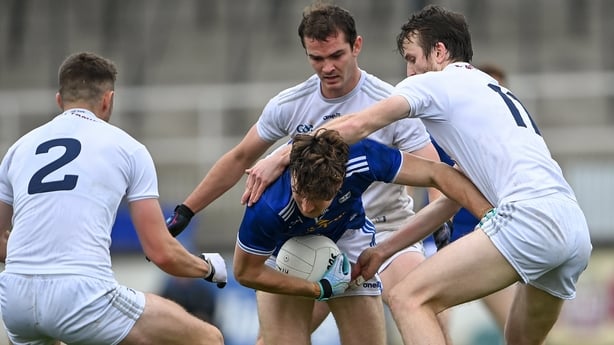 Minister for Higher Education Simon Harris told RTÉ on Sunday that the current restrictions weren't having the desired effect on virus numbers, which was seen as a hint that a decision to move the country to Level 4 is imminent.
While this, in theory, would not impact elite sport, Graham isn't certain that the GAA should play the games just because they're allowed to.
"Is it worth travelling the length and breadth of the country putting people at risk?," he pondered.
"You don't know how this thing is transmitted. You could stop at a petrol station going up the road and have a coffee, and you're standing talking to somebody... there's just so many variables.
"We can only do what we can, but the safety and welfare of everyone is more important than sport. While sport plays a huge part in keeping people mentally well and giving them something to look forward to, players miss having a crowd.
"Players miss the buzz of supporters. If you asked any player what they enjoy most about inter-county football it's playing in front of crowds.
"That's what they dreamed of since they were a young lad.
"That's been taken away now - has the intensity gone out of it because of that? Absolutely it has. The same bite isn't there as it would be if a crowd was there.
"I'm definitely not downbeat - I'd love for it to go ahead, nothing more - it keeps me out of the house during the week. It keeps me occupied, and the players have something to look forward to as well.
"We're just realistic. The government needs to clear up the uncertainty so people can get on with their lives."