Jack O'Connor confirmed a Kildare footballer tested positive for Covid-19 in the run-up to today's Allianz Football League win over Cavan.
Despite the disruption this diagnosis and further tests for other panel members caused, the Kildare manager expressed his hope that the season can continue, saying his players would be 'devastated' if games were called off due to increased public health restrictions.
Threatened by relegation to Division 3, the former Kerry manager described today as "almost a championship match" for the Lilywhites, but he admitted preparations were seriously hampered.
"We had an unsettled week last week," he told RTÉ's Sunday Sport. "Fellas getting tested and that and it was a big disruption, but thankfully we had enough bodies to put on the field today.
"The government are going to come out with a statement tomorrow so we will see how it goes," he added. "Players will be devastated, after putting their lives on hold for so long, if there isn't a continuation now.

O'Connor confirmed a panel member was self-isolating after testing positive late in the week, despite this he has not had any players express concerns about proceeding with matches.
"We've been taking every precaution. We have a player who has tested positive, so he is away from the group," he said.
"When lads are working and they're mixing with other people it is probably only a matter of time before there are problems."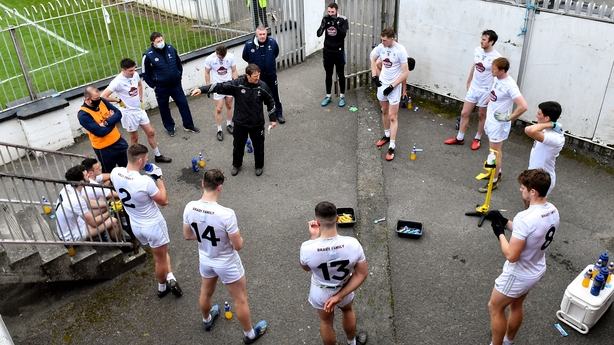 He added: "We are just trying to focus on the game ahead of us and you can't think too far ahead and you can't be going half-hearted at this.
"This was a big game for us, this was almost a championship game for us today because we certainly don't want to be plying our football in Division 3 next year.
Other authorities will make [decision on whether games continue]... all I know is a lot of counties are having problems - players getting tested during the week, the uncertainty of all that,  and if it keeps going and gets worse maybe somebody will a call a halt.
"From our point of view, we have a lot of work put in and we want to keep playing football."
On the game itself, O'Connor put Cavan's late rally down to his side's lack of inter-county fitness.
"We conceded a bit more than we would have liked. The lads were a bit leggy at the end, I think they're used to playing just club football up until two weeks ago, so we haven't got 70 or 75 minutes into our legs in the last few months, so I thinking the last 10 minutes that just showed."
Matters are still very tight at the bottom of Division 3 and Kildare will need a result against Westmeath on Saturday to secure their status.
"We still have to get a result in that game and we'll be going all out to win it because Division 2 has been very competitive and god only knows what results next week will throw up."