Minister for Higher Education Simon Harris has said the Government will have to bring in more Covid-19 restrictions and the action it takes will be "decisive and nationwide".
"It is clear now the virus is at such a level that a county by county approach is not sufficient. Level 3 has not worked in terms of getting the virus to where it needs to get to," he said.
Minister for Higher Education @SimonHarrisTD says that the Government will take decisive, nationwide action tomorrow to combat #COVID19 #rtetwip pic.twitter.com/MuQZk71lYZ

— The Week in Politics (@rtetwip) October 18, 2020
The minister gave the clearest indication yet that the Cabinet is on course to increase Covid-19 restrictions to at least Level 4.
Speaking on RTÉ's The Week In Politics, Minister Harris said it was incumbent on the Cabinet to ensure there is "a common understanding" among the public about what success will look like.
He said they are trying to find "a landing spot" in terms of curbing the trajectory of the virus, while acknowledging the concerns around what more restrictions will mean.
Mr Harris said he spoke to the Tánaiste regarding yesterday's talks on restrictions and that they heard a wide range of presentations from the National Public Health Emergency Team and from the Health Service Executive about what happened during the last lockdown.
They also spoke about some worrying statistics, such as some domestic violence reports being up by a third during the lockdown, he added.
"We are asking people to take restrictions for a second time and bearing in mind what people can sustain," he said.
Mr Harris said we have to have a common understanding what success looks like and if we want people to come on board.
The minister also said a system should be put in place that "is sophisticated enough" so that no-one is left alone during this pandemic.
He said we will not get to zero Covid and instead we need to look to other countries, for example Israel, which managed to get the R rate to 0.8.
We need your consent to load this rte-player contentWe use rte-player to manage extra content that can set cookies on your device and collect data about your activity. Please review their details and accept them to load the content.Manage Preferences
---
Read more:
We need a clear and detailed Covid update from leaders
At a glance, what would Level 4 mean?
At a glance, what would Level 5 mean?
---
Speaking to RTÉ News in Cork, Public Expenditure and Reform minister Michael McGrath said the priority in any decision that is made will be to protect public health, and protect livelihoods "in so far as we can".
Mr McGrath said the Government accepts the need to provide certainty and it will do that.
However, he said it is within the public's "own ability and own control to get on top of this virus more so than any decision Government can make".
Labour's Brendan Howlin said the Government should move to Level 4 restrictions, given the rising Covid-19 numbers, but he warned vulnerable people cannot be left isolated by the Cabinet's decision.
Labour Spokesperson on Foreign Affairs @BrendanHowlin says that vulnerable people can't be left isolated during the #COVID19 pandemic #rtetwip pic.twitter.com/pQkWfHoWf6

— The Week in Politics (@rtetwip) October 18, 2020
Sinn Féin's Claire Kerrane maintained the Government should have made a decision this weekend, rather than creating unnecessary speculation, adding that financial supports, such as the PUP, must be restored..
Sinn Féin TD @ClaireKerrane says that greater restrictions and greater certainty are needed in relation to #COVID19 #rtetwip pic.twitter.com/U7cN8RMsfM

— The Week in Politics (@rtetwip) October 18, 2020
Senior ministers and officials are finalising what approach to take regarding NPHET's recommendation for Level 5 restrictions across the country for six weeks.
A Cabinet meeting has been scheduled for the morning, after which the type of additional restrictions referred to by Simon Harris will be revealed.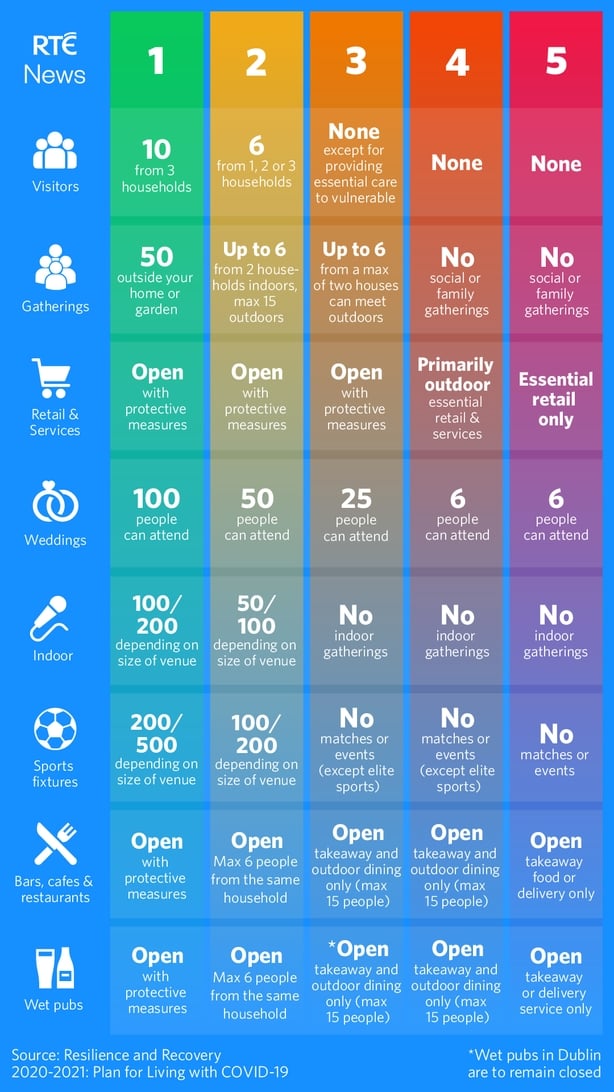 Dr Mary Favier, a member of NPHET and Covid-19 advisor to the Irish College of GPs has welcomed the indication from Mr Harris that further restrictions will be introduced.
"We can see the health service under strain and GPs are phenomenally busy with Covid referrals," she said.
She said "most worrying" is the pressure on intensive care beds. Dr Favier said there have been no intensive care beds available in Cork this week, for example.
Vice President of the Irish Hospital Consultants Association Dr Gabrielle Colleran said she believes not having an all-island approach to Covid-19 "dilutes" Ireland's response to the virus.
She told RTÉ's Brendan O'Connor programme the Government needs to be better at communicating its messages and logic behind why certain decisions are made.
Chief Medical Officer Dr Tony Holohan briefed the three leaders of the coalition parties yesterday, along with senior ministers, on the proposal to impose Level 5 restrictions for six weeks.
Leader of the Green Party Eamon Ryan later described the situation as "complex ... a lot of analysis has to be done".
Sinn Féin leader Mary Lou McDonald said on Twitter: "Jobs, livelihoods and lives in the balance. No direction, comment or reassurance from government. Not good enough."
Asked if she would go to Level 5 [if in Government], she replied: "I would go wherever necessary to protect lives and health."