By Emma Helebert's own admission, Galway's All-Ireland camogie title last year feels a lifetime ago.
More than 13 months have passed since team captain Sarah Dervan climbed the steps of the Hogan Stand as the Tribeswomen tasted senior success for the first since 2013 in front of a record attendance at Croke Park.
They did their tour of the county, were paraded at the Sportsground in front of Connacht Rugby supporters and were getting ready for their O'Duffy Cup defence when Covid-19 stopped everything in its tracks.
Two wins and a one-point defeat to Tipperary in the league was what Cathal Murray's team had to show before lockdown arrived.
Now just days away from facing Wexford in their Group 1 opener, the focus returns to matters back on the pitch.
For large portions of 2020, sport has had to play second fiddle for defender Emma Helebert.
A mid-wife by trade, the half-back has witnessed the the full range of emotions in the Galway labour ward with Covid restrictions added to the mix.
"It has been hectic," she tells RTÉ Sport at the 2020 Liberty Insurance All-Ireland Camogie Championship launch. "A lot of it has had to stay normal, babies don't decide to not come because there is a lockdown!
"It's great though and I'm so grateful to have been able to still work."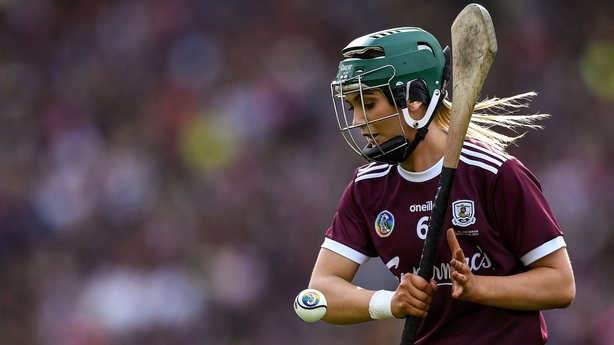 Naturally, there was a big adaption within the role once restrictions came in and it has heightened Helebert's personal sense of responsibility.
"At the start, you kind of felt you were going into a building that was on fire, especially during the thick of it in March.
"The uncertainty was mad. A soon as lockdown hit, we were getting phone calls left, right and centre. Were partners allowed in?
"It's hard enough [for pregnant women] going in with the most support you could possibly get. Our role as mid-wives was cranked up a notch. We are supported better now, the more we know about it."
You definitely think, 'am I going to be affecting someone?
Serious thought was given to her sporting activities at the height of the pandemic and consideration to those she would be coming into contact with, and sought opinion from others working with the elderly and high-risk persons.
"Working in a hospital, I'm wary of going to training. You have that added responsibility.
"You definitely think, 'am I going to be affecting someone?' You don't care about yourself as much, but it's the thought that you might be bringing it to someone else that may not be as healthy, as fit."
There was a nervousness at what last week's restrictions were going to bring, but for now it is all guns blazing for Wexford this weekend.
After first coming into the panel in 2015, it was only in last year's march to a league and championship double that Helebert finally became a regular starter in the team.
The likes of Dervan, Niamh Kilkenny and Heather Cooney tasted All-Ireland success back in 2013, but for many, including Helebert, it is a new experience.
With Murray at the helm, don't expect standards to drop any time soon.
Murray was manager of Sarsfields hurlers when he stepped into the fold two years ago, but relinquished that role once their campaign ended saying at the time: "If you are going to do the job you have to do it right. The Camogie was always going to win that battle."
The panel was won over quickly with an ultra-professional approach that has paid dividend in the form of two league titles and All-Ireland success.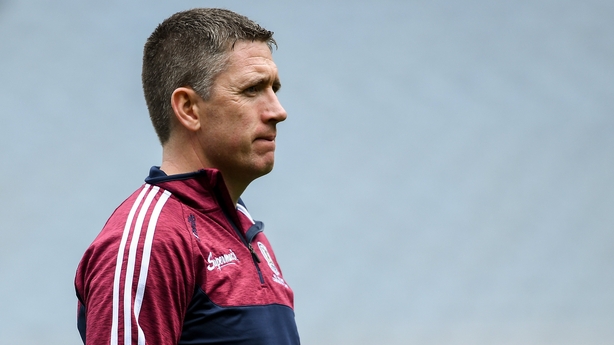 "He leaves no stone left unturned. The respect he has for us as players and camogie. He has brought camogie in Galway up another level.
"He wants the best for us and that means getting the best trainers, the best strength and conditioning, even just getting fed after training.
"It becomes a mutual respect. It got to the stage last year where we wanted to win more for him than us."
It has been an upward trajectory for club and county, with Ballinderreenin the south of the county finally escaping the Junior A ranks to climb to intermediate level in Galway.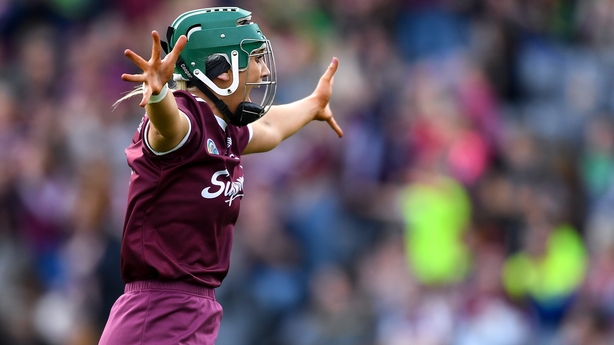 Bidding for two in a row with Galway, Helebert is looking forward to the most unusual inter-county campaign in living memory.
"We just want to get back into it.
"My first one [All-Ireland] was great and I'm thrilled to have shared it with girls that are only on their second. I see how hard they have worked for it. When the win comes, you appreciate it."