Three first-half goals powered Galway to a first senior camogie All-Ireland crown since 2013 in front of a record attendance of 24,730 at Croke Park.
An inspiring midfield display from Niamh Kilkenny, who finished with four points, helped the Tribeswomen to victory over a Kilkenny side who have suffered their third All-Ireland final defeat in-a-row.
A brace of goals from Ailish O'Reilly along with a third from full-forward Niamh Hannify left Galway leading by six points at the break. Carrie Dolan's tally of six points was equally crucial in landing a third senior All-Ireland crown for the county.
And while Kilkenny managed an impressive fightback in the second half to slash the deficit to two in the final stages, Galway held firm to finish with a flurry of points as Kilkenny and Dolan landed crucial scores to edge them over the line.
Galway got the first of their three first-half goals in the opening minute of the game. Ailish O'Reilly made some space before crashing the ball into the roof of the net to offer an emphatic response to Michell Quilty's opening free.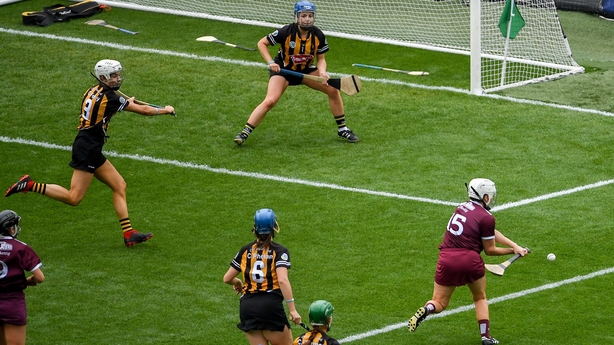 Kilkenny was instrumental in engineering the goal and followed that up with a monstrous point to add to Galway's ideal start.
Kilkenny quickly settled after that early blow and outscored their opponents by 0-8 to 0-3 over the next 15 minutes. Galway were guilty of indiscipline at the back and Quilty profited from the placed balls, hitting six frees in the first half.
Denise Gaule and Davina Tobin were also on target as Ann Downey's side started to dominate.
Galway appeared to drift out of the game after a Sarah Spellman point and went eight minutes without another score before Carrie Dolan converted her second free.
Then Galway delivered a double blow with two goals in as many minutes from Hannify and a second from O'Reilly to rattle the Cats.
Hannify tapped the ball home when possession spilled into her path from a ruck while O'Reilly's effort was a fine piece of individual play. After receiving a pass, she left her marker behind with a swift turn and raced through unopposed before placing the ball low and into the corner to put Galway 3-06 to 0-10 in front.
Galway could have clinched a third goal shortly after but a double-save rescued Kilkenny from falling further behind. O'Reilly was first up to take a swing but Kilkenny keeper Emma Kavanagh sprinted out in time to block her shot.
Spellman arrived first to the rebound but her attempt was also blocked away, leaving Dolan to convert the '45 and put Galway six points clear at the break.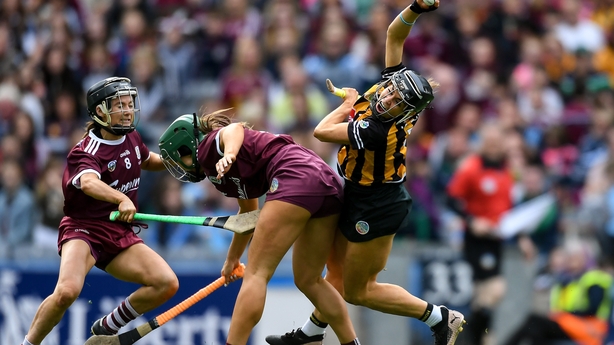 After Dolan grabbed the first score of the second half with her fourth free, Kilkenny took control again.
A pointed free from Quilty followed by points from Miriam Walsh, Anna Farrell and Aoife Doyle helped the Cats eat into the deficit.
Anne Dalton, who imposed herself much more on proceedings after the restart, added to that with two quickfire before Gaule added a superb free to leave them just two points adrift.
By that stage, Galway had just three second-half points including two Dolan frees. But when the need was greatest they posted crucial scores to open their advantage once again.
A fifth Dolan free was followed by two more superb points from Kilkenny, while goalkeeper Sarah Healy also pointed from a free to complete Galway's awesome surge to the finish.
Galway: Sarah Healy (0-1); Shauna Healy, Sarah Dervan, Heather Cooney; Catherine Finnerty (0-1), Emma Helebert, Lorraine Ryan; Aoife Donohue, Niamh Kilkenny (0-4); Carrie Dolan (0-6 5f, 1 '45), Catriona Cormican, Sarah Spellman (0-1); Noreen Coen (0-1), Niamh Hannify (1-0), Ailish O'Reilly (1-0)
Subs: Ann Marie Starr for Noreen Coen (42 mins), Rebecca Hennelly for Sarah Spellman (49 mins)
Kilkenny: Emma Kavanagh; Collette Dormer, Catherine Foley, Edwina Keane; Kellyann Doyle, Claire Phelan, Grace Walsh; Meighan Farrell, Davina Tobin (0-1); Anna Farrell (0-1), Katie Power, Anne Dalton (0-2 1f); Michelle Quilty (0-08 7f), Miriam Walsh (0-1), Denise Gaule (0-3 1 f).
Subs: Aoife Doyle (0-1) for Edwina Keane (27 mins), Danielle Morrissey for Aoife Doyle (55 mins)
Referee: Ray Kelly (Kildare)