It's not quite Jones's Road on All-Ireland final morning, but getting tickets for this weekend's club championship games will prove trickier than usual.
In the normal run of events, those looking to catch some early club action have to do no more than saunter up to the turnstiles and hand over a few bob for the pleasure.
If your team is the second part of a double-header then it's often the case of 'catching the second half of the first match' and if your side is up first then you might 'stay for the first half of the second game' before heading off.
All has changed however and, for the moment anyway, those luxurious options are off the table.
As it stands, no more than 200 in total can gather for the fare in coronavirus times.
That includes players, backroom teams, media, officials, stewards and the rest of the volunteer core that assemble to put on the games.
It's only when they are all catered for that supporters will come into the equation.
The Government's roadmap allows for gatherings of 500 at an event from 20 July and that, as far as early-round club action goes, will take care of the majority of games, notwithstanding that some clashes will attract many more patrons.
One of the headline acts of the opening weekend is Friday night's Wexford Senior Hurling clash of St Martin's and Oulart-The-Ballagh in Wexford Park, which is being televised by TG4, whose entire crew may take up to between 25-30 of the 200 permitted.
We need your consent to load this rte-player contentWe use rte-player to manage extra content that can set cookies on your device and collect data about your activity. Please review their details and accept them to load the content.Manage Preferences
"Typically, a first-round championship game in Wexford would draw between 1,000 and 2,000," St Martin's chairman Cian O Lionain tells RTÉ Sport.
"We have 200 adult members and about 300 juveniles, most of them would probably be looking to go to your season opener, especially against Oulart, who are very much the benchmark in Wexford."
The Wexford County Board have asked the Government to make an allowance in the same way that places of worship have worked under new guideline allowing more than 50 people to gather where the size of the venue allows for social distancing but for the moment, however, both teams will be working off the base number of 200 in the ground.
"It's interesting to see how the churches worked together to find a reasonable way to say there's a difference between a church with a capacity of 100 and the Pro Cathedral," adds O Lionain.
"We're hoping for a bit of a miracle that the 500 might be brought forward by a couple of days. At least then I'd know we could take all of the parents of the players.
"But we know that these are exceptional times we have to [cut our cloth].
"It's 35 tickets to each of the two teams, that's a squad of 24, backroom team and club officials.
"Between the two clubs there are 59 season ticket holders, who are entitled to go. We've been told we might get around 25 tickets for supporters.
"Sadly it's very much in the loaves and fishes territory for both clubs.
"We realise that we are fortunate the game is on live television. At the same time in Bellefield, Rathnure are playing St Anne's, two clubs who typically would bring a very loyal following, and that's not on TV.
"I'm stressing out about how to fairly allocate whatever number of tickets we get but at least those who don't get a ticket will get to see the match anyway."
St Anne's, meanwhile, were given 30 tickets for their supporters for the match in Enniscorthy.
"Any of our paid-up members who wanted to go were put in a draw," Hilda Roche, St Anne's PRO, says.
"It was the fairest way to do it. It's just the one match and then it's up to 500 after that in the next phase."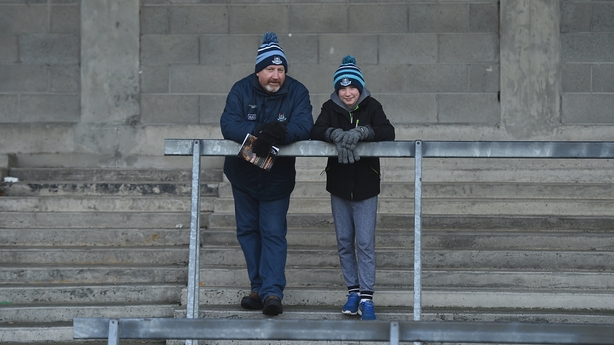 Whether or not Wexford Park gets the green light to welcome more supporters the weekend's other televised hurling game, between Kilmacud Crokes and Ballyboden St Enda's in Parnell Park, which would also normally attract a crowd of over 1,000, is being planned under the current guidelines.
"Priority is given to the players and backroom teams and after that it's a number of tickets to each club," Dublin county secretary John Costello says.
"We won't be using turnstiles to reduce issues around proximity. Everybody has to social distance. Obviously, family units can sit together but everyone else has to be two metres apart.
"This weekend will be the most problematic for all club grounds around the country where demand will exceed supply."
That's a note that Lucan Sarsfields chairman Michael Bowler hears loud and clear.
His team are hosting Ballinteer St John's on Saturday at 12th Lock and with no television coverage, he knows some people will be disappointed.
"It is nice to get back into action but I'm not looking forward to the game on Saturday because of the 200-person restriction," he says.
"Had it been two days later we could have had 500 and that would have made life a little bit easier for us. It will be difficult to have to turn people away.
"When it goes to 500 we won't have a problem.
"The county board have issued 90 tickets to every club for games this weekend.
"It's an all-ticket affair and we won't be giving out tickets to the public because every player and official gets two and that's nearly them nearly gone.
"We'll close off the main car park and people will be marshalled in one gate."
---
Clerkin warns against complacency as GAA outlines plans
EXPLAINED: Impact of GAA's Covid-19 policy for teams
---
The Tipperary Football Championship is also among the first competitions to get under way this weekend and county secretary Tim Floyd says they are working hard to make sure it all goes smoothly.
"We are cashless and everyone has to have a ticket bought, or a permit gotten online before they come," he says.
"We are giving each club 40 tickets to cover players and backroom staff, and we give the teams another 30 to sell. Then season-ticket holders would come next.
"After Thursday, if there are still tickets available they'll go on open sale. That's all online.
"We are not using turnstiles; we have scanners on the entrances that we'll use. [Tuck shops], I doubt it.
"With the football we won't be too bad but the following weekend even with 500 we'll be under pressure with some matches."