The GAA today updated their Covid-19 policy and it could have a huge impact on how clubs and county teams proceed this summer and autumn.
After a handful of clubs stood down activity after members or close contacts of members tested positive, fears began to grow that teams could be excluded from county championships, which are free to restart this weekend.
However, with dressing rooms remaining closed, the GAA are keen to limit the number of close contacts within teams, which will then help to reduce the number of players who will need to be stood down, should a team-mate test positive.
With transmission believed to be 19 times more likely in indoor settings, outdoor training sessions and matches will not constitute a close contact, but rather will be deemed a 'casual' contact.
Therefore, if a player tests positive he will be restricted from playing until he is 48 hours symptom free and any close contacts will be stood down until they get medical clearance to return.
Therefore, within a team setting, the only team-mates of a player testing positive who will be stood down would be those who have been in close contact - most likely in a car, or a social setting separate from club activity.
Casual contacts will have a 'passive follow-up' for 14 days and must contact their GP if they develop symptoms, but they are free to train and play.
This means that clubs and county teams should be free to play matches even if a member tests positive, which should increase the possibility of completing championships.
The below document from the GAA spells out the process should a player test positive.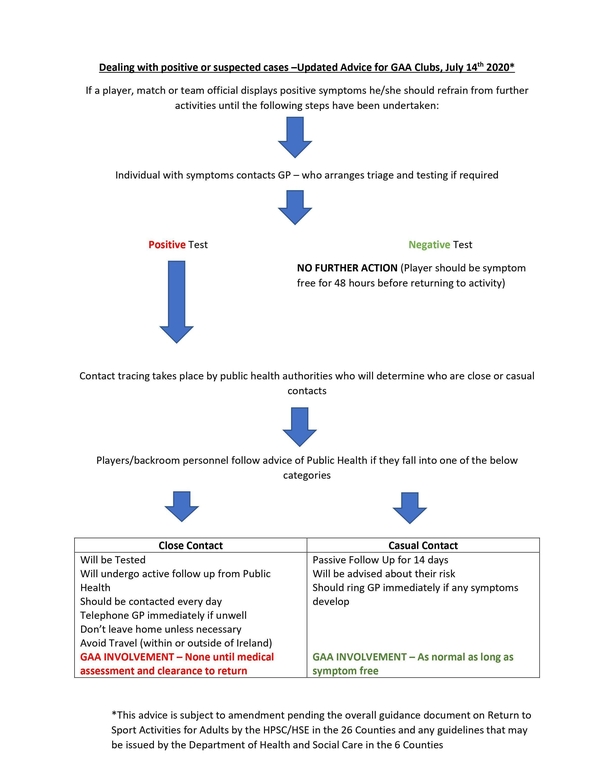 Listen to the RTÉ GAA Podcast at Apple Podcasts, Soundcloud, Spotify, or wherever you get your podcasts.
RTĖ Sport · RTE GAA Podcast: The GAA Media In A Post - Covid World, Plus Sarah Rowe Interview