The GAA's hardened stance on punishing officials should inter-county training sessions continue will be enough to stop the practice, according to Colm O'Rourke.
Anecdotal evidence has been stacking up to suggest that many counties, in hurling and football, are in breach of the training ban, which runs to 14 September to allow boards to run off their club championships.
Initially the GAA indicated that it would not be chasing down anyone who broke the rule but they have since issued a new directive to dissuade officials and management from organising county training sessions.
It also resisted calls to allow players, whose clubs had exited their respective championships, to be allowed to train collectively.
It's a move that O'Rourke, an All-Ireland winner with Meath in 1987 and 1988, expects to bear fruit.
"There is no doubt that if a county manager or a county chairman was suspended it would stop things fairly quickly," he told RTÉ Radio 1's Saturday Sport.
"I would think that there will be no club player training with their county teams next week.
"I'm fairly sure of that at this stage and I think that it did take this hard stance by Tom Ryan [GAA director-general] and John Horan [GAA president], they were much too lenient in the beginning.
"The GAA is a very difficult organisation to run but if you don't have severe penalties in place then there's no point in bringing in a rule. I would say things would settle down from next week."
O'Rourke, who managed Simonstown to two Meath county titles, was giving his reaction to Saturday Sport's interview with Gaelic Players Association chief executive Paul Flynn, which was recorded prior to the news of the GAA's new stance being reported.
The former Dublin star stressed that there should be no illicit training prior to the set date but that players should be covered by insurance in the event that sessions take place.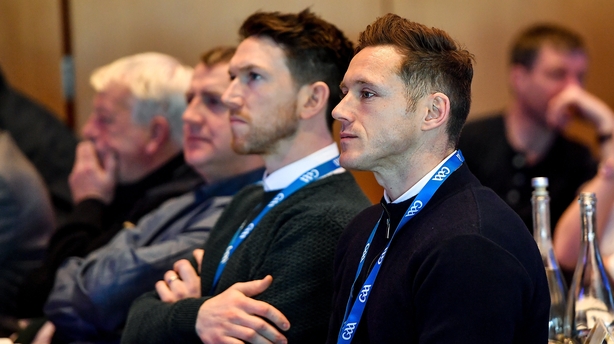 O'Rourke said: "Paul Flynn is a reasonable man but all he had to do was just say 'only train with your clubs'.
"Instead of that they sent out this contradictory statement – 'only train with your clubs but if there's county teams training they should be insured'.
"It was a black and white situation. I feel sorry for Paul Flynn, though, he is trying to defend the indefensible here.
"I also listened to Donal Óg Cusack on the [RTÉ GAA] podcast during the week (below) and he came across as typical of the sort of self-centred persecution complex that a lot of the GPA people have.
"The GPA players are club players primarily.
"If some of these people got back to their clubs they would realise the frustration that is there with a lot of the club players with the inter-county scene, and the lack of availability of their county men to clubs, and that has to be the starting point."
We need your consent to load this YouTube contentWe use YouTube to manage extra content that can set cookies on your device and collect data about your activity. Please review their details and accept them to load the content.Manage Preferences
Listen to the RTÉ GAA Podcast at Apple Podcasts, Soundcloud, Spotify, or wherever you get your podcasts.
RTĖ Sport · RTÉ GAA Podcast: Oisín McConville and Donal Óg Cusack on club v county strife, plus New York vision