The GAA will not bring forward the 14 September date for inter-county teams to resume collective training and has called upon clubs to report county teams that breach that sanction.
At a chairpersons conference call earlier today, led by president John Horan and director general Tom Ryan, county board chiefs were told that the return to training date for collective inter-county training would not be changed, regardless of whether players exit their club championship before that date.
Croke Park officials held the conference call to discuss the ongoing dilemma of some county teams already resuming group or pod training – 11 weeks before they are officially allowed to do so.
Anecdotal evidence has suggested that several inter-county teams are already back in some form of training.
There were reports that some clubs are already finding it difficult to access their inter-county players who are back preparing for a championship that doesn't begin until late October at the earliest.
Today's virtual meeting directed county chairpersons to make contact with clubs in the coming days and report any county team that breaches the assigned return-to-training date.
If a county is found to have breached it, RTÉ Sport understands they could be dealt with under Rule 7.2, a lengthy disciplinary jurisdiction centred on the enforcement of rules and arbitration.
Possible penalties could be incorporated under Rule 7.2 (e) which deals with misconduct considered to have discredited the association and holds potential penalties of fines and disqualification.
Reports of sanction breaches have to be submitted as part of official GAA documentation and signed off by a club administrator. 
This new directive will be implemented immediately.
At the unveiling of the association's revised 2020 roadmap last week, the GAA suggested that they would not impose sanctions on county teams who resumed training prior to 14 September.
But at that meeting they did encourage people to "call them out" if that happened.
The GAA had already stated that county sides who train prior to mid-September will not be insured.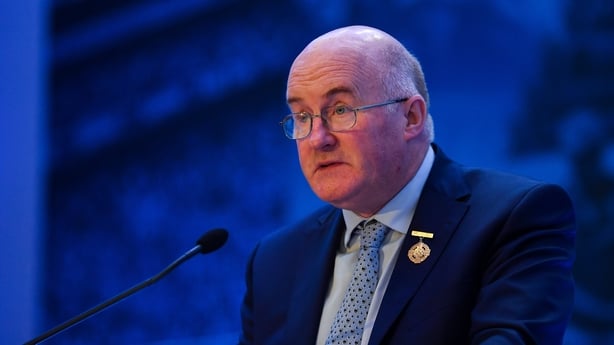 "We'd like people to call them out but we're not actually intending to impose any penalties," said John Horan last Friday.
And speaking on the same issue, director general Tom Ryan didn't rule out the prospect of penalties coming into play if Croke Park officials saw fit at a later date.
"I think myself over the last three or four months, and the reason we're at the stage we're at, is because the country as a whole and the association has shown a great degree of restraint and personal responsibility and that's the thing we'd like to rely on first and foremost before we get into…it hasn't been a summer for penalties and sanctions. 
"I'm not really sure that's the right realm for this thing either.
"But we have to do an awful lot of things right in order for us to get to that stage. Part of that is abiding by the timelines and principles that we sent out.
"So, we'll be asking people to abide by them because they're the right thing to do. If there's a second stage required in terms of sanctions of rules, penalties and so on, yeah, of course we'll look at that." 
This now appears to be a live prospect following today's conference call.
Listen to the RTÉ GAA Podcast at Apple Podcasts, Soundcloud, Spotify, or wherever you get your podcasts.