Over the last 40 years, The Sunday Game has brought the GAA football and hurling championships into your homes.
And now, we want you to help us choose the best XV in each code of the TV era - picking the best XV from All-Star winners of the Sunday Game era (1979-present)
Cast three votes for your All-Star hurling half-backs of choice below or email teamselection@rte.ie to make any more considered contributions. We will be debating these teams across our platforms in the coming weeks.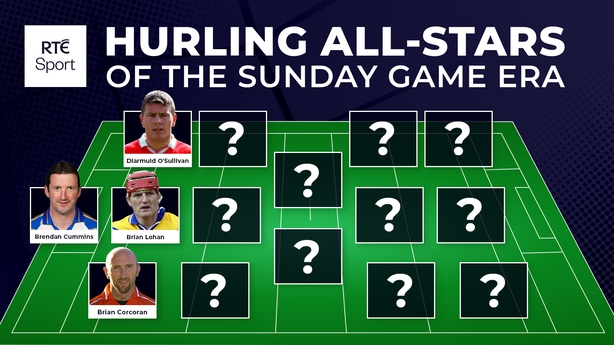 Full-backs Brian Lohan, Diarmuid O'Sullivan and Brian Corcoran have joined Brendan Cummins in goal and now we advance to the half-back line.
Along with the lads who put the ball in the net, the third line on the hurling pitch is particularly crucial and quite often where a manager will employ their most skilful players.
Traditionally, shirts 5, 6 and 7 have been worn by those who are able to claim puckouts and clearances over forwards' heads, deliver accurate, long passes and also storm forward for an inspirational score.
That package of skills, along with the fact that the goal is sufficiently far behind you that it's rarely your fault if the opposition raise a green flag, makes half-back one of the glamour positions in hurling.
The men below include many winners of the three (!) separate Hurler of the Year awards that existed at different stages but thankfully have now been amalgamated into one.
With 42 stars of the game to choose from, you could easily pick a superb line all from the same county. But we're sure you wouldn't be that biased.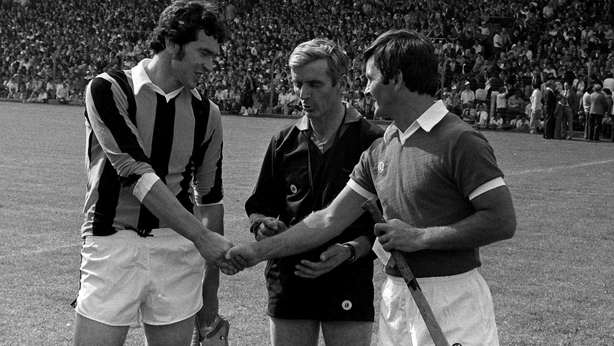 At least one of Cork, Kilkenny or Galway contested every All-Ireland final of the 1980s except the last (Tipperary v Antrim) and their players understandably dominated the All-Star lists of that decade.
The Cats' colossus Ger Henderson was Hurler of the Year in '79 and was the All-Star centre-back in Kilkenny's title wins of that year, '82 and '83. He claimed a fifth award in '87. Team-mate Joe Hennessy was at midfield in '79 but alongside Henderson at wing-back four years later.
A Cork team that went all the way in '84 and '86 had three-time recipients Dermot McCurtain and Tom Cashman on either wing though McCurtain missed the second All-ireland win - when Cashman was captain - through injury.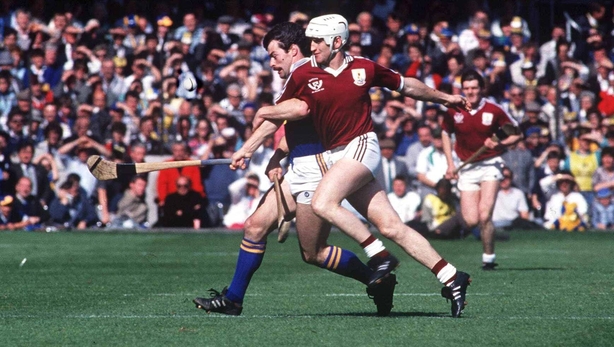 Sean Silke and Iggy Clarke (4) won All-Stars in the early part of the decade for Galway before Peter Finnerty (five All-Stars in six years) on the right and the late great Tony Keady ('88 HOTY) at centre took over in the superb Tribes side that contested four All-Ireland finals in a row from 1985 and went back to back in 1988-89.
Offaly played in three finals in the first half of the decade, winning two. Pat Delaney was the All-Star No 6 in 1985, having being curiously overlooked in '81 despite being named Hurler of the Year for his part in the Faithful's maiden triumph, and Ger Couglan was twice recognised at left wing-back.
Three-time All-Star Bobby Ryan was Tipperary's man in the centre and captain as they ended a long wait for Liam MacCarthy in 1989 and his team-mate Conal Bonnar was the only man to deny Finnerty, claiming the right wing-back spot in '89 and again in '91. Galway's Seán Treacy was on the left in the same campaigns.
By the turn of the decade, Cork's Jim Cashman, younger brother of Tom, was picking up the first of back to back gongs while 22-year-old Liam Dunne was winning the first of what would be three awards with Wexford.
Hurling's 'Big 3' were back in control in the early 90s but the 'revolution years' were on the way. 1992 saw the first of many awards for Limerick centre-back Ciaran Carey and Offaly right wing-back Brian Whelehan, alongside Kilkenny's Willie O'Connor, who won his other three All-Stars at corner-back.
There have been many historic moments between @gaaclare & @LimerickCLG over the years! Here's one of them! Remember this Ciarán Carey point? pic.twitter.com/xS6j0qANtS

— The GAA (@officialgaa) June 1, 2017
The supremely talented Whelehan won four All-Stars, one at full-forward after scoring 1-06 in the '98 All-Ireland final win over Kilkenny, was the only active player nominated on the Team of the Millenium and is still the only man to have been named Texaco Hurler of the Year twice.
It should have been five All-Stars but a voting mix-up cost him in '94 when he was HOTY, only Whelehan's team-mate Kevin Martin made the half-back line that year, as he also did in '98.
Limerick lost finals to Offaly in '94 and Wexford in '96 but Carey, Mark Foley and Dave Clarke were all recognised for their efforts though Hurler of the Year Larry O'Gorman (at corner-back) was the only Model defender aside from Dunne celebrated in their glory year.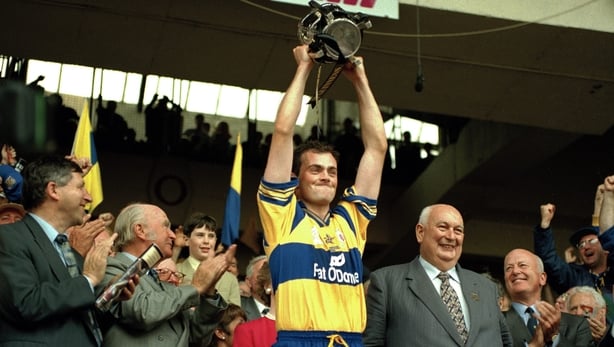 Clare's banishment of Biddy Earley's curse to end an 81-year wait for Liam in 1995, and add a second in '97, was backboned by a teak-tough half-back line of Anthony Daly, Seánie McMahon and Liam Doyle, all of whom won multiple awards.
Kilkenny's Peter Barry won the first of his three All-Stars in 1999 as the Brian Cody era started with a final defeat to Cork but as the new millennium began and the Cats began to rack up All-Ireland titles (six in that decade alone) two other members of their half-back line, usually at least, came to the fore.
JJ Delaney was Hurler of the Year in 2003 and was a seven-time All-Star: four times at left-wing back and three times, including his final year in 2014, at No 3.
The incredibly versatile Walsh was a winner at corner-back, midfield and wing-forward but it was in either wing-back position that his supreme ball-winning and distribution came to the fore. He won five of his nine All-Stars at 5 or 7 and was the country's top hurler in 2009, winning the All-Stars, GPA and Texaco prizes.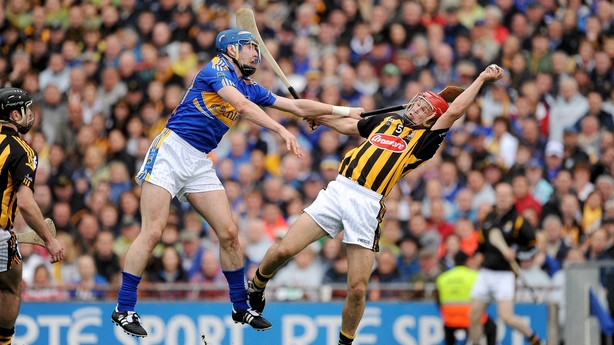 Kilkenny's main rivals in the earlier part of the 00s were Cork, whose almost ever-present half-back line of John Gardiner, Ronan Curran and Seán Óg Ó hAilpín were a fulcrum for their appearance in four straight finals, including back to back wins in '04-05. Ó hAilpín (HOTY '04) and Curran both got the All-Star nod three times but Gardiner only once, though he was voted Hurler of the Year by his GPA peers in that same year (2005).
The Rebels' great rivals in that time were Waterford, who they faced every year in the Championship from 2002-07 in what were invariably tight, thrilling games.
The Déise had their own maestros at half-back, including Tony Browne (All-Stars Hurler of the year from midfield in '98 but wing-back in his other two All-Star year), Ken McGrath and Championship appearance holder Michael 'Brick' Walsh. The latter duo both won awards in defence, midfield and attack.
Only 2 days until Christmas! GAANOW Rewinds to '02 as we look to some classic moments between @OfficialCorkGAA and @WaterfordGAA starting from 2002 up to 2010! Watch many GAA legends in action here such as John Mullane, Brian Corcoran, Ken McGrath, Joe Deane, and Dan Shanahan! pic.twitter.com/VvTi0AEcoU

— The GAA (@officialgaa) December 23, 2017
Tipperary's Conor O'Mahony was another two-time statuette winner at the end of the decade while in 2009 the Premier County's Padraic Maher earned the first of his five All-Stars at full-back, though he went on to become the outstanding wing-back of the 2010s, forming a formidable partnership with versatile team-mate Brendan Maher (3) and brother Ronan in recent seasons.
Clare's Brendan Bugler and Galway's Padraic Mannion both won multiple awards to go with their Celtic crosses while many would consider the variously deployed Dublin star Liam Rushe's best campaigns to have come at No 6.
Brian Hogan's two recognitions came in the early years of the decade but Cillian Buckley and Tommy Walsh's younger brother Padraig have both impressed in the remodelled Kilkenny team of the last five years.
The poll is now closed...