Dublin midfielder Brian Fenton has called on the GAA to listen to players' concerns over rule changes.
Undoubtedly the most controversial of the changes brought in for this season in Gaelic football is the advanced mark.
It can be called when a forward or defensive player catches a ball cleanly that has been kicked from on or outside the 45 metre line - once the ball has travelled at least 20 metres.
Recently retired Mayo attacker Andy Moran criticised the rule, calling it a "real shame" that the rule had come in, while, perhaps surprisingly, Dublin defender Jonny Cooper has defended the change, stating that he enjoys the challenge of one-to-one contest.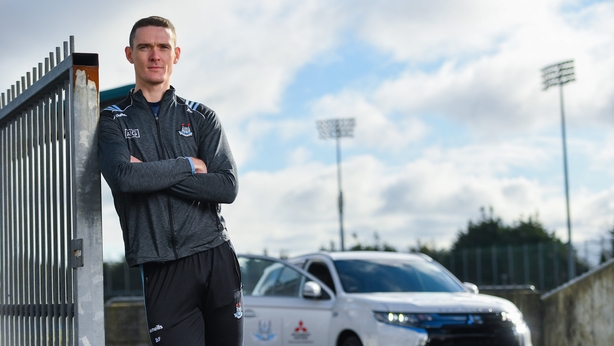 And while Fenton was speaking more broadly about rule changes in the game, he said the association should pay more heed to what the inter-county players want.
"You look at the new rules, and you say... the GPA were asked for their opinions from the players, but I don't think really they were consulted in lots of ways.
"Players would love to be consulted, I know, and the GPA leads that from the front and they ask for huge surveys.
"Players are crying out to give feedback on the current status of the game, and what works and doesn't work.
"New rules were brought in without consultation with referees, as well.
"Look, we've a magical game, and a magical sport, and we're doing so much to try to 'fix' it... is it really in such bad health?
"I think gate receipts were up last year. People still love the game. There's a transition back to offensive football.
"It's in a good place. Let's just steady on about changing too much. So look, consult players, consult refs, get opinions, add things that you might think help the game, but it's our game at the end of the day.
"Don't change it for anything else."
We asked Brian Fenton about David Clifford getting sent off against Tyrone last weekend - can anything be done to protect players? #GAA #RTEGAA pic.twitter.com/htGSSjxLIT

— RTÉ GAA (@RTEgaa) February 14, 2020
One of the big talking points of last weekend was David Clifford's sending off against Tyrone.
The incident happened close to referee Fergal Kelly's umpires, but after speaking to his officials beside the goal, he decided to dish out a yellow card to Clifford, and the Tyrone substitute Ben McDonald.
RTÉ GAA analyst Ciarán Whelan branded the decision "terrible" on Allianz League Sunday, and called on referees to use "common sense" to deal with issues like that.
"It's not great to see," echoed Fenton as Mitsubishi were confirmed as the official car partner of Dublin GAA this week.
"Being David Clifford, and the sub just on, maybe it was highlighted more.
"Teams do it all over the country. It would be great to see something happen, but how that happens... it's certainly not for me to decide.
"You'd like to think that referees get together and talk about significant moments and learn from each other. That's what we do as teams.
"That's what businesses do... peer feedback. How do you think I did there? What do you think I could improve on? How could we have communicated better in that scenario?
"It just brings in that debate of referees getting as much support as they need."