Dublin defender Jonny Cooper says he welcomes the challenge of the attacking mark, adding that it may force backs to re-think their approach.
His departed inter-county manager Jim Gavin was a staunch critic of the mark, even in its more limited form in last year's league, lamenting that Gaelic football was one more rule change away from turning into Australian Rules.
But Cooper is more sanguine and welcoming of the change, intrigued by how it might alter the discipline of defending.
"I've enjoyed it. I think the crux of it for me as a defender is it'll force you to get better, do something a little bit differently in terms of how you mark," Cooper told Game On on RTÉ 2fm.
"There's been talk in the last couple of years about massed defences and safety in numbers but if you're one-on-one, which you are typically if this mark comes in, it'll be you against your opponent.
"How can you do better, how can you change angles and get faster and quicker and stronger?
"I think it can only be good from a defensive point of view. It'll force me to try and defend a situation better or win the ball in some cases.
"From that point of view, it's very exciting and challenging."
Gavin's resignation last November came as a surprise more for the timing than anything else.
Many observers suspected that the former Dublin boss would take the completion of the five-in-a-row as a suitable jumping-off point but two months would subsequently elapse before he called it a day, via a rather terse statement released by the county board.
Cooper's Na Fianna club colleague Dessie Farrell was installed as manager shortly aferwards. Farrell, like Gavin, a member of Dublin's 1995 All-Ireland winning team, has presided over Dublin underage sides for the past decade.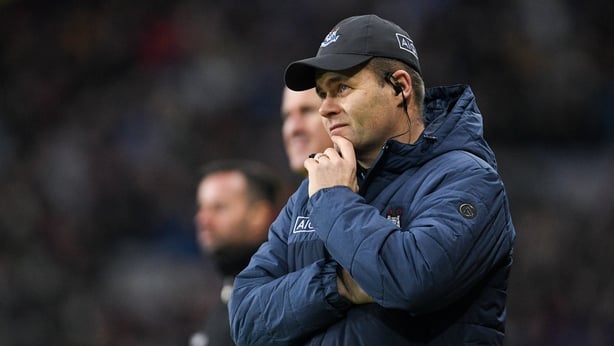 He guided to the Dublin minors to an All-Ireland in 2012, after an agonising defeat to Tipperary in the previous year's final. He subsequently succeeded Gavin as Under-21 boss and led the Dubs to All-Ireland victories at the grade in 2014 and 2017.
Cooper expects Farrell to bring his own ideas to the table while respecting the need for a degree of continuity in what has been a wildly successful era.
"Like any change, there's a bit of unknown, there's a bit of uncertainty. There's obviously a gap and a void in the middle between one manager going and one manager coming in. So, that gap in the middle, you're trying to navigate.
"I've known Dessie since I was watching him on the sidelines at Na Fianna. He's his own man, he'll bring a lot to the table.
"But he's also be acutely aware that the group has lots of good things going on. So, he's trying to probably harness and figure all those elements out. But also, then add and take away some things probably.
"Change will always take a bit of time to bed down. But we can all help. We're all after the same goal. We're all very passionate about our craft and Gaelic football in Dublin.
"It remains to be seen what will happen in terms of outcomes. But asking questions of ourselves can only be good in the long run.
"The players are looking to improve and the management that have come are saying we want to improve, then the only outcome can be an improvement. Whether that'll be good enough or not is another question.
Full interview will be broadcast on Game On on RTÉ 2fm (6pm).
Dublin footballer Jonny Cooper was speaking at the launch of Avonmore Protein Milk's new premium milk, Avonmore Protein Gold, which is being supported by the GAA and the GPA.