Former Mayo footballer Andy Moran believes Ciaran McDonald's addition to the senior coaching team will give extra impetus to the panel's older guard.
Moran retired from the inter-county game after the 2019 Championship expects McDonald to have a real positive impact. .
"He's a great fella and in terms of bringing a bit of excitement to the team, particularly the older lads I would say - Colm Boyle, Aidan O'Shea, Lee Keegan and these guys - I think they probably needed a lift," the 2017 All Star Footballer of the Year told Marie Crowe on RTÉ 2fm's Game On.
"He's yet another fella that they need to impress and go and play well.
"I can't really see any negatives towards Ciaran Mac being involved with the set-up and I'm hoping that gives us a bit of a real bounce at the start of the league in the first three games.
"It might just shove us over the line in the first three games."
Moran added jokingly that McDonald is bringing a certain style to the sideline.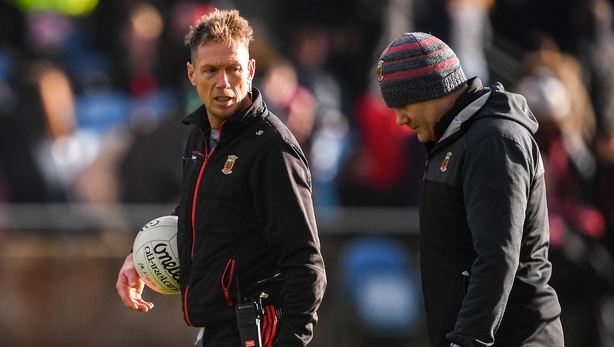 "The picture of him taken wearing the old Predators there a couple of weeks ago and the fade as well, he was looking well," he quipped.
"I'm coaching Under-20s and I've the socks pulled up over the tracksuit bottoms and the 'oul woolly hat on me and stuff like that."
Similarly to how Moran sees McDonald giving Mayo an extra edge, he added that new Dublin manager Dessie Farrell will spur his own panel to impress a new voice and management team.
"The more I think about it, it might have been the right time for Jim Gavin to step aside because now all of a sudden, the players now need to go again and push on again," he said.
Conversely, he expects Cathal McShane's move to Australia for a trial with Australian Rules outfit Adelaide Crows to prove a "tricky" proposition for Tyrone, given how central he was becoming to their attacking plan.
He also tipped Donegal to be "the team to watch outside Kerry and Dublin".
Meanwhile, Moran feels Mayo are coming into the 2020 league in a different state than last year when he was part of James Horan's winning squad.
"James had to plan without a number of key players within the set-up," he said.
"So it's something that you have to take into account as well and I suppose our expectations, both now - me as a supporter and as a management team - are probably a bit lower than they were last year moving into the National League."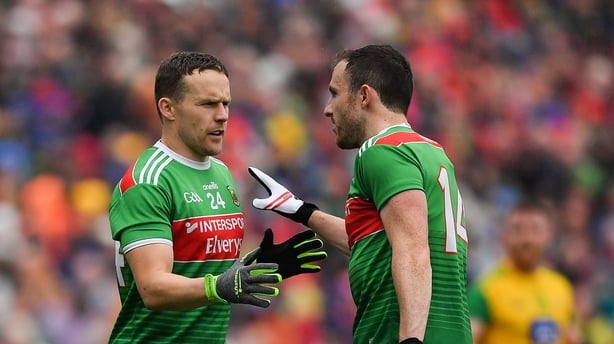 While Mayo can no longer avail of Moran's own experience, he feels it's a "huge opportunity" for the younger generation to step up and provide ideal backing to the likes of Lee Keegan, Aidan O'Shea and Cillian O'Connor.
"If you look at Lee Keegan, Aidan, Cillian, these guys, I'm not sure what position they're in for next week playing against Donegal.
"But it's going to be up to the likes of James Carr, Brian Reape, Darren Coen and these guys to really step up and really fight for Mayo in Division 1 and to see how it can go in the first three games which are going to be vital moving into the latter part of the season as well."
He added that there is a "bit of excitement again that these young players can push us on again and hopefully do something later in the summer".
Moran will take his first steps into coaching, working with the Mayo Under-20s.
"I'm very grateful to Mike Solan for giving me the call asking me, giving me the opportunity to go in with the Under-20s and luckily we've a great bunch of lads there," he said.
"To keep within the Mayo cycle too was important because we've our business here in Castlebar and Claremorris.
"So it gives you the opportunity to keep coaching but also to make sure that you're not neglecting the professional side of it as well which was important for me and my family.
"Because that was the biggest concern, that I'd be gone as much as I was playing senior football.
"But that's not been the case, thank God."
From what he has gauged of the new breed of players coming through, "there is a better knowledge of keeping yourself in good condition", compared to previous generations.