The 2020 Allianz Football League gets under way on Saturday with plenty of intriguing subplots across all four divisions.
The biggest bone of contention, however, will surround the new playing rules.
But the league will also have implications on the summer, with the Division 1 teams, the top six from Division 2 and the top two from Division 3 automatically advancing to at least the All-Ireland Football Championship qualifiers.
All other teams from Division 3 and 4 must reach their respective provincial finals to be eligible to participate on the road to the Sam Maguire rather than going down the second tier route.
Find out all the league fixtures details below as well as where to catch the games.
Colm O'Rourke's Allianz Football Division 1 predictions
ONLINE
Live blogs plus live score updates on RTÉ.ie and the RTÉ News Now App.
RADIO
Updates, analysis, reports and reaction from Divisions 1, 2, 3 and 4 on Sunday Sport.
TV
Highlights from the weekend's games on Allianz League Sunday on RTÉ2 and RTÉ Player from 9.30pm, including including Tyrone v Meath and Galway v Monaghan in Allianz FL Division 1.
RTÉ GAA analyst Colm O'Rourke seemed slightly irked by the Dublin panel's wanderlust when interviewed on Morning Ireland earlier. But is the moon such an outrageous destination for a team which has already conquered the GAA world? https://t.co/mUu6ylwrn4 #rtegaa #spacetourism pic.twitter.com/I3KY6Qal58

— RTÉ GAA (@RTEgaa) January 24, 2020
WEATHER
Saturday: Cloudy with a good deal of dry weather across the country, patches of drizzle, mist and fog. Highest temperatures of 6 to 9 degrees in moderate southerly breezes, fresh along west and northwest coasts.
Sunday: Rain will clear quickly from the east on Sunday to leave a cold and blustery day with sunshine and scattered showers, some wintry. Maximum afternoon temperatures of 4 to 7 degrees in brisk southwest winds.
RESULTS
FIXTURES
New Rules Reach Wider Audience
For the first time in 2020, a wider audience will see how football's new rules will impact the on-field action in an inter-county setting.
There are three regulations - the sin bin, advanced mark and kick-out that will be under scrutiny in terms of how they work and positively or adversely affect the game.
Firstly, the sin bin is the new sanction dealing with black card offences. The offending players will be sidelined for 10 minutes after receipt of a black card following a cynical foul.
The concern, however, is that the clock will not be stopped during the 10 minutes which opens the possibility of teams who find themselves down to 14 men or fewer trying to slow the game down or wasting time during that time period.
We need your consent to load this SoundCloud contentWe use SoundCloud to manage extra content that can set cookies on your device and collect data about your activity. Please review their details and accept them to load the content.Manage Preferences
Secondly, the advanced mark will have a significant impact, even perhaps when it comes to the profile of players that managers select in their half and full forward lines, and conversely in the defensive ranks.
As the rule states, a mark can be called when a forward or defensive player catches a ball cleanly that has been kicked from on or outside the 45 metre line - once the ball has travelled at least 20 metres. The player awarded an advanced mark will then have 15 seconds to take a kick.
For attacking catches within the 13 metre line, the play is brought back to that line.
In essence, it is a rule brought in to encourage and reward the art of high fielding.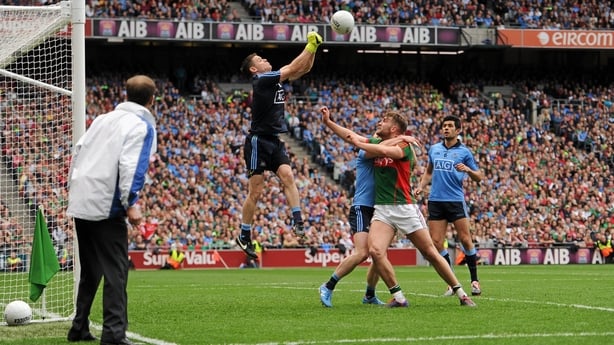 But the worry for its critics are whether it will make football too stop-start, less free-flowing and a little too similar to Australian Rules in that regard.
Thirdly, kick-out strategies and counter-strategies will have to evolve given that all kick-outs must be made from the 20-metre line and the ball cannot go backwards.
How teams press and utilise kick outs will be interesting given the first line of attackers and defenders must be at least 13 metres away from the ball when it is kicked and given the existence of the aforementioned advanced mark, will we see more teams become more direct in their attacking play?
Read Declan Whooley's Division by division breakdown of the league here.