Michael Fennelly is a busy man these days.
On Saturday, his reign as manager of the Offaly hurlers got off to a winning start as the Faithful County beat Kildare in the Kehoe Cup.
Twenty-four hours later, he togged out for Ballyhale Shamrocks, helping the Kilkenny kingpins to a record tenth Leinster Club SHC title with victory over St Mullin's.
The 34-year-old is a lecturer in nutrition at the Limerick Institute of Technology, he's currently studying a PHD in leadership and coaching and he somehow balances all of that with family life and the chunky commute from Kilkenny to Offaly.
Right now, he wouldn't have it any other way.
"Mentally it's about managing it more than anything," he told RTÉ Sport.
"There's a bit of driving done obviously to Offaly but I'm loving it. I love training, I love going up to it. People say to me, 'it's an hour and 20 minutes from Kilkenny'.
"That doesn't bother me at all funnily enough because I'm thinking about the session, thinking about what's happening. There's a lot of moving parts as manager. It's just about trying to balance the phD, LIT lecturing, family and sport, it's a lot at the moment but that will iron itself out over the coming weeks."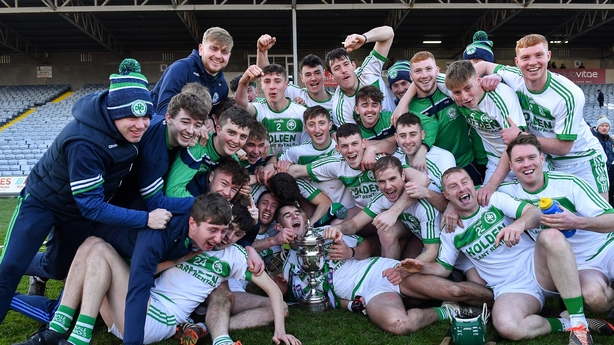 Fennelly won eight All-Irelands with the Cats before retiring from inter-county action two years ago. He was named as the new Offaly boss back in August and immediately threw himself into the role.
The Kehoe Cup gave him an early opportunity to get a look at his panel and see what he has at his disposal.
Fennelly has really welcomed that chance but acknowledged it does deprive the players of a break, and insisted he will not be pushing them too much over the festive period.
"I'm coming in as a new manager and I'm getting to see the players," he added.
"You can't beat matches. That's where you really do see players stand out so for me that's a positive but it is very early for players to be honest.
"December, for me, is a time where you do a bit of individual work and you get yourself up to the standards you need to get. Christmas time is a time for rest as well and when you can spend time with family.
"I hear about teams training Christmas Day, training on St Stephen's Day. I just wonder to myself, 'what's the point in in that? Is there merit in that?'
"For me, definitely, the lads will be off over that period. You need them fresh coming into the new season. The league is starting early, it's 26 January.
"It's putting pressure on managements. You have to get lads ready a bit earlier because if you leave it until January completely you only have maybe three weeks to get a group of player together, to train together.
"The league is too early, that's the key issue here. If it was the middle of February it would give teams a bigger chance to get ready maybe at the start of January."