All-Ireland hurling champions Tipperary lead the way with seven places on the PwC All-Stars team as Pádraic Maher equals a county record with his sixth award.
The Thurles Sarsfields clubman equals the mark of Premier Legends Nicky English and Eoin Kelly and is joined by brother Ronan, who collects his second award.
The Liam MacCarthy winners are represented in every line of the field, with goalkeeper Brian Hogan, defenders Cathal Barrett and Brendan Maher, midfielder Noel McGrath and forward Séamus Callanan all recognised.
In all, five counties are represented. All-Ireland final runners-up Kilkenny earn three, Limerick and Wexford win two apiece and Cork complete the line up with marksman Patrick Horgan.
Wexford's haul means they receive their first awards since 2004 when Damien Fitzhenry was honoured.
2019 PwC Hurling All-Stars
Goalkeeper
1 Brian Hogan (Tipperary) (1st All-Star)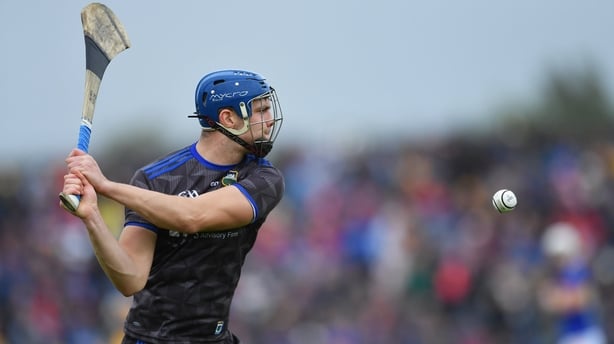 Hogan (23) follows in the footsteps of his father Ken's win in 1987 by claiming the goalkeeper's spot after his breakthrough season. In becoming the first ever Tipperary father/son winners, they join the Larkins and Powers (Kilkenny) but become the first ever duo to win the hurling award in the same position.
The 6'4 cúl báire made some important saves, keeping clean sheets in four of eight Championship games, and his accuracy from puckouts was key to Tipp reclaiming the Liam MacCarthy Cup.
Defenders
2 Seán Finn (Limerick) (2nd)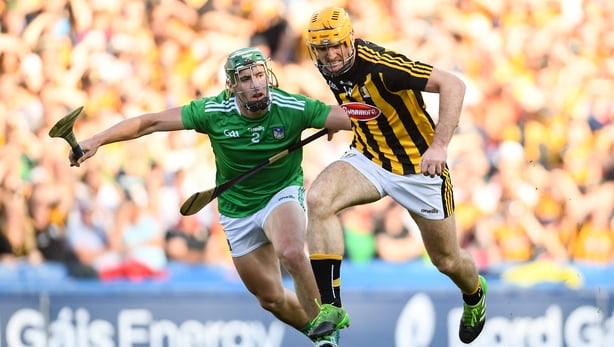 A disappointing end to the season for the 2018 champions and 2019 League winners but the 23-year-old Bruff man was a standout performer at the back, and particularly dominant in the Munster final win over Tipperary.
3 Ronan Maher (Tipperary) (2nd)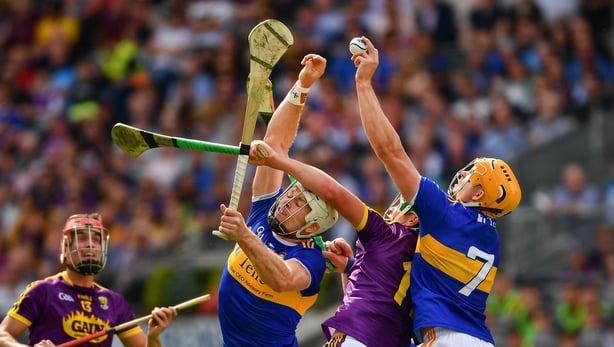 Padraic's younger brother (24) was a colossus at the back for Tipperary, and chipped in with several scores from distance as well. Maher's aerial ability came to the fore in the All-Ireland final when he restricted Colin Fennelly to one point from play. Like his sibling, he as adept at starting attacks with long angled passes.
4 Cathal Barrett (Tipperary) (2nd)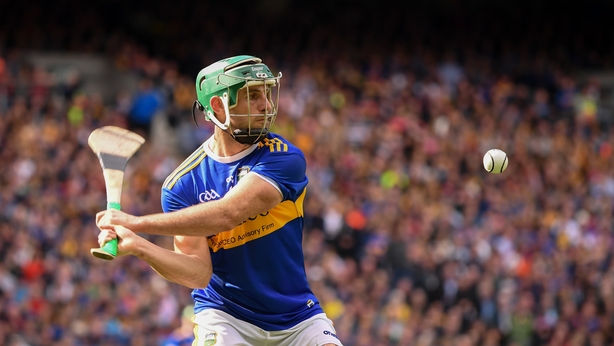 The Holycross-Ballycahill man's county career looked in serious jeopardy when he  was dropped from the panel for disciplinary reasons in 2017. However, he knuckled down and became a mainstay again under Liam Sheedy, whose faith he repaid. Quick, tenacious and skilful, Barrett (26) made hay as Tipp's spare man in the second half of the All-Ireland final after Richie Hogan was sent off for a high tackle on him.
5 Brendan Maher (Tipperary) (3rd)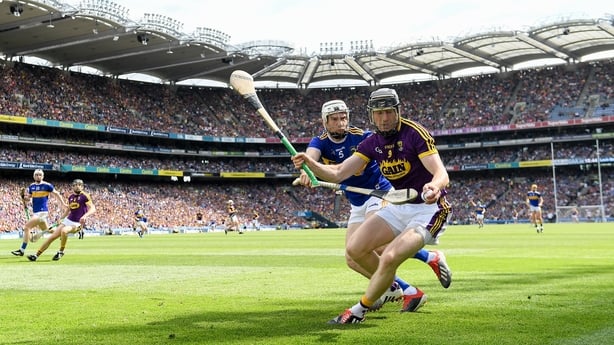 Tipperary's All-Ireland winning captain of 2016 and Mr Versatile returned from a year of rehab on a torn cruciate ligament to play a vital role alongside his namesakes in the Premier defence. A tireless tackler, dogged man marker and intelligent distributor of the ball.
6 Pádraig Walsh (Kilkenny) (2nd)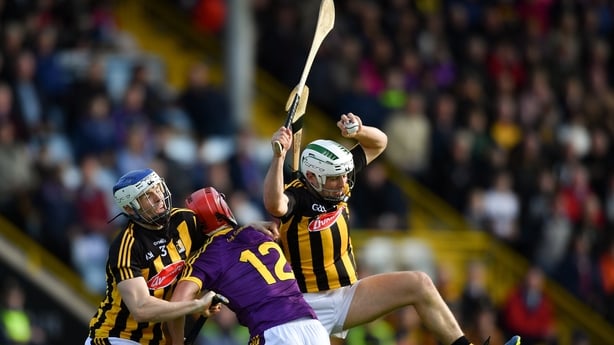 Now that Eoin Larkin is no longer around to put him in head-locks in training, the Tullaroan defender (27) can concentrate on what he does best: inspirational ball-winning, ferocious tackling and the skill to get forward and take his score. Just like elder brother Tommy, never gives up, even in the face of a lost cause.
7 Pádraic Maher (Tipperary) (6th)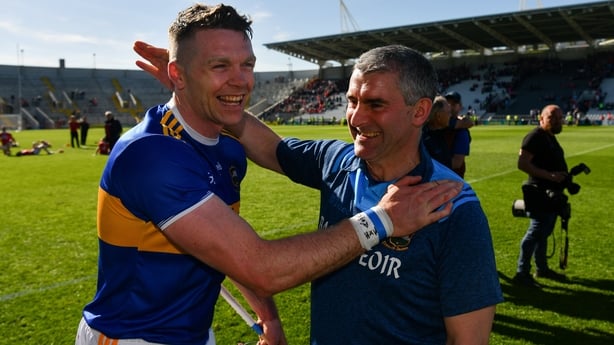 Six of the best for the inspirational 30-year-old, whose ability to pluck a ball from the air, swerve an opponent or win a free and celebrate with a fist bump always rouses his county's fans. As well as snuffing out danger at the back, he kept Walter Walsh (0-01) quiet in the final, can usually be counted on for a long-range score or two as well.
Midfield
8 Noel McGrath (Tipperary) (3rd)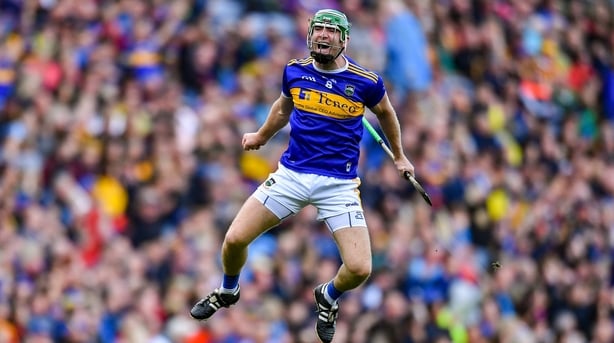 Since he announced himself on the national stage as a 19-year-old with two goals in Tipperary's 2010 All-Ireland triumph, the Loughmore-Castleiney man has consistently been one of the most skilful hurlers around. Frequently demonstrated his unparalleled ability to find space, deliver an incisive flick or pick a pass, which Tipp used to devastating effect from midfield. Man of the match in the All-Ireland final and arguably unlucky not to be nominated for Hurler of the Year. Hurler of the Month in August.
9 Diarmuid O'Keeffe (Wexford) (1st)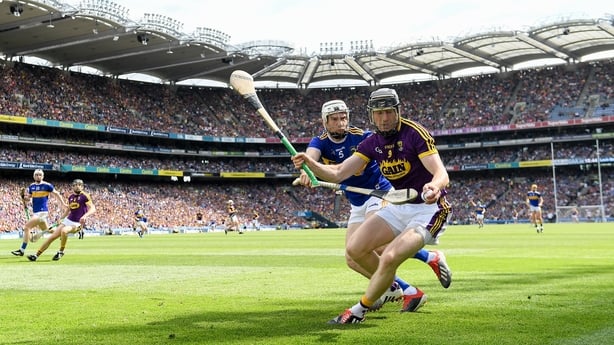 One of the driving forces behind Wexford's run to the All-Ireland semi-finals and first Leinster title since 2004. Epitomising the all-action style of Davy Fitz's team, the 27-year-old scored in all but one of their Championship appearances, including four from play in the round-robin draw with the Cats that secured their progress. Named Hurler of the Month in July.
Forwards
10 Lee Chin (Wexford) (1st)
Wexford's talisman, whose superbly taken goal against Tipp in the semi-final seemed sure to herald a place in the final. Was ultra consistent from frees after a patchy 2018, most notably in helping to lead the fightback to earn a draw in the wind in Salthill. The definition of the modern hard-working half-forward and led by example as co-captain along with Matthew O'Hanlon. 
Lee Chin goal for @OfficialWexGAA !! pic.twitter.com/E8kQ66RZI9

— The GAA (@officialgaa) July 28, 2019
11 TJ Reid (Kilkenny) (4th)
Correctly identified as the danger man by opponents for the closing stages of the Championship and mostly restricted to scores from placed balls but that didn't stop the year's top scorer (98 points) providing a constant flow of assists for team-mates and being almost flawless from frees. Scored five goals in Leinster (two penalties) and his dummy against Kevin Foley in the Leinster final was a thing of beauty. One of the nominees for Hurler of the Year.
Great skill by TJ Reid for a Kilkenny point! pic.twitter.com/Ob8agBHWJ6

— The GAA (@officialgaa) June 30, 2019
12 Colin Fennelly (Kilkenny) (2nd)
The teak-tough forward (30) was in superb form from early in the year when he scored 2-04, including an acrobatic finish in Ballyhale's club triumph. Carried that into the county colours, scoring 3-11 from play over the course of the summer despite injuring his hamstring and being forced off injured against Carlow. If teams don't mark him closely enough, he fills his boots. If they do, he still has the ability to win ball in the air and lay it off or bring others into the game such as his super interplay to set up Reid for a goal against Dublin.
What a goal for Kilkenny's TJ Reid!! pic.twitter.com/cRBPUUbHJR

— The GAA (@officialgaa) May 11, 2019
13 Aaron Gillane (Limerick) (1st)
Started the year as he finished the last with the Hurler of the Month award in April, awarded after he hit 1-55 from play in Limerick's victorious Allianz League campaign. The goal was a stunning flick in the final win over Waterford. Scored two more in Munster, against Waterford and Clare, and even when occasionally isolated up front was a handful for any defence 
Just look at this. Magnificent skill by Aaron Gillane.

pic.twitter.com/B6w51UukGx

— Seán Sheehan (@SeanSheehanBA) March 31, 2019
14 Séamus Callanan (Tipperary) (4th)
A goal in every single Championship game for the Drom & Inch sharpshooter, who capped a superb summer by lifting Liam MacCarthy as Tipperary captain. The team were less reliant on him than previous seasons but freed from the burden of free-taking he still racked up 8-17 from play, the highest of any player. Scored 1-02 in the semi-final against Wexford, the goal a sumptuous first-time half-volley, and the same in the final as well as setting up John O'Dwyer's goal. Nominated for Hurler of the Year and favourite to win having missed out in 2016.
GOAL!! Seamus Callanan unleashes an absolute rocket for Tipperary. #rtegaa pic.twitter.com/wycCOmekDQ

— The Sunday Game (@TheSundayGame) July 28, 2019
15 Patrick Horgan (Cork) (4th)
Now that Joe Canning has an All-Ireland medal, Horgan would be be the popular choice of 'best current player yet to win Liam MacCarthy'. The Championship's second top scorer from play (6-16) and second overall behind Reid, his dead-ball prowess and ability to pluck a goal out of thin air kickstarted Cork's season in the win over Limerick and gave them hope in the quarter-final defeat to Kilkenny. In that game he scored a stunning 3-10, including a memorable goal from his knees. Hurler of the Month in May and July and nominee for Hurler of the Year.
Patrick Horgan scores Cork's second goal against Kilkenny at Croke Park - See the highlights tonight @rte2 and the RTÉ Player from 9.30pm #RTEGAA pic.twitter.com/PTLHlb8VVr

— The Sunday Game (@TheSundayGame) July 14, 2019
Watch the All-Stars live on RTÉ One from 7pm on Friday to discover the football selection and the announcement of the Hurler and Footballer of the Year awards.