What started as a dogfight of a final turned into a mauling as Tipperary cut loose in the second half to crush 14-man Kilkenny and win their third All-Ireland title of the decade.
Brian Cody's men had the better of a scrappy opening period, leading by five points after 21 minutes, but a goal from Niall O'Meara kickstarted Tipp's revival and just before half-time former Hurler of the Year Richie Hogan was dismissed for a high challenge on Tipperary's corner-back Cathal Barrett.
Tipperary led by a point at the interval, 1-09 to 0-11 but, like their old rivals have so often done to them, they came storming out in the third quarter.
Captain Seamus Callanan and John 'Bubbles' O'Dwyer, heroes of the 2016 win against the Cats but ineffective until that point, struck 1-01 apiece to send Tipp streaking eight clear by the 42nd minute.
Kilkenny needed goals after that but Tipperary used the extra man to good effect, Ronan Maher superb in restricting Colin Fennelly to a single point on the day and, though TJ Reid led the fight to the end, Tipp's substitutes again all got in on the scoring spree to close it out comfortably.
Liam Sheedy, nine years after stopping Kilkenny's 'drive for five', has led Tipperary back to the Liam MacCarthy Cup in a style he could scarcely have imagined.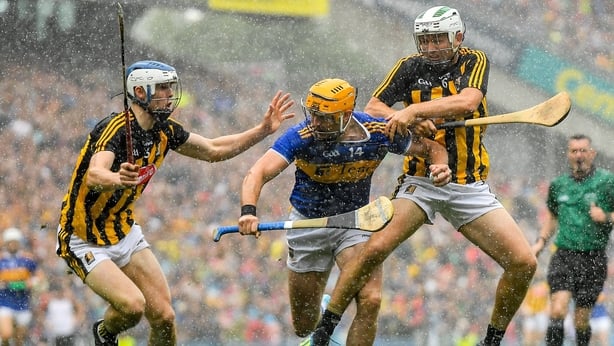 We had come expecting prize-fighting but it was more like mud wrestling in the opening quarter as Kilkenny strangled Tipp amid a deluge.
There were far more bodies in the Kilkenny side of the field and every time the ball landed in it, a man in black and amber seemed to come out in possession, their half-back line of Conor Fogarty, Padraig Walsh and Paddy Deegan dominant.
Up front, the work-rate of the Kilkenny forwards and sloppiness of Tipperary defenders in possession forced a succession of frees. 
Reid opened the scoring from one awarded after 30 seconds and added another shortly after from an advantage given when Tipp required a brilliant hook from the backtracking John McGrath to deny Fennelly, who was being given an alarming amount of space.
Tipperary had designated Ronan Maher to mark Fennelly and take short puckouts from keeper Brian Hogan but the sliotar kept coming right back at him.
As the rain started to lash down, Hogan landed the first point from play, and though Jason Forde was keeping Tipperary just about in touch with his assured frees - one of which might have easily been a penalty instead for a foul on the edge of the square on Seamus Callanan - by the 21st minute the Cats had a deserved five-point lead – 0-08 to 0-03.
Hawkeye is called in again when an effort for point is caught just above the crossbar. John Donnelly benefits from the decision.

Watch #SundayGame highlights from 9:30pm on @rte2 #KKvTipp pic.twitter.com/jg533XeKnP

— The Sunday Game (@TheSundayGame) August 18, 2019
The seventh of those was a bizarre déjà vu moment for Tipp as, just as in the semi-final, Hogan plucked a ball from over the bar and play was stopped after Hawk-Eye whispered in Owens' ear that the shot by the excellent John Donnelly had crossed the plane.
There had been just three points from play at that stage, Michael Breen with Tipperary's solitary effort, and it looked as if the game was proceeding to a Cody script.
Then Tipp tore it up.
The Premier backs seemed to decide that if the forwards couldn't win their own ball then they would bring it to them. Padraic and Brendan Maher both drove forward to win a '65 and a free respectively that Jason Forde (0-09, 7f) converted.
In the 26th minute, a huge momentum shift. Padraic Maher made a spectacular catch and drove it forward to Niall O'Meara. The Kilruane McDonaghs' man initiated a quick one-two with Forde before turning Fogarty left and right with nimble footwork and skipping a low shot off the surface and past Eoin Murphy to the corner of the net.
Niall O'Meara lights up the #AllIrelandHurlingFinal with this goal for Tipperary #KKvTipp

Watch #SundayGame highlights from 9:30pm on @RTE2 pic.twitter.com/YH2GV62ImV

— The Sunday Game (@TheSundayGame) August 18, 2019
Another '65 from Forde and Tipperary led for the first time – 1-06 to 0-08 – despite having been comprehensively outplayed.
Kilkenny edged back in front thanks to the impressive Donnelly's second score but points from play from the superb Seamus Kennedy (0-02 on the day) and John McGrath (0-3) hit back.
Three minutes before half-time came arguably the game's defining moment - four-time All-Star forward Hogan went in high on Barrett near the sideline and caught him on the chin with his elbow.
The Kilkenny fans made their disgust clear with a chorus of boos as the half ended but under the rules referee James Owens had no choice.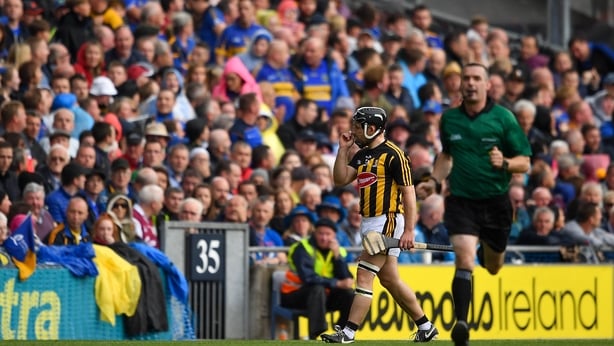 There was only a point in at the resumption – 1-09 to 0-11 in Tipperary's favour – and you only had to look at Wexford's failure to win with 14 men in the semi-final for evidence it would still be a contest. Not for long.
Their diminished number meant Kilkenny's forwards were less able to exert pressure on the ball-carrier and as the sun finally re-emerged so did space for the Tipperary forwards.
A minute after Reid had equalised, for what turned out to be the last time, Callanan swept home the ball that squirmed loose when Murphy came off his line to block down John McGrath.
The Tipp skipper then lofted over a fine score from the right before Bubbles outdid him with a monster effort from the sideline.
Walter Walsh skimmed one just over the crossbar and Kennedy burst through to hit his second before the killer blow arrived in just the 42nd minute.
Barry Heffernan's diagonal ball zipped off the surface away from Callanan and his marker Huw Lawlor and into the corner. The forward got to it first but instead of the expected effort for a point he brilliantly picked out the unmarked O'Dwyer to crash it to the net from close range. An eight-point lead now - 3-12 to 0-13.
Tipp all over Kilkenny as John O'Dwyer fires home in acres of space. The lead moves to eight points. #sundaygame #KKvTipp

Watch highlights on #sundaygame at 9:30pm on @rte2 pic.twitter.com/Q2hA08AgRc

— The Sunday Game (@TheSundayGame) August 18, 2019
Half an hour left and it already seemed Kilkenny needed goals but Tipp's now dominant defence were using the free man to double-mark Fennelly, limiting their green flag opportunities, apart from one scuffed effort from Conor Browne that failed to trouble Brian Hogan in the Tipp goal and a great block from Padraic Maher on Walter Walsh. 
Donnelly (0-03), sub Billy Ryan (0-02) and Reid (0-11, 10f) all kept chipping away but time and again, Kilkenny rained aimless ball down on top of the tireless Heffernan, Padraic and Brendan Maher.
They in turn gave it to midfield maestro Noel McGrath (0-02, 1f), conducting what was an increasingly effective short-passing game that provided plentiful ammuntion for Tipp's red-hot forwards. The icing on the cake for McGrath's superb display was a point from half-way in the 46th minute.
As against Wexford, Tipp's bench delivered, Willie Connors (0-02), Ger Browne, Jake Morris and Mark Kehoe (0-01 each) all filling their boots as their team racked up their biggest final win over their neighbours since 1964 and secured the All-Ireland title for the 28th time.
Kilkenny: Eoin Murphy; Paul Murphy, Huw Lawlor, Joey Holden; Conor Fogarty, Padraig Walsh (0-01), Paddy Deegan; Conor Browne, Cillian Buckley; John Donnelly (0-03), TJ Reid (0-11, 10f), Walter Walsh (0-01); Adrian Mullen, Colin Fennelly (0-01); Richie Hogan (0-01).
Subs: Conor Delaney for Holden (38), Billy Ryan (0-02) for Mullen (40), Richie Leahy for Buckley (48), James Maher for Browne (54).
Tipperary: Brian Hogan; Cathal Barrett, Barry Heffernan, Ronan Maher; Brendan Maher, Padraic Maher, Seamus Kennedy (0-02); Noel McGrath (0-2, 1f), Michael Breen (0-01); Dan McCormack, John O'Dwyer (1-02), Niall O'Meara (1-00); Jason Forde (0-08, 2 '65s' 4f), Séamus Callanan (1-02, 1f), John McGrath (0-03).
Subs: Mark Kehoe (0-01) for O'Meara (52), Willie Connors (0-02) for McCormack (57), Jake Morris (0-01) for Forde (60), Sean O'Brien for Barrett (61), Ger Browne (0-01) for Breen (64).
Referee: James Owens (Wexford)