The competitiveness of Kilkenny training sessions under Brian Cody has long been the stuff of legend, credited with inspiring their run of 11 titles under his direction.
But ahead of the 2012 All-Ireland final replay against Galway, the aggression between backs and forwards got out of hand.
"It was a couple of weeks before the All-Ireland," Eoin Larkin told RTÉ Radio 1's Today with Sean O'Rourke of a shocking training-ground incident with team-mate Tommy Walsh.
"I ended up grabbing his brother Padraig in a head-lock and the two of us fell to the ground.
"My helmet fell off and all I could hear was Jackie Tyrell shouting at Tommy 'Don't do it! Don't do it!'
"Next thing, I was after getting a boot in the face from Tommy Walsh. He was a very good friend of mine as well.
"Things kicked off. I was on the way out of training and Brian gave the Brian Cody roar to come back.
"I said 'I'm not hanging around for that stuff', and Brian let another roar. When Brian lets one roar you take notice, when he lets two you're going to come back.
"As soon as training was over, I got my gear and I was out the door. "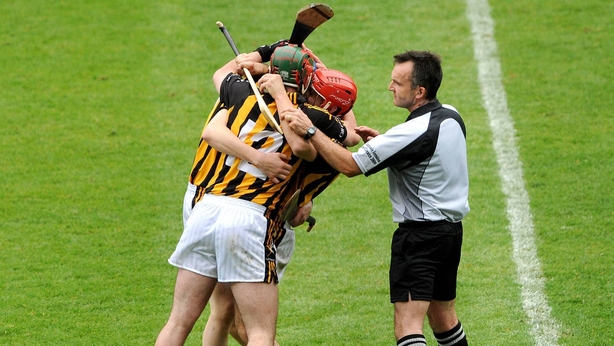 A contrite Walsh quickly sought forgiveness and Larkin was happy to put it behind them.
"Tommy turned up on my doorstep that night," the James Stephens clubman revealed. 
"I went out to the door and he said 'Larks, I don't know what happened me. I'm in bits, I'm so sorry'.
"I just said 'Grand' and slammed the door in his face.
"In an hour, after I cooled down, I texted him and said, 'We'll forget about it. You made a mistake, it takes a bigger man to come back up and apologise. Let's just move on'.
"In a way it probably galvanised the team for the All-Ireland. We trained hard, there was no animosity, we just forgot about it.
"We had good craic after the All-Ireland and left it at that."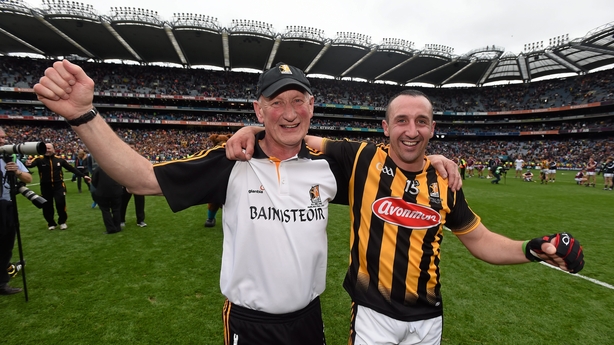 Larkin was promoting his book 'Camouflage', the title of which is a nod to both his days in the army and his secret battle with depression, which his Kilkenny manager Cody recognised and encouraged him to seek help for.
"Everybody would have seen the Eoin Larkin in Croke Park and didn't realise behind it all I was living a very different life to what people have seen," said Larkin.
"I got a phone call on a Saturday. The simple question 'How are you feeling today?' and I just burst into floods of tears.
"When you burst into tears with Brian Cody on the other end of the line you know that something is definitely wrong.
"He said 'I'm here for you if you need to talk'. If you want to keep it between yourself and Tadhg Crowley (Kilkenny doctor) just go and have a chat with him. I'm here if you want me to know about it, I'm here if you don't.
"Tadhg made it sound like he was dealing with a sore throat. It was so normal to him and that made me feel at ease. Once I had it out there, it was like someone took their foot off my shoulders and I could breathe again."
"There's a very soft side to Brian as well"
Eight-time All-Ireland winner Larkin fondly recalls the day that his teacher, James Stephens club-mate and boyhood hero Cody took him aside in class to tell him he would captain the school hurling team.
Larkin insists that there is more to the manager, who will lead the Cats into a 22nd consecutive championship campaign next year, than the fearsome perfectionist his reputation suggests.
"There is this perception in the media that Brian is cut-throat and just gets rid of lads when their time is up.
"But there's a very soft side to Brian as well, as I've experienced a number of times.
"He's always there to lend a helping hand, if you need help getting a job, help in your personal life, all that kind of stuff.
"He's very approachable to talk to, as I saw on that Saturday morning, obviously on the field but off the field as well."