Con O'Callaghan believes that the next generation of leaders has begun to emerge for Dublin as they look to build on the first ever five-in-a-row.
O'Callaghan (23) won his fourth title last weekend and is among a group of young stars like Brian Fenton (26) Brian Howard (22), John Small (26), Niall Scully (25) and replay hero Eoin Murchan (23) that have never lost a Championship game.
Despite questions over how long the likes of Stephen Cluxton (37), Bernard Brogan (35) and other members of the breakthrough class of 2011 will play on, the future for the champions remains bright.
"If a team is going to be successful, you kind of have to blood young lads and trust that they will grow into that leadership role," he told RTÉ Sport.
"It's a natural thing that has happened the last couple of years. With young lads coming through - Peadar Ó Cofaigh has been flying, Brian Howard is a big leader and Murch has been there before but there is a big, strong presence from the young lads as well.
"In 2017, you come in kind of with stars in your eyes. You know, looking at Diarmuid Connolly, Bernard Brogan - these lads who you've been watching for 10 years.
"You kind of have to get out of that mindset as soon as you make the team - you can't be a fan playing on the team. I had to get away from that anyway, trust yourself with what you have."
He laughs as he is asked if he ever made a memorable hit on one of his more experienced team-mates in training.
"James McCarthy took one, one time. I gave him one and was proud of that one."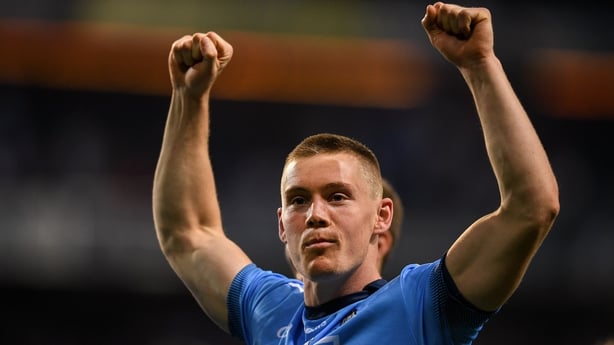 O'Callaghan says relief was the overriding emotion after Dublin required a replay to see off Kerry in the All-Ireland final. The forward kicked four points from play, having been held to a single score in the drawn game.
"It was amazing," he said. "Probably relief as much as anything as well. Particularly after the first day, it was such a tight encounter. With the sending off and us scraping to get a draw but also having a chance to win, the head was a bit all over the place for a couple of days.
"There was nine of us from the team that had a weekend in Berlin booked – a music festival over there. The last couple of days before the match, you were just thinking 'that'll be it, there'll be a result here, win or lose'. Then having to reset, those two or three days after are really tough after the game.
"But after that, we put that behind us on the Wednesday after, set our stall out for the final and to actually do it, come out after a bit of adversity was amazing.
"During both games there were moments where you're a little bit worried about what could potentially happen.
"In the second game, in fairness to Kerry, we went 0-5 to 0-1 up and looked like we were going really strong. And they came at us really hard, got into half-time and we were playing some of the best football we played all year, and we were still only drawing.
"Even the second half, when we got the goal and a point we went four points up. Against Mayo we pulled away but Kerry came back at us again and got back to a point.
"It makes it all the more thrilling when it's in those crunch moments that you can rally round each other."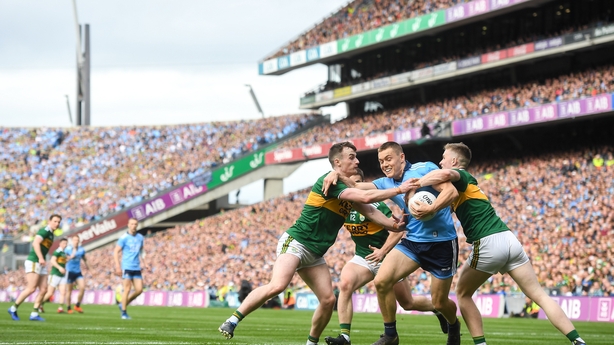 O'Callaghan says there is "nothing to suggest" manager Jim Gavin won't be back again next year and revealed that his notably bulkier physique was a consequence of more time with the panel rather than a deliberate strategy.
"I suppose I've been getting stronger every year but there is probably only a kilo or two difference in my weight since last year.
"It was a good bit of hard work. This year was the first year I had a League campaign with Dublin because we were knocked out with Cuala so I kind of had a bit more time to work on all aspects of my game.
"Jim (Gavin) was obviously a part of that but it wasn't my (deliberate) intention."
O'Callaghan is a dual player with his Dalkey-based club and won the All-Ireland club SHC title in both 2017 and 2018 under now Dublin manager Mattie Kenny.
He is quite happy to cut the five-in-a-row celebrations short and get straight back into the thick of things, starting with a Dublin senior hurling quarter-final against southside rivals Kilmacud Crokes on Sunday.
"We're playing Crokes this weekend. It's a massive match for us.
"We're training tomorrow. I'll be down tomorrow night and I'd love to go ahead for the Crokes game.
"It all comes very fast, it's only a week since the game, but I love getting back to the hurling and playing with the lads. We have a really good team there."
Watch Newtownshandrum v Glen Rovers and Imokilly v Sarsfields in the Cork SHC quarter-finals on Saturday GAA Live from 4.45pm.