The greatest anti-climax to one of the greatest All-Ireland finals of all time. This was a game for the ages.
Dublin down to 14 men clung on brilliantly to get a draw and the sides will have to go at it again on Saturday, 14 September. Their dream of five in a row remains alive.
Kerry may not get a better chance of derailing history having played with an extra man for more than half of the game after Jonny Cooper walked shortly before the break.
Their fiercest rivals going for history and seemingly unstoppable, Dublin on their way to destiny. A young Kingdom side were supposed to travel up and give a good account of themselves and learn for the future.
They were always far too proud and far too cute for that to be the case. Denied their own drive for five so famously back in 1982 they weren't about to let the Dubs do what they couldn't.
The closing stages of this game were incredible to witness, Croke Park shaking on its foundations at every tackle made and score kicked. The tension was unbearable in the seven minutes of stoppage time played and the only ones with cool heads were the men on the pitch.The Kingdom pushed ahead with five minutes of normal time to go and stayed there until well into the added time when Dean Rock hoisted over a great score after substitute Cormac Costello had a score denied by Hawk-Eye.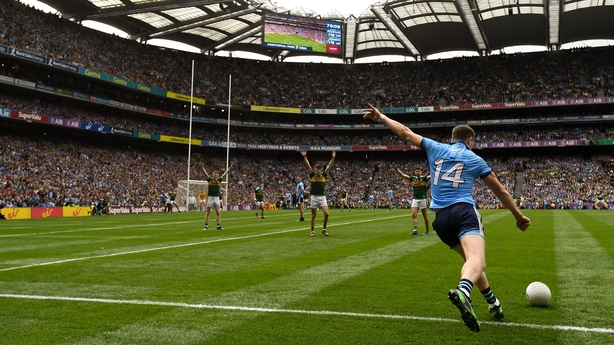 He had a difficult chance to win it with the last kick, his team-mates having worn down the last minute of the clock playing keep ball and then drawing the foul out underneath the Cusack Stand.
It went wide, the whistle blew and the air just went out of the stadium. Everyone looked at each other and no one knew what to do. That's what happens when history isn't made one way or on the other.
Dublin were on the verge of putting this game away when it all of a sudden got out of control right at the end of a first half they finished with a four-point 1-09 to 0-08 lead.
Jonny Cooper, Gavin's general in defence, was given the job of man-marking the most dangerous of Kerry's danger men David Clifford and it was a contest he was losing badly in.
Clifford started slowly, hitting a pair of wides and ballooning one into the air, but he was still getting on ball. Struggling against his man's height advantage, Cooper was putting his hands all over the Kingdom forward and referee David Gough wasn't standing for it.
He picked up his first yellow just on the quarter-hour having given away a penalty four minutes earlier, both for fouls on Clifford. After dragging the Kerry man down again he walked with barely 60 seconds of normal time in the first half remaining and the Dubs were down to 14.
The fact that Gavin left his 2010 All-Ireland Under-21 winning captain out there and drowning was surprising; he was never once rotated around to mark another Kerry forward to take the pressure off and keep him out of further yellow card trouble.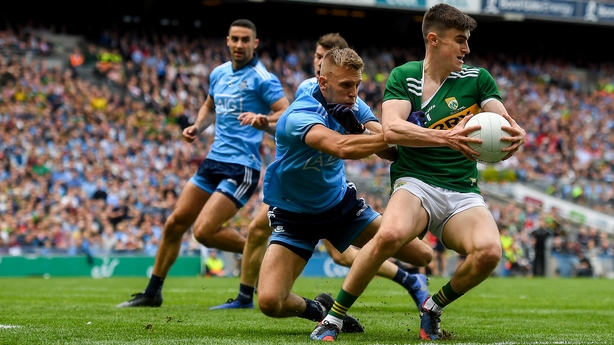 This was a fascinating first half and the opening quarter saw the sides feel each other out, ending with Kerry just about in front, 0-05 to 0-04, thanks to Seanie O'Shea's accuracy from the dead ball.
Paul Geaney might be wishing he had the same accuracy, his penalty was stopped by Stephen Cluxton, though Gough would have been within his rights to order a retake the keeper was so far off his line when the ball was struck.
Cluxton's kick-outs weren't finding their targets and three in a row fell into Kerry hands, but he didn't panic. He never panics. Brian Howard pulled the next two out of the sky, backing himself in hugely impressive fashion.
The second of those passed via Ciarán Kilkenny and Michael Darragh Macauley before it reached Jack McCaffrey, the former footballer of the year sliding home the game's opening goal.
At this stage the Dubs were like a boa constrictor on Kerry's restarts and the Kingdom were close to suffocation.
Keeper Shane Ryan took an age off the tee, was turned over repeatedly and when he did manage to find a team mate they were taking it on the back foot, under pressure and struggling to break the blue press.
James McCarthy was particularly impressive in this spell and the legitimate aggression he showed around the restart area breathtaking. 
Con O'Callaghan and Paul Mannion got into the game and at five up, 1-09 to 0-07, they were on the verge of finishing the job. Then things got interesting.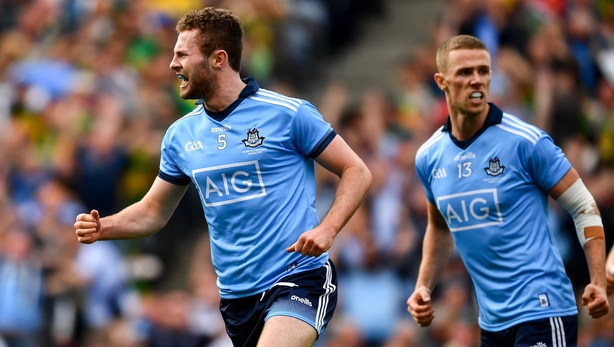 Kerry enjoyed the opening exchanges of the second half and got the gap to two, but then Dublin moved through the gears in a awesome fashion to move five ahead, McCaffrey plundering three from play from wing-back.
From here they would normally be expected to win a game, but this was no normal game and they were down a man. Tommy Walsh trundled on for Kerry to give them a whole new set of problems and he played his part in Killian Spillane's goal on 56 minutes and suddenly there was only a point in it.
It was to get closer than that.
Dublin: Stephen Cluxton; David Byrne, Jonny Cooper, Michael Fitzsimons; Jack McCaffrey (1-03 ), James McCarthy, John Small; Brian Fenton Michael Darragh Macauley; Niall Scully, Con O'Callaghan (0-01), Brian Howard; Paul Mannion (0-02), Dean Rock (0-10, 6f, 1 '45'), Ciarán Kilkenny.
Subs: Paddy Small for Macauley 51 mins; Diarmuid Connolly for Howard 67 mins; Cormac Costello for Mannion 67 mins; Kevin McManamon for Scully 70 mins.
Kerry: Shane Ryan; Jason Foley, Tadhg Morley, Tom O'Sullivan; Paul Murphy, Gavin Crowley (0-01), Brian Ó Beaglaoich; David Moran, Adrian Spillane; Gavin White, Seán O'Shea (0-10, 4f, 3 '45'), Stephen O'Brien (0-01); David Clifford (0-02), Paul Geaney, Jack Barry.
Subs: Killian Spillane (1-01) for Adrian Spillane 44 mins; Jack Sherwood for White 48 mins; Tommy Walsh (0-01) for Ó Beaglaoich 52 mins; Jonathan Lyne for Crowley 67 mins; Dara Moynihan for Barry 72 mins; Mark Griffin for Stephen O'Brien 77 mins.
Referee: David Gough (Meath)