DUBLIN
Stephen Cluxton   8
Usually renowned for the kickouts but it was his shot-stopping which caught the eye today. 
There was the first half penalty - albeit he was so far off his line, it reminded you of the 2003 Champions League final - and then that fingertip save from Paul Murphy early in the third quarter. 
Couple of kickouts went astray. One was aimed straight at Tommy Walsh as Dublin wobbled with ten minutes left. Jack Barry's fielding heroics early on saw a couple find Kerry hands. But he got to grips thereafter. 
Found Howard and others at will, his perfect strikes off the kicking tee proving the launchpad for the first half goal and another couple of points. 
With inferior numbers, kickouts were trickier but Cluxton coped well as expected. 
David Byrne   6.5
The unheralded St Olaf's player delivered a solid display but will be disappointed over the Kerry goal, failing to gather an under-hit Moran pass and letting Tommy Walsh in behind to tee up Killian Spillane for the score. 
Jonny Cooper  3
His famously grabby defensive style continually got him into trouble with referee David Gough, who has always been hot on that stuff. 
Perhaps hard done by on the penalty though the latter two pull-backs looked to be good calls from the ref. Intense debate surrounds the final foul though Gough could be justified in thinking Clifford had turned him and was hauled down as he attempted to get in behind.  
Michael Fitzsimons  8
An impressive display from the diligent man-marker from Cuala. A strong performance on Kerry's danger man inside once Cooper was removed. He did the job without getting on the wrong side of Gough as well. 
Jack McCaffrey   9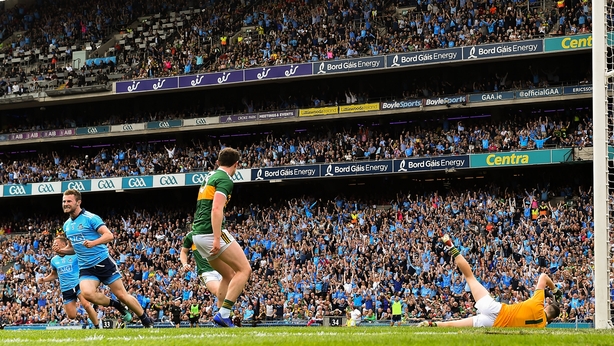 He won the 2015 Footballer of the Year and might have won it last year, having been named Man of the Match two years running.
Surely in the mix again this year. 
Powered forward to plunder a first half goal. Fisted another point and then swung over two further scores in the second half to take his tally to 1-03 from play. 
James McCarthy   7
Hugely influential early on. Crucial clearance off the line from Paul Geaney's shot in the opening few minutes. 
Was rather subdued afterwards and was occasionally sloppy in possession. 
John Small    7
Was booked early on, with the wags noting that he stood to go for the unwanted three in a row. Red cards in All-Ireland finals. 
The usually abrasive defender held his discipline well afterwards. 
Brian Fenton   5
Remarkably quiet by his standards. Any standards, in fact. Gone were the Hollywood catches and late raids that we've witnessed all championship.
Struggled hugely against Kerry's dynamic and combative midfield. 
Michael Darragh Macauley   5
Underwhelming enough. Lost the rag with Gough when correctly pulled for over-carrying early in the second half. (He appeared to be shaping up to take contact, tucking the ball under his oxters and then, when that contact didn't come, it became clear he'd over-carried). 
Hauled off for Paddy Small shortly after.
Niall Scully   6.5
Nabbed two goals in last year's decider but didn't get near as much joy today. Worked hard without the ball, rushing back at one point to force Spillane into over-carrying down by the endline in front of the Hill. 
Otherwise, a day when he got few openings going forward.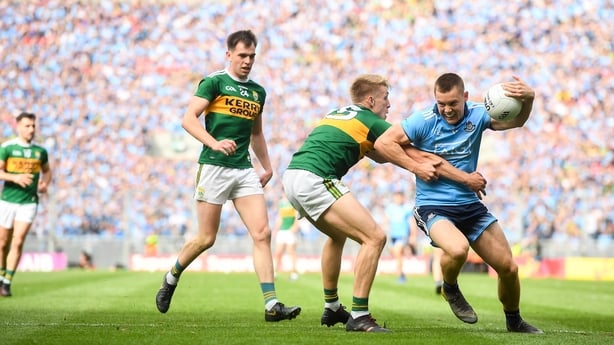 Con O'Callaghan   7.5
Slow opening quarter but got into a nice rhythm thereafter, almost manufacturing a solo goal for himself, popping over a point and drawing a couple of frees which resulted in handy scores. 
Unable to get into the game in the second half under the abrasive man-marking of Tom O'Sullivan. Did win one ball in the air, resulting in another easy free. Injured in a collision with Ryan shortly after and withdrawn. 
Brian Howard   8
Largely excellent display which was marred by some poor decision making late in the day. 
Made the first half's biggest play, leaping above Gavin White to claim Cluxton's kickout. Didn't pause to admire his efforts, turning swiftly and moving play along. There was little surprise when Jack McCaffrey was slamming the ball to the net mere seconds later. 
Wasn't long getting the curly finger after blazing a terrible wide as Dublin frantically hunted an equaliser early in injury-time. 
Paul Mannion   6.5
Settled into the groove quickly, scoring after 18 seconds. Added another before the break but was well shackled in the second half under the resilient marking of Tadhg Morley. 
Dean Rock   8
Failed to nail that last second free but it was a rather tall order with the spectators in the Cusack Stand mere yards away. 
Otherwise, he was excellent, curling over that brilliant equalising score when all about him Dublin players were blazing wides.
Ciaran Kilkenny  7
Fairly typical display from Kilkenny who, in keeping with cliche, collected plenty of possessions, hand-passing off most of them.
Failed to get on the score-sheet which was unsurprising given that he didn't exactly rain shots down on goal. 
Subs: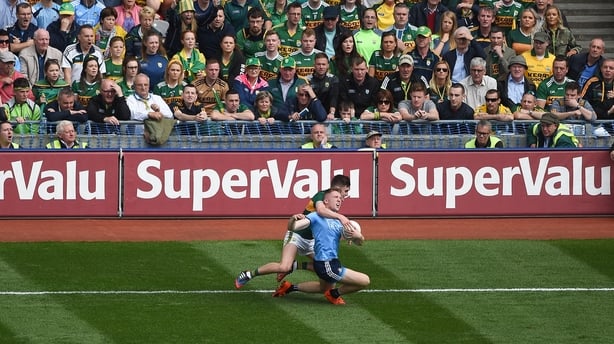 Paddy Small   6
The Dublin bench has often been hailed as key part of their arsenal. The reservists made less of an impact this time around.
Small was cool in possession - perhaps too cool - and drew a couple of frees, notably the last one which gave Rock the chance to win it. Was unable to make it count on the scoreboard, missing a couple of late chances. 
Eoin Murchan   7
Was introduced as a blood sub and stayed on. The Na Fianna player was a perennial starter in 2018 but has fallen from favour this season. Was lively when introduced here, however.  
Diarmuid Connolly  6
Probably not on long enough to be rated. Stood around on the sideline a while before finally being tossed into the mix. 
Was slow and lethargic about gathering possession in a tussle near the Cusack Stand sideline and his one pot at goal drifted wide. 
Cormac Costello  6
Was the hero off the bench in 2016 replay decider and for a second, we thought he'd come up trumps again. Hawk-Eye intervened and Dublin remained behind. That was his main involvement of note. 
Kevin McManaman   6
No heroics against Kerry, a la 2011 and 2013. Annoyed Shane Ryan at the final whistle with a Barry John Keane-esque bit of devilment. The goalie lashed the ball straight at McManaman. 
KERRY
Shane Ryan   6.5
Couple of kickouts drifted out over the sideline. Reverted to mostly conservative kickouts thereafter.
Did well to stop a long range Howard effort clearing the crossbar, setting in motion the move which ended with Killian Spillane lashing the ball to the net. 
Dealt confidently with the occasional high ball.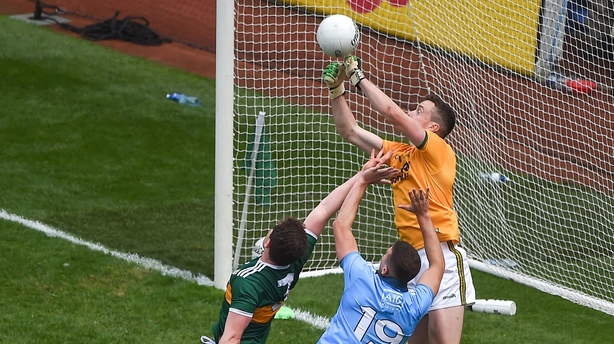 Jason Foley   7
Was more comfortable than in the semi-final but then there was no Cathal McShane to keep tabs on today. An unshowy display but formed part of an unexpectedly strong defensive display from Kerry. 
Tadhg Morley   8
Impressive and resilient display given that he had one of the most difficult assignments in the game. Trying to mark Paul Mannion.
The Kerry defence has received plenty of stick but Morley put in an impressive shift on the Kilmacud man.
Tom O'Sullivan  7.5 
Everyone expected Gough to even up the numbers after he pulled down O'Callaghan in the second half. He'd already collected a booking by that stage but with the crowd baying for red, Gough opted to leave it in his pocket.
We glimpsed little of his characteristically daring runs upfield but coped admirably with one of the most dangerous forwards in the game as O'Callaghan was kept quiet by his lofty standards. 
Paul Murphy  8
Fine display from the Rathmore player who was Man of the Match for the last Kerry All-Ireland victory. That award may elude him tonight but he was an important part of a fine defensive effort. 
Raided forward well and might have had a goal but for Cluxton's fingertip save nudging his shot towards the crossbar. 
Gavin Crowley  8
The only Kerry defender to raise a flag, Crowley nailed his first ever championship point as Kerry came on strong in the third quarter.
Crowley was an important cog in an excellent Kerry defensive effort and got on plenty of possession, being able to link up the play higher up the pitch.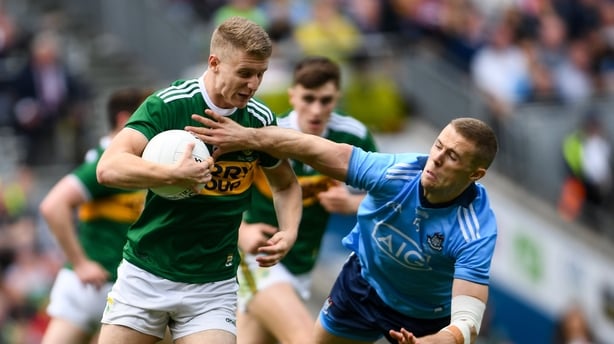 Brian O'Beaglaoich   6
O'Beaglaoich probably stood out least among the Kerry defenders but scrapped hard before being withdrawn early in the second half. 
David Moran  8.5
Seems to get on a remarkable amount of possession in every game. Another powerhouse display only occasionally let down by some imprecise passing. 
Still a towering presence and one of the most influential Kerry players of the decade. Beasts through tackles at will, always making space for the delivery. 
Jack Barry   8.5
Phenomenal period in the first half when he briefly ruled the skies against Dublin's famed midfield department. 
Brian Fenton's general anonymity was a tribute to Barry. More than justified his late inclusion. 
Adrian Spillane  7.5
Big statement early on, nailing Jonny Cooper to turnover possession, leading to Sean O'Shea's opening score. 
Continued in that vein and was an important physical presence for Kerry high up the pitch until withdrawn with injury early in the second half. 
Gavin White  5
Struggled badly on the exuberant McCaffrey. No shame in that necessarily but it's an area of concern for Keane heading into the replay. 
Seán O'Shea  9
Wonderful performance on the big day from the young star. Perfect on the frees and terrific in open play. Reached double scores with five minutes of normal time left.
Three of his scores came from play. His first - also Kerry's first - was especially impressive, making the space to swing one over despite there being precious little space around.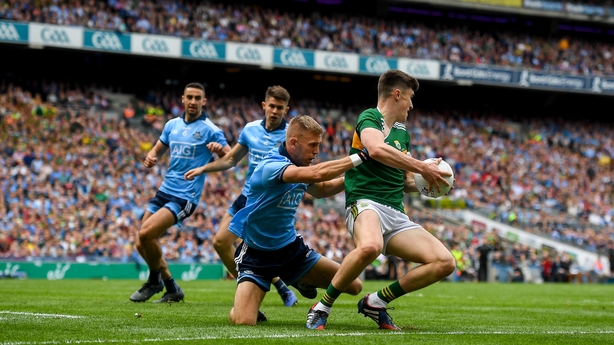 Stephen O'Brien   6.5
Not as devastating or exuberant as in the semi-final. Never stopped running and tracked back diligently. Scored a point in the first half after an excellent pass from Paul Geaney but rarely threatened the scoreboard thereafter. 
David Clifford   6
Have to be careful not to judge him by ridiculous standards. Couple of bad wides early on which caused Kerry hearts to sag.
He found some joy thereafter under - as we saw - some pretty heavy marking. Swung over a couple of beautiful points despite being afforded little space.  
Dropped one short when he'd the chance to put Kerry in front inside the final ten minutes. Given his talents, serious scope for improvement in the replay, which is no bad thing for Kerry. 
Paul Geaney  6.5
Somehow failed to nail a three-pointer early on. James McCarthy's knees and then Stephen Cluxton's hands and unsubtle encroachment denying him in the opening quarter. 
Set the tone for a frustrating day in front of the posts as Geaney failed to raise a flag of either colour. Still, his display wasn't without its merits. He worked hard and laid on points for others. 
Subs: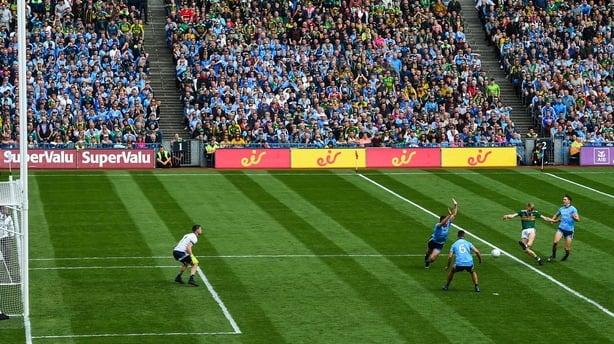 Killian Spillane  8.5
If gutted by his late exclusion - he no doubt knew well ahead of time - then it didn't show on his introduction.
Wonderful contribution once tossed into the fray. Took the second half goal brilliantly, cutting inside the defender and rifling a low shot inside the near post. 
Moments after Clifford had left one short, he curled over the lead score in the final ten from a similar tight-ish angle, punching the air afterwards. 
Jack Sherwood  7
Introduced for Gavin White just before the 50th minute mark. Overshadowed by Kerry's other substitutes but battled well. 
Tommy Walsh  8
Kerry's trump move was deployed early enough in the second half. 
Horrible attempt at a point after a wayward Cluxton kickout.
Seconds later, he redeemed himself in style curling a beauty over the bar from the left hand side. Laid on Spillane's goal and put himself about to great effect in his time on the pitch. 
Jonathan Lyne  6
A veteran of the 2014 success - when he was the trump card in the semi-final replay in Limerick - Lyne was introduced very late here and was the last Kerry player to gain possession of note.
Thought he'd won a free on the sideline under pressure from Diarmuid Connolly but Gough was unmoved. 
Graham Sullivan N/A
Brought on for White as the clock ticked into injury-time. 
Dara Moynihan N/A
Not on long enough to be rated though did his get his hands on the ball, feeding it off as Kerry hunted the winner. 
Mark Griffin N/A
Only introduced at the death.