Jim Gavin's achievements as a manager are unlikely to ever be equalled in the GAA.
Brian Cody, leading the way with 11, and Mick O'Dwyer, eight, may have managed more All-Ireland title wins, though neither of them managed a five in a row, both falling one step short.
Even if Gavin does step down as boss following seven seasons in charge, making him the third longest serving inter-county manager on the circuit behind Cody and Tyrone's Mickey Harte, the numbers he has put together are hard to credit.
The Round Towers Clondalkin man has managed Dublin in 48 championship games stretching back to his first win over Westmeath in Leinster back in the early summer of 2013.
He has won 44 of them, drawn three and lost just once – the 2014 All-Ireland semi-final to Donegal.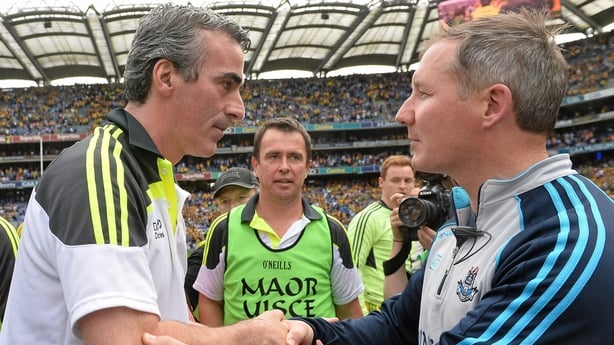 Since then his Dublin team have compiled an unprecedented 37-game unbeaten run in championship, far ahead of anything put together at senior inter-county level before.
Of the 21 major trophies open to him, All-Ireland, provincial and league, he has won 18 of them. That breaks down as six Sam Maguires, a full house of seven Delaney Cup wins in Leinster and five league crowns.
In that time Mayo are the team they have met most often, winning on five occasions and drawing twice. They've played Kerry five times with four wins and a draw and beaten Tyrone, Kildare and Westmeath four times each.
As mentioned already, Donegal under Jim McGuinness in 2014 are the only team to have beaten a Jim Gavin-managed outfit during the high summer.
The Dubs' 2013 win was a swashbuckling affair and they continued in a similar vein the following year, until they were eventually exposed by the tactical know-how of McGuinness's men.
Since then the Boys in Blue have almost always played with a sweeper, more often than not Cian O'Sullivan.
With him injured in the drawn All-Ireland final at the start of September Gavin opted to go without a defensive cover man and it almost cost them.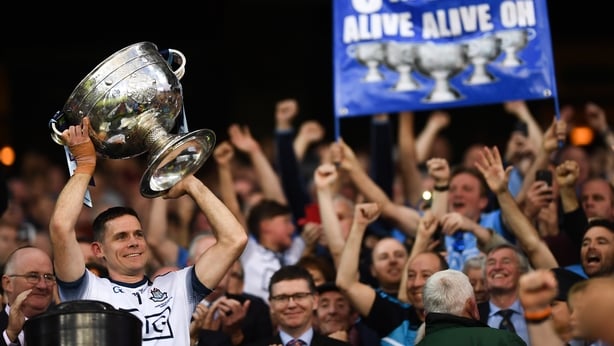 In Saturday's replay Jonny Cooper, who was sent off in the first game with Kerry as he was exposed repeatedly one-on-one against the Kingdom's David Clifford, played the loose role at the back to perfection.
This is one of Gavin's strengths. Like any of us, he makes mistakes and when it happens he learns and adapts, just like he did when changing direction in the wake of that 2014 defeat.
As RTÉ analyst Kevin McStay noted during Saturday's game, if you lead courageously then troops will follow cheerfully. This was one military man to another, McStay a former army officer and Gavin having been a pilot in the Air Corp. He keeps a low profile away from match-day and has rarely even been pictured holding Sam Maguire.
No doubt, he has been working with a once-in-a-generation bunch of players. How often do performers like Stephen Cluxton, James McCarthy, Brian Fenton, Ciarán Kilkenny, Paul Mannion and Con O'Callaghan come together?
What he has moulded them into is truly remarkable however. No matter what has been thrown at them over the past five years they have been able overcome.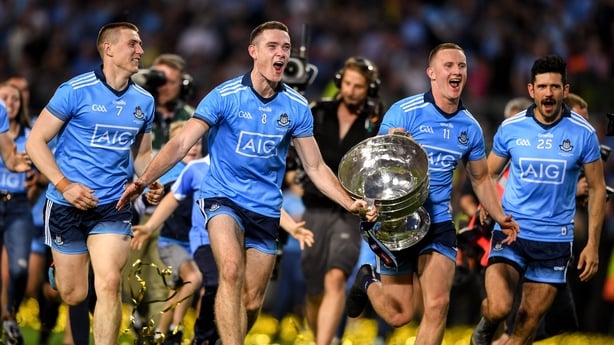 When wearing his Dublin manager's cap, Gavin has almost always been a closed book when in public and dealing with the media.
Saturday night was different. He did a lap of honour around the pitch, brought his father into the post-match media conference, he smiled, admitted he was happy and gave a small insight into Dublin's tactical thinking when explaining Eoin Murchan's goal from the second-half throw-in.
All of this is natural having achieved history. But there was also the feeling that this might be the end of an era.
Were he to walk away it would be hard to argue. He has achieved it all, given everything for seven seasons and now it's time to concentrate on his family and his job.
Of course, if he decides to stay on, he could push Dublin to even greater heights. One more All-Ireland win will see them match the haul of Kerry's Golden Years team from the seventies and eighties, who lifted Sam eight times in 11 years, Pat Gilroy having started the blue bandwagon rolling in 2011.